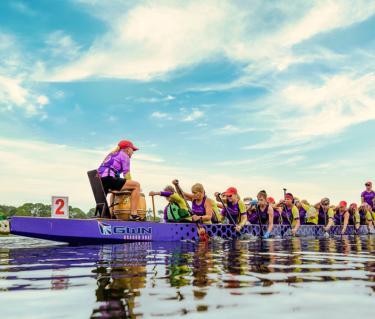 Row, Row, Your Dragon Boat
Dive into the sport of Dragon Boat and how Nathan Benderson Park Conservancy has played a pivotal role in the team competition.
A dragon boat is a human-powered watercraft made of teak and other kinds of wood, but typically crafted with carbon fiber, fiberglass, and other lightweight materials. Originally from the Pearl River Delta region of China's southern Guangdong Province, these traditional paddled long boats can be seen throughout Asia, Africa, the Pacific Islands and more.
The sport of dragon boat racing dates back more than 2,000 years throughout Asia, and even further to the original Olympia games in ancient Greece. Dragon boat racing has a rich background of ancient traditions and beliefs, and has always included aspects of culture, religious observances, and community celebrations, along with competitive spirit. For the high-end competition events, dragon boats are furnished from end to end, flushed in decorative regalia that sometimes sports a Chinese dragon head and tail.
Just how big are these dragon boats? Well, the crew of a standard dragon boat typically consists of 22 team members: 20 paddlers in pairs facing toward the bow of the boat, one drummer at the bow facing toward the paddlers, and one steerer standing at the rear of the boat.
Nathan Benderson Park (NBP) has hosted various dragon boat competitions throughout the years and will continue to be an outlet for teams and events into the future. Both the International Dragon Boat Federation (IDBF) and United States Dragon Boat Federation (USDBF) have had great collaborations and success with NBP, dating back as recently as the IDBF Club Crew Championships in July of 2022. That event, specifically, saw more than 2,300 athletes in attendance, with more than 1,300 of them being international participants.
The successes of dragon boat events at NBP have led to the formation of various programs and teams throughout Sarasota County, including the NBP Paddling program. NBP Paddling program's Survivors in Sync (SIS) consists of breast cancer survivors who compete in numerous dragon boat events around the world. They most recently placed second overall, only behind the Lake Karapiro home team, at the 2023 International Breast Cancer Paddlers' Commission (IBCPC) Participatory Dragon Boat Festival at Lake Karapiro, Cambridge, New Zealand back in April.
Other teams that make up the NBP Paddling program include:
NBP Veterans: Veterans train and compete with others who share their experiences.
NBP Dragons: The NBP Dragons compete year-round in women's, men's and mixed teams in Premier, Senior A (40+), Senior B (50+) and Senior C (60+) divisions.
NBP Warriors: The warriors are a team of men and women who have survived cancers of all-types. They compete year-round.
Dragon boat racing brings about a variety of people and athletes, and gives teams a chance to compete with their beliefs and traditions at the forefront. Nathan Benderson Park, in conjunction with both the IDBF and USDBF, creates tremendous opportunities for dragon boat athletes, fans, and lovers of the sport.
In short, Sarasota County is a place visitors can feel at ease, and what better way to bring various groups of people together than a fun regatta competition with decorative dragon boats stealing the spotlight.
The next dragon boat event held at Nathan Benderson Park will be the USDBF Club Crew National Championships, which take place July 21-23, 2023.