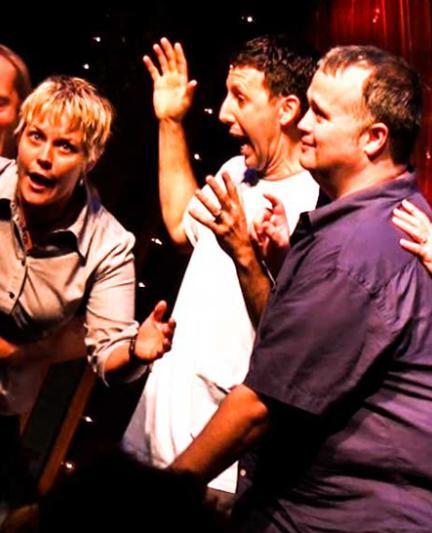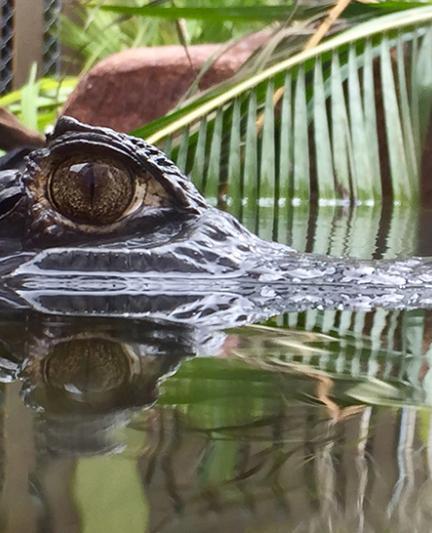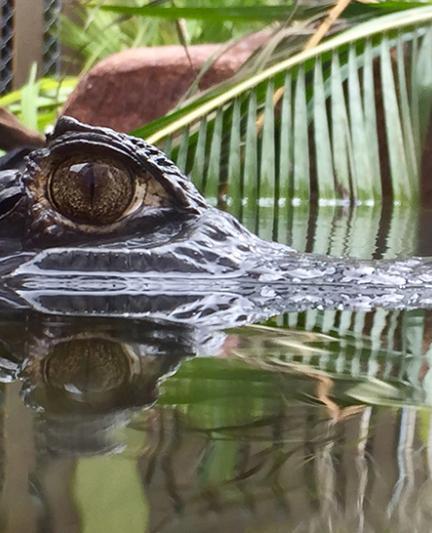 Reptiles to Flowers: Exhibits and Activities in Sarasota
From reptiles to flowers to interactive art, three Sarasota attractions feature new exhibits that change our perceptions, allowing us to experience something old in a new way.
From reptiles to flowers to interactive art, three Sarasota attractions – Mote Marine, Marie Selby Botanical Gardens, and Ringling Art Museum - feature new exhibits to wow the senses, open the eyes, and arouse oohs and aahs. Each exhibit changes our perceptions, allowing us to experience something old in a new way.
The Teeth Beneath – Mote Marine Laboratory & Aquarium
Friend or foe? For many, crocodilians such as gators and crocs land in the latter category. Maybe I blame the media. Maybe I blame Florida for producing so much article fodder. But mainly I blame misunderstanding. Alligators, crocodiles, and caimans aren't the blood-thirsty, man-eating creatures many imagine and the new exhibit The Teeth Beneath at Mote Marine helps visitors learn the truth about these animals, these friends.
Named, aptly, Blanche, Dorothy, Sophia, and Rose, the crocodilians (three caimans and one American alligator, Rose) recently moved in together and share the newly revealed habitat in the Ann and Alfred E. Goldstein Marine Mammal Research and Rehabilitation Center portion of Mote.
An extension of the watershed exhibit, which also features river otters, the enclosure allows visitors to marvel at these new roommates closely and safely. Information abounds about their habits, their mothering, their differences. Suddenly, one realizes the fear has changed to admiration and understanding. Wonder as they move slowly through the water with a flick of a tail, at the pattern in their eyes, the gentle nature they share, and the intelligence shown as they are trained.
It's quite a juxtaposition between the crocodilian and the otter – one lounges lazily, only moving as needed, while the other is a constant buzz of energy. Retirees vs toddlers. I can almost feel Sophia telling lively otter Huck to knock it off already.
Within the adjacent Oh Baby! exhibit resides an additional member, a baby crocodile named Ricky. I had hoped he was named Stan and would pop into the main enclosure sporadically to wreak havoc and mix things up a bit. He's too young for those gals anyway. Pretty darn cute, though.
By the time you depart to explore the rest of the aquarium, you'll leave with a new understanding of these creatures. Perhaps now they top your favorite animas list. Perhaps your fear or dislike of them will remain, but with understanding. For me, I found myself bidding adieu as I hummed "…thank you for being a friend."
Entrance into The Teeth Beneath is included in daily passes and memberships. The exhibit is a permanent addition to Mote Marine.
Marc Chagall, Flowers, and the French Riviera: The Color of Dreams
Ooh la la. Take a stroll through the Marie Selby Botanical Gardens and find yourself whisked away to the French Riviera, later life home of artist Marc Chagall. For the next six months, various works from Chagall are on display, including paintings, photographs, and stained glass, and, in his honor, the gardens have been transformed into a time capsule of former France.
Enter the Conservatory where his stained glass replicas cast color bursts onto the foliage all around. I grew up attending Catholic church and have spent hours upon hours staring at stained glass windows. I can attest that these are of a whole new caliber. Surrounded by hanging air ferns and unique flowers, the glass merges what is inside and outside, color and light, and transforms the world in which you stand.
Within Payne Mansion, history abounds. The house alone features architecture and décor of bygone charm, but with Chagall's stained glass added, its ante is upped. Photographs of Chagall tell the story of his life, emphasizing the painting elements he used. This knowledge of his life, his home, his family, and his loss makes the paintings on display that much more significant. They are not simply pictures of flowers. They are healing, they are tragedy, they are love.
Vignettes scatter throughout the grounds of the Gardens, intended to bring one to the South of France though its design of flowers and nature. Pause and let your senses see and smell a different place and time and follow along. A stop at La Boite a Pain, Michael on East's French food truck located outside the Mansion, adds a culinary element to the French transformation. Grab a seat at a bistro table under the trees, sip your champagne, nosh on a croque monsieur, and tete a tete about the masterworks of the tres bien artiste.
The exhibit runs through July 31, 2017. Additional events, including Chagall Nights and Chagall Family Saturdays accompany the showing.
Pathless Woods and A Feast for the Senses: Art and Experience in Medieval Europe
Trying to explain Pathless Woods, the newest exhibit to appear at the Ringling Art Museum, is a challenge in itself. In short, visitors walk through illuminated ribbons hanging from the ceiling. But the experience of the traverse is far, far more than that. Some described it as walking underwater. For others, it's a dreamlike state in a magical forest.
Somehow perceptions are altered and the world – including people walking mere inches from you – disappears. I felt like I was traveling to the Matrix via a turbo boosted ship. And, alone in the room, I managed to get lost. Pathless Woods reminds us all that the path which we walk through life is not always clear.
The discovery of the path is part of life and we all must choose our own and experience it in our own way. With its lights and sounds, the exhibit is ever changing and, at times, confusing, just like life. How artist Anne Patterson manages this impossibility with something so simultaneously simple and complex truly blows my mind. Patterson merges the senses to replicate the way she experiences them due to her synesthesia, which causes her senses to overlap. It's a walk anyone with the opportunity should attempt, hopefully resulting in a new appreciation of life and art, perhaps a clear vision of the path ahead, or perhaps a realization that there is no clear path in life.
Let me add that my kids adored this exhibit. It's interactive and colorful and fun. The room is enclosed but feels like it never ends. My 8-year-old snuck back in to do it again and is chewing at the bit to go back. My 5-year-old has done it twice, as well. The exhibit remains until April and we will surely return often to experience it over and over again, seeing which path we take.
Also at the Ringling, a second exhibit toys with touch, smell, sight, sound, and taste by subtly incorporating each into A Fest for the Senses: Art and Experience in Medieval Europe. The large exhibit, here until April, encourages visitors to appreciate the art and artifacts not only for their beauty, but also for how the affected their original owners.
The ambient smell and subtle sounds create a semi-interactive nature to the exhibit. While admiring a knife engraved with a Benediction, that very song subtly plays overhead. Gaze at a censer as its incense aroma wafts gently past. Learn the history of a bell as its chime quietly enters the room. Feel the beads of a rosary and smell its myrrh bead. Prompts are provided to urge visitors to think beyond the typical art museum experience and truly engage.
This is particularly helpful for those who may not know where to begin on an art-appreciation journey, as well as hesitant tagalongs (my kids and dad, for example). Intertwining the senses with the art bring the past to the present and it's as though it's suddenly happening now, not in a history book. Similarities between the modern times and medieval times begin to appear. Religion, love (though I wouldn't dare compare their courtship to our Tinder), personal hygiene – it was important them then and it's important to us now. We're all kind of the same.
Once the experience has concluded, step outside into the stunning Ringling grounds and find the senses engaged to appreciate the here, the now. Feel the grass beneath your feet. Hear the lizards rustling in the banyan trees. See the ibis soar overhead. Taste the sea air. Smell Marie Selby's roses. And, like each of the new exhibits, have a new understanding of something old, but in a new way.