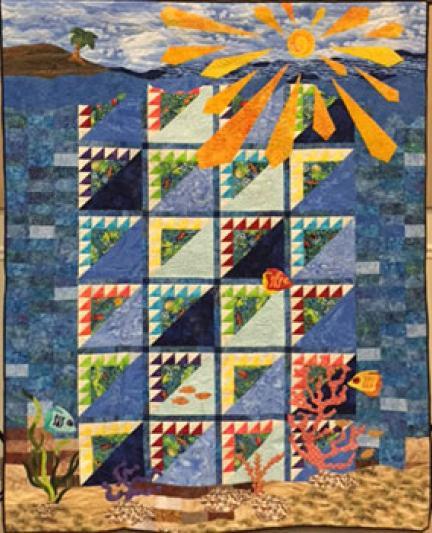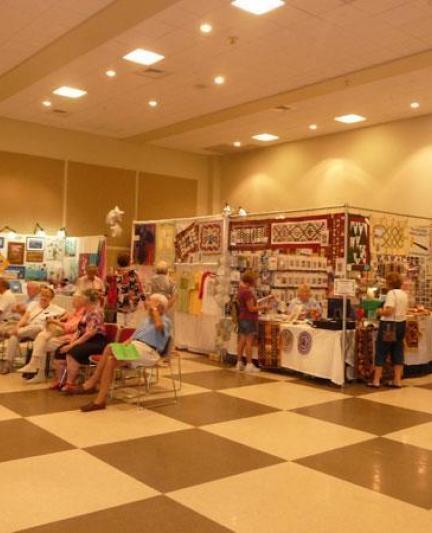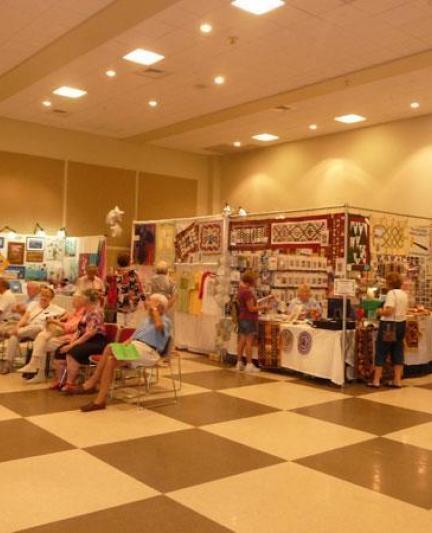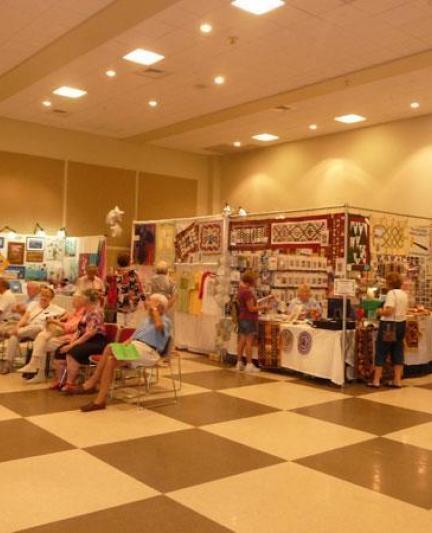 Quilting in Sarasota
Pristine beaches, vibrant circus culture, boutique shopping and fine dining are a few of the first things that spring to mind when most people think of Sarasota, but for quilting enthusiasts, the area is attractive for a reason that others usually overlook.
With more than 700 members spread across three quilters' guilds, a dozen independently-owned quilting shops throughout the county and yearly events that draw thousands of attendees and participants, Sarasota and her surrounding cities have become popular travel destinations and seasonal homes for quilters across the globe.
Quilting Groups
The Venice Area Quilters' Guild, which has approximately 360 members, is the largest in the area, followed by the Friendship Knot Quilters Guild in Sarasota with approximately 350 members and the Sunshine Quilt Guild in Englewood with approximately 80 members. Together, these guilds make Sarasota County the largest contingency of organized quilters in southwest Florida.
In fact, quilting is so integral to Sarasota that the city's newest residents - those in the nursery of the Sarasota Memorial Hospital, that is - receive their first blankets from the Sarasota KidZQuilt group, which donates uniquely decorated, hand-made 36" x 36" quilts to put over basinets in the neo-natal unit so that parents can easily spot their babies. In a similarly charitable fashion, the Venice Area Quilters' Guild provides "nap quilts" for low-income children in the Head Start program in Venice and North Port.
Quilting Worldwide Comes to Sarasota
Dawn Moore, former president and current treasurer of the Venice Area Quilters' Guild, said the area's rich quilting culture extends far beyond the locals. Sarasota County's vast offerings in the fabric arts have made the area a home away from home for quilting hobbyists from all over the world.
Moore explained that area quilting shops have regular customers who return every year from countries such as Great Britain, Scotland and Norway because fabric prices in the United States are as much as 40% less expensive than they are overseas.
"I don't think any other area in Florida has as many quilt shops as we do," Moore said. "It speaks volumes about the extent of the local quilting community that this area can sustain such a high concentration shops."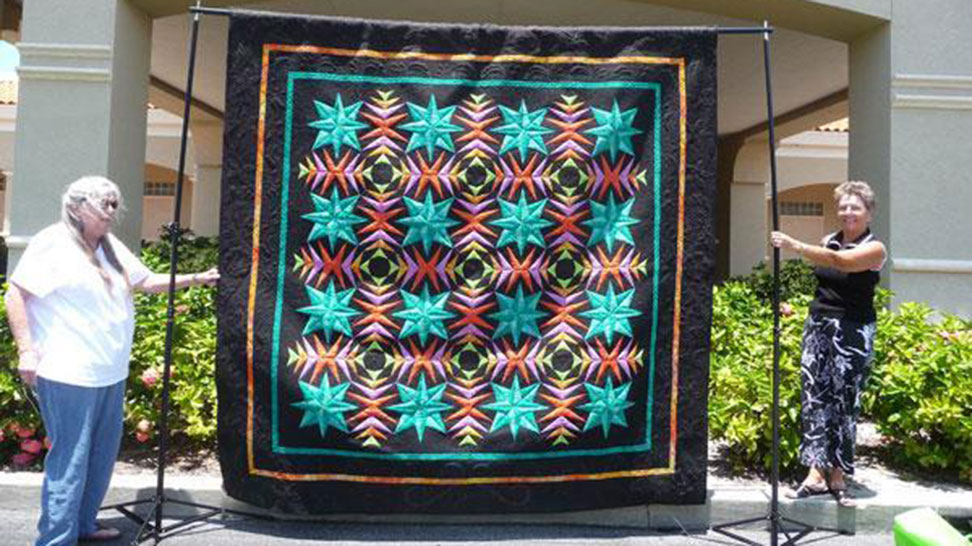 Sarasota's Quilting Culture
Sarasota's thriving Mennonite community is largely responsible for abundance of quilters, quilting shops and organizations in the area. Locals and tourists alike are gather daily in Alma Sue's, a popular quilting shop in the Mennonite community, to observe the artistic process while some of the community's most talented quilters hand-stitch elaborate custom quilts on the store's two full-size quilting frames.
Deborah's Quilt Basket, the oldest quilting shop in Sarasota County, has been a hallmark business in Venice since 1983. Other shops such as Landings-Viking Sewing Center, Alma Sue's, Sew Worth It and A Quilter's Stash in Sarasota and The Crazy Quilter in Venice, provide a dizzying array of fabrics and quilting supplies to tickle any quilter's fancy.
"One thing visiting quilters seem to love is the abundance of tropical-themed or 'Florida style' fabrics you can find in the shops down here," said Moore. "You don't see much of that elsewhere, so people love to get it while they're in Florida."
Quilting Events
Quilters from around the world are also drawn to Sarasota County every spring for the annual quilting festivities held in March which is also National Quilting Month in March. The Venice Area Quilters' Guild and Sarasota Friendship Knot Quilters Guild present their quilt shows in alternate years hosting the festival, with the next festival taking place in Venice at the Venice Community Center on March 19 and 20, 2016 followed by the Friendship Knot Quilters Guild's show on March 3 and 4, 2017.
Moore said that the quilt shows draw upwards of 2,000 attendees each year and also features fabric crafts vendors from all over the United States.
"The quilt show is great for the local economy because it draws a great deal of people to the area from across the U.S. - and quilters can spend a lot of money," Moore said, referencing a 2014 Quilters Newsletter report that states that the estimated total dollar value of the quilting industry stands at $3.76 billion and that the total number of quilters in the United States currently exceeds 16 million.
In addition to the shows, the Venice guild holds free public quilting demonstration event in the odd numbered years to celebrate National Quilting Month. The 2017 National Quilting Day is scheduled for March 2017 at the Venice Community Center. Other yearly events within the Sarasota Mennonite community are the Christmas in Pinecraft craft sale (Nov. 13 and 14, 2015) and the Palm Grove Church Quilt Auction to Benefit Haiti (January 15 and 16, 2017) are popular with locals and tourists alike.
See for yourself
Do you have the itch to stitch? Make your way to Sarasota and get a taste of the best southwest Florida's quilting scene has to offer!