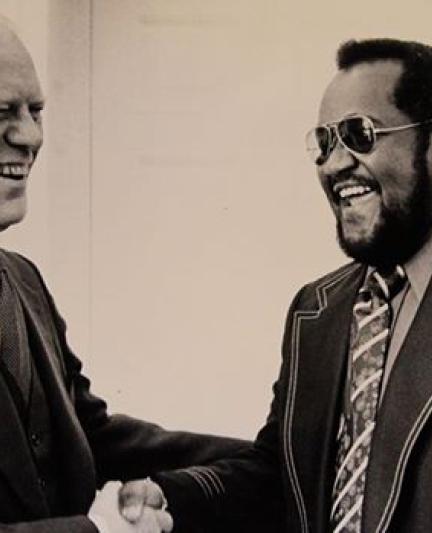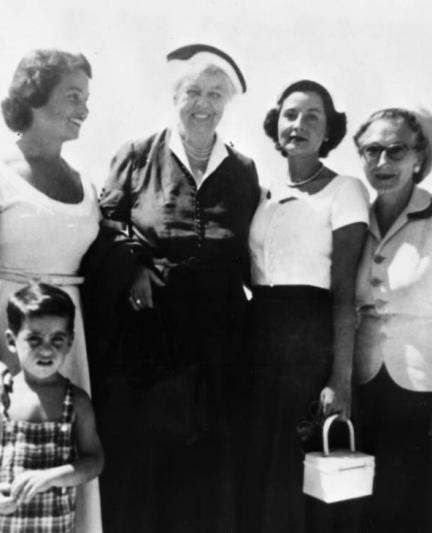 A Presidential History of Sarasota County
Did you know Sarasota was nearly home to a "Winter White House?" Every U.S. president since 1976 has made a stop in Sarasota, some more fortunate than others.
Was President Warren G. Harding was a socks-and-sandals man? Did First Lady Eleanor Roosevelt ever don a bikini? (Our understanding is that she preferred a one-piece — but what happens in Sarasota stays in Sarasota.) What we do know is that Sarasota has served as host to a number of U.S. presidents and their kin — both on the campaign trail and in leisure.
Warren G. Harding's "Almost Winter White House" at St. Armands
There is a theme to the street names of St. Armands Circle: Boulevard of the Presidents branches into Washington, Adams, Madison and Monroe Drives. There are also streets named after U.S. Presidents Polk, Grant, Van Buren, Jackson, Garfield, Roosevelt, Cleveland, Taft and more.
Naming the shopping district streets after presidents was part of a marketing campaign cooked up by circus mogul/real-estate developer John Ringling. His aim was lure then-president Warren G. Harding to Sarasota in the early 1920s, thus promoting Ringling's newest project — originally named "Harding Circle" — to appeal to the president.
St. Armands was Ringling's grand attempt to build a resort district filled with shops and luxury residences on the oval-shaped island — and President Harding happened to land in the Oval Office just as Ringling's vision at St. Armands was taking root.
Ringling schemed to bring Harding to the Worcester Mansion on Bird Key, in hopes the president would establish it as his "Winter White House."
Sarasota History Alive writes, "according to Ringling, the president loved the idea and 'displayed all the enthusiasm of a big boy over his contemplated vacation in Sarasota.' Ringling noted that the president's desk was covered with pictures of the Ringling yacht Zalophus which would be at his disposal during 'his sojourn on it as a haven of rest.'"
Unfortunately, Harding died unexpectedly after just two years in office, dashing Ringling's dreams of a Winter White House in Sarasota — but his memory remains in St. Armands' presidential street names.
The First Lady Strolls Siesta Key: Eleanor Roosevelt in Sarasota
"MRS. ROOSEVELT RESTING HERE," the Sarasota Herald proclaimed in a November,1938 headline. Eleanor Roosevelt was making her first visit as First Lady to Sarasota's sunny shores, and would continue to visit until her death in 1962.
The First Lady found respite from her duties and life in the public eye by visiting her uncle and aunt, Mr. and Mrs. David Gray, former U.S. Ambassador to Ireland, at their home on Siesta Key!
In the 1940s, Siesta Key was virtually tourist-free. The island offered a secluded tropical getaway, where the First Lady could walk the beach and collect seashells in peace.
In addition to her beach strolls, Eleanor Roosevelt also attended performances at the Florida Theatre (now the Sarasota Opera House), visited an attraction called "Texas Jim Mitchell's Reptile Farm" on Fruitville Road, and during at least one visit in the 1950s, toured the Ringling Circus' winter quarters and the Ringling Museum.
Mrs. Roosevelt wrote glowing praise of Sarasota, describing it as a "charming" locale, and said: "it is indeed a restful spot, and I am more than happy to be here."
Bicentennial Election Frenzy: Three U.S. Presidents Campaign in Sarasota
The 1976 U.S. presidential election was between three candidates— all of whom would, at some point, claim a seat in the Oval Office: sitting President Gerald Ford, Ronald Reagan and Jimmy Carter. All three campaigns would stop in Sarasota that year.
President Ford arrived with a set of his own tennis balls, which he for a game at the Field Club. He also visited the Church of the Redeemer, the Sarasota Welfare House, and was photographed with his chief of staff, Dick Cheney, at the home of former Sarasota attorney William Getzen.
Ronald Reagan lost the Republican nominationto Ford in 1976, despite a March campaign visit to the Gulf Gate Mall — where he was met by legendary clown, Emmett Kelly — and in two Venice locations, where he was named an honorary citizen.
Perhaps Reagan's bad luck in the primaries was foreshadowed by an unfortunate campaign flummox on Siesta Key: The Sarasota Herald reported in March, 1976, the chagrin of one Larry Moody — a man whose kite string was severed when a small plane bearing a "Reagan 1976" banner clipped it in mid-air at the beach.
The Herald recalls: "'I may not sue Reagan for ruining my kite,' an upset Moody told the Herald-Tribune at the time. 'But I damn sure won't vote for him.'"
Sarasota in the New Millennium: A Popular Presidential Stop
Since President Ford's visit in 1976, every U.S. president has paid a visit to Sarasota!
Most memorable is President George W. Bush's visit on September 11, 2001. That morning, while reading to local students at Emma E. Booker Elementary School, Bush was approached and provided the historic news of the 9/11 attacks. Prior to his presidency, Bush visited Port Charlotte frequently in the 1990s to attend Texas Rangers spring training games as part owner of the team. His father, President George H.W. Bush, also attended games.
Barack Obama spoke to a crowd of 10,000 at Sarasota's Ed Smith Stadium — spring training home of the Baltimore Orioles — in October of 2008 prior to his election, famously spending extra time in town picking out two Halloween pumpkins for his family, and one for needy children.
Former President Bill Clinton also visited Sarasota, in 2009, to speak at the Van Wezel.
Donald Trump spoke at the Van Wezel in 2015, one month prior to announcing his bid for the presidency, and at Robarts Arena in 2016 shortly before the general election.
Who will be next? One thing for certain is while trying to chase votes in this infamous swing-state, few can resist the white, sandy beaches and warm sun during a stop to Sarasota.