Meet scrub jays, bikers and hikers at Shamrock Park in Venice.
From slow moving gopher tortoises to friendly scrub jays, Shamrock Park and Nature Centerin Venice is a nature lover's delight. Walkers and bikers alike will appreciate paved and grassy trails through coastal scrub and scrubby flatwoods. Connecting to Veneitian Waterway Park, which in turn continues to Legacy Trail and downtown Venice, Shamrock Park is a great recreational location.
Two friends walked on a paved trail near the Shamrock Park Nature Center. Raising one arm to point out a scrub jay in a nearby tree, both were startled when another scrub jay landed on the outstretched hand.
Yes, they are that friendly.
Seeing scrub jays means seeking out where they live in "islands" of good habitat like the 82 acres at Shamrock Park and Nature Center in Venice. Wide paved multi-use trails curve past high and dry coastal scrub and scrubby flatwoods. From 2 to 5 p.m., families of scrub jays call this park home.
Scrub jays are a threatened species. Looking like a blue jay without the white wing spots and tail feather tips, these birds are true Florida natives and the only bird species unique to Florida.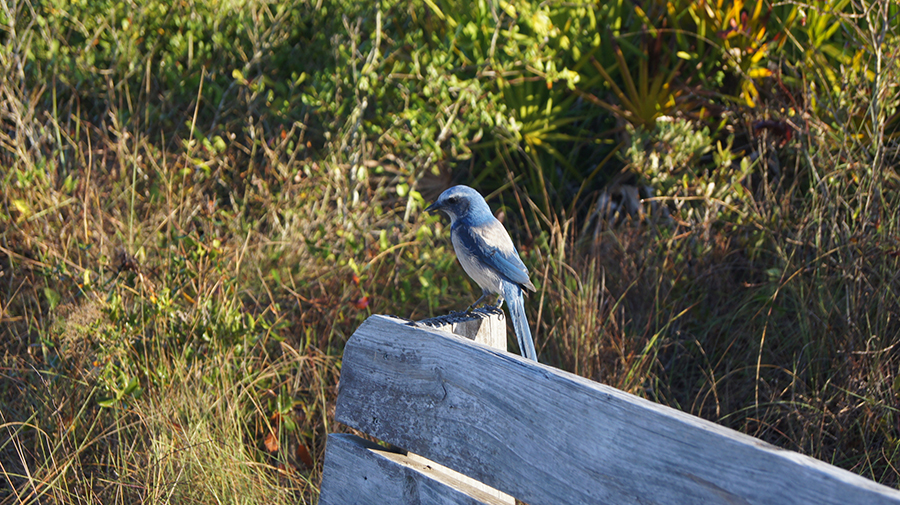 When walking on the trails, have binoculars at the ready for birds be sure to look down as well as up.
Gopher tortoises, another threatened species, make burrows in the sandy soil then come out their cool homes to eat grass and flowers. Munching away, passing humans taking photos barely makes them look up. Eating is much more important.
With three miles of paved trails along with well-mowed grassy fire breaks, walking is easy and wildlife sightings are strong – the scrub jays are almost a sure bet along with bald eagles, vultures, those placid gopher tortoises, bobcats and even a coyote or two.
Suggestion: Trails are open and wide with little shade. Wear a hat, use sunscreen and carry water.
Butterflies are abundant at the butterfly garden next to a nature center. Also on view are demonstration gardens with Florida – friendly and native plants (think plants that use little water.)
The Nature Center has educational displays and restrooms. Ongoing activities include one-day classes on becoming a scrub jay docent.
Both picnic tables along the trail and the Nature Center are good rest stops for walkers, roller bladers and bikers using the Venetian Waterway Park trail. It is an easy walk or ride from the Nature Center to the Veneitian Waterway Park -- a long linear park with a paved trail that parallels the Intracoastal Waterway.
Venetian Waterway Park goes north to connect with the Legacy Trail, the historic train station and downtown Venice along with Caspersen Beach.
For those who like their sports on courts, Shamrock Park and Nature Center has tennis courts and a basketball court.
The Great Florida Birding Trail list Shamrock Park and Nature Center (B13) as "good for beginners. Birding by foot/hiking, birding by bicycle."
What is the best time of day for you to visit Shamrock Park and Nature Center?
All day.
Shamrock Park and Nature Center
Address: 3900 Shamrock Drive, Venice, Florida 34293
Phone: 941- 861 – 5000
Web: scgov.net/parks
Admission: Free
GPS:
Latitude: 27.053506
Longitude: -82.43623
Other details: Multi-use trail, connector to Venetian Waterway Park, Nature Center, picnic tables, restrooms, shaded playground, tennis courts, basketball courts