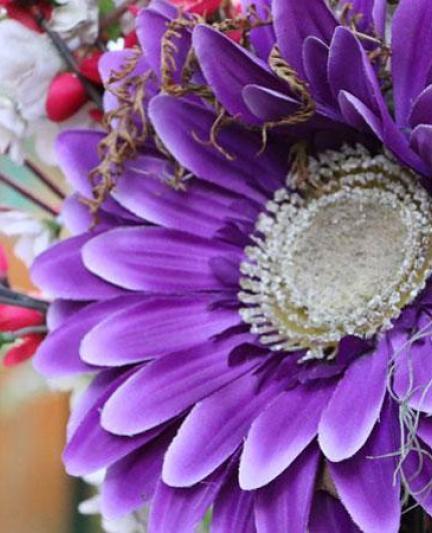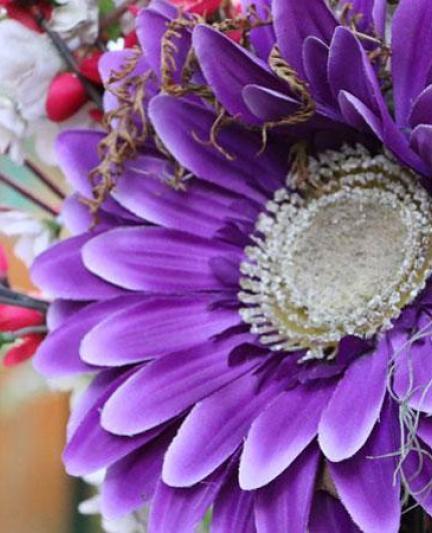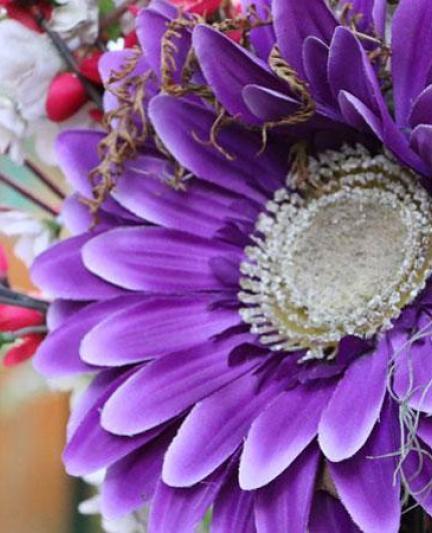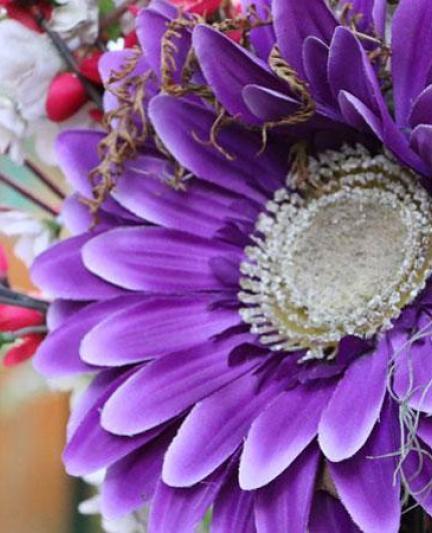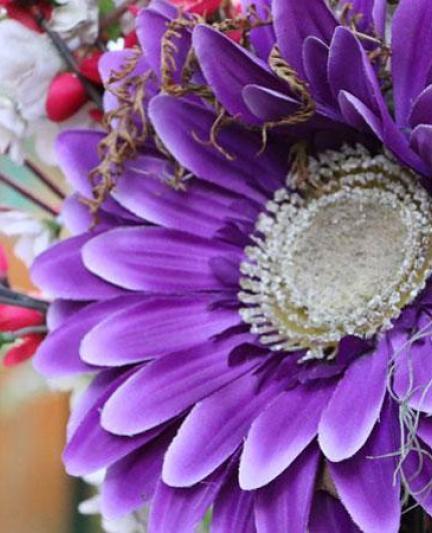 Marietta Museum of Art & Whimsy
For decades, the Van Wezel Performing Arts Center, affectionately nicknamed "The Purple Cow," was the most flamboyant critter on the bayside stretch of Sarasota's North Tamiami Trail - but these days, it's impossible to ignore the giant, fluorescent pink flamingos who have moved in down the street. Two 1,200-pound metal flamingos beckon from the roadside, flanking the entrance to the Marietta Museum of Art & Whimsy, a one-of-a-kind addition to Sarasota's colorful art scene. Aside from the giant flamingos, the museum facade is relatively unassuming, and many visitors are surprised to find that a short stroll through the museum gallery leads to a lush garden with an enchanting, Neverland-esque atmosphere.
Contemporary and Whimsical Art
Museum founder, Marietta (Mary) Lee, curates her museum's galleries with smiles in mind. A graduate of the Ringling College of Art + Design (RCAD), the philanthropic artist and avid art collector says that her mission is to provide the public with free access to culturally-significant, contemporary artwork that celebrates upbeat themes and whimsical notions. In short, Lee's mission is to put smiles on faces.
All of the art on display in the museum is contemporary in nature, most having been created by living, working artists within the past fifteen years and contrary to popular belief, none of the art on display at the Marietta Museum of Art & Whimsy is for sale.
As lighthearted and whimsical as the themes represented in the galleries may seem at first glance, Lee's artistic tastes are discerning, and her collection is anything but kitsch. Visually stunning and valuable works of art such as Michael Gard's Flying Dancers, an illuminated wire sculpture of three dancers hanging gracefully from the museum ceiling, provides an elegant counterbalance to the saccharine pink flamingos and fanciful winged-pigs found elsewhere in the museum.
Sculpture Garden
If you aren't grinning from ear to ear after a stroll through the interior galleries at Marietta Museum of Art & Whimsy, an exploration of the sculpture garden in the backyard is in order. Lee, an accomplished gardener, created a lush, tropical paradise behind the museum that is filled with fanciful sculptures, shaded by bamboo, palm trees and sturdy oaks covered in verdant philodendron vines.
When you visit the Marietta Museum of Art & Whimsy, it's likely you'll lose count of the flamingos. Lee says there are more than 160 plastic lawn flamingos scattered throughout the museum grounds - and that doesn't include the giant metal sculptures, nor the holiday-themed flamingos in Santa Claus costumes, the flamingo plushy toys or the decorative flamingos painted on various artifacts in the gallery.
Although they populate the museum grounds in grand flocks, pink flamingos are just a few of the fun and festive residents of the Marietta Museum of Art & Whimsy sculpture garden. A trio of hot pink, winged pigs appear ready to launch into flight at any moment, while a nearby silver rocket ship glitters in the sunlight. Kids and adults alike will delight in "getting lost" in the sculpture garden, where every turn brings another kooky sculpture or a bright, blooming floral display.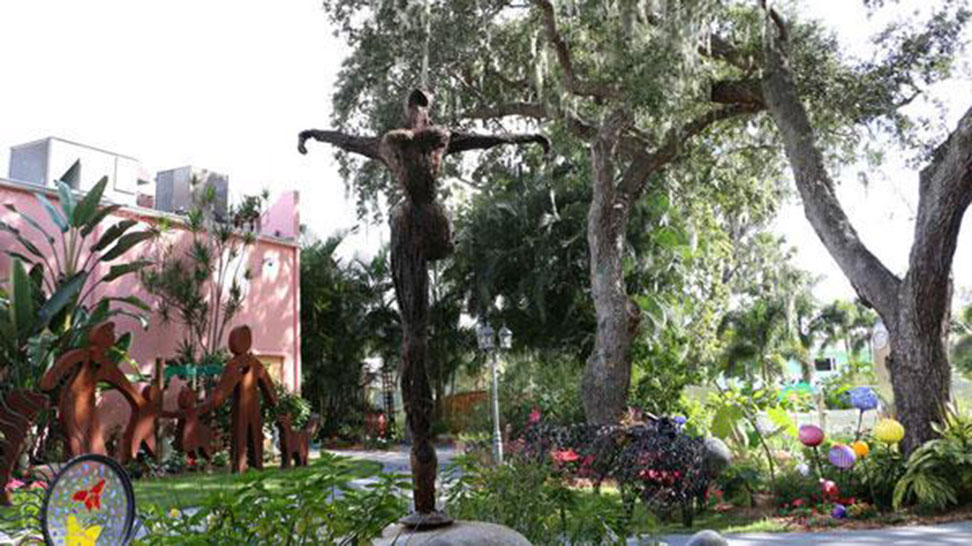 Workshops and Classes
For a detailed schedule of classes and events, artists may wish to refer to the museum's regularly updated calendar of events.
The Marietta Museum of Art & Whimsy is free to the public and open November through May from 1 p.m. to 4 p.m. every Thursday, Friday and Saturday afternoon. A donation of $5 per person is suggested. The museum is located at 2121 N. Tamiami Trail - although we doubt you'll require a map to find it … When you see the giant, hot pink flamingos, you'll know you're in the right place.
History
The story of the Marietta Museum of Art & Whimsy began more than thirty years ago in Kentucky, when Lee, at the time a registered nurse and paramedic, was called to a small airplane crash site where there were no survivors. The tragic scene forever changed Lee, who began creating art to cope with the emotions that arose from the event. Lee switched career paths, and relocated to Sarasota in 1984, where she earned a bachelor's degree in fine art from RCAD.
Lee noted that "humorous artwork" that makes people smile, and the work of female artists was dismally under-represented in traditional galleries. She began seriously collecting art and started a non-profit, private foundation for Marietta Museum of Art & Whimsy in 2006 in her hometown of Guilford, Connecticut, where she had relocated so that she could serve as a caregiver to her parents. Unable to find an appropriate location for the museum in Guilford, Lee returned to Sarasota, whose diverse artistic culture she knew would welcome the museum.
Ever since it first opened its doors in October 2010, the not-for-profit Marietta Museum of Art & Whimsy has stood as uncontested champion of all things fun, light and whimsical in Sarasota. The inviting pastel-hued gallery space is populated with paintings, sculptures, and decorative furniture that appeals to the lighter side of life. Funky fashions, seashell art, vivid floral designs, playful cats and elegant giraffes and "Art" - the humorous, life-like sculpture of an elderly security guard who appears to be just seconds from dozing off in his seat at the gallery entrance - are just some of the smile-inducing items visitors will find in the museum.