Lawn Bowling in Sarasota County
Lawn bowling is challenging, yet fun outdoor sport that is growing in popularity. Learn more about this sport and play today at the Sarasota Lawn Bowling Club.
Often confused with bocce ball, lawn bowling is a similar outdoor sport that has been growing in popularity throughout the past few years in Sarasota County.
It is typically played outside on a flat or uneven rectangular green made of natural grass or artificial turf, and the objective is to roll plastic composite balls ("bowls") until they stop near a smaller ball called a centered "jack." The bowls are constructed with a bias that causes them to curve as they move.
The players roll the bowls down the green, trying to get as many bowls as possible closest to the jack to earn points (or "shots.") In order to win, players can knock the jack toward the other bowls, moving them out of the way. The game is played until one athlete or team reaches a particular number of points, or until they finish a certain number or rounds or "ends."
Though lawn bowling may date back to 13th-century England, it is new to area athletes who have -- because of the recent upsurge in interest -- discovered the sport in Sarasota County. The difference between bocce and lawn bowling lies in the shape of the ball, the type of the court, and the fact that lawn bowls are rolled rather than thrown underhand.
Sarasota Lawn Bowling Club
Sarasota Lawn Bowling Club teaches athletes the nuances of the sport every Monday, Wednesday and Friday on the land that was once home to the Sarasota Municipal Auditorium/Recreation Club (an 11-acre complex that also had shuffleboard, badminton and tennis courts, as well as an original clubhouse). Lessons are free, year-round, and no partners are needed. Flat-soled shoes are recommended during practices and games.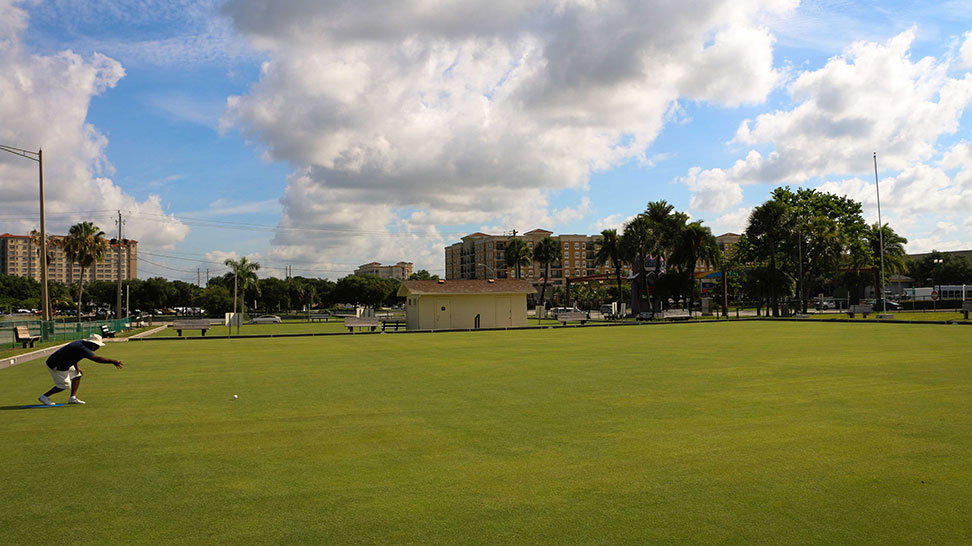 Aspiring athletes are getting in on lawn bowling now, as the Club will be hosting the U.S. Open of Lawn Bowling Championship in 2016 and again in 2017. These events have never before been awarded consecutively to the same city. This year, the Club even hosted a series of Canadian vs. Scotland exhibition games in an effort to generate excitement for lawn bowling. The Club is part of the United States Lawn Bowling Association Southeast Division.
Lawn Bowling in Manatee County
In nearby Manatee County, there is also the Riverwalk and Golf Lakes Estates in Bradenton. The latter is a 55-and-older co-operative community on 121 acres that features lawn bowling as well as shuffleboard and swimming.
The Riverwalk Pavilion and Event Area in downtown Bradenton has a large, open space with a slew of amenities, including a lawn that is perfect for lawn bowling. The Pavilion even has a concession area, bathrooms and a shaded porch so participants can rest, refuel and regroup between and after games.
Local lawn bowling resources:
Sarasota Lawn Bowling Club: 809 N. Tamiami Trail, Sarasota, (941) 316-1123.
The Riverwalk Pavilion and Event Area: 452 Third Ave. W. Bradenton, (941) 621-6471
Golf Lakes Estates: 5050 Fifth St. E., Bradenton, (941) 755-3322.
United States Lawn Bowling Association Southeast Division: 1405 Sanchez Court, The Villages, (352) 775-2991.