Healthy Eating Options in Sarasota
Introduce yourself to the freshest and healthiest dining options in Sarasota County.
In Sarasota, a locale geographically blessed with year-round sunshine that nurtures farm food, healthy eating seems to simply make sense. As the city of Sarasota has the highest concentration of Zagat-rated restaurants in Florida, you'll have no problem finding a variety of healthy places to eat dinner, dessert, and breakfast – in whatever order you so choose. From the best seafood in Sarasota to organic restaurants and even coffee houses, Sarasota's food scene has something to offer everyone.
Markets
Sarasota Farmers Market
Every Saturday, vendors flock to Main Street and Lemon Avenue at the heart of downtown Sarasota for The Sarasota Farmers Market, a 30-plus-year tradition that connects Sarasota residents and visitors with local farmers, businesses and artisans.
The early bird gets the worm – or at least the fattest cucumbers and juiciest tomatoes. At Sarasota's biggest weekly farmer's market, however, there's always enough fresh produce for everyone. Vendors from Sarasota, Manatee and Hillsborough counties, including Brown's Grove, Worden Farms, and Kinsey's Produce, to name a few, set up shop at the downtown market every Saturday with the freshest produce from local fields. The Sarasota Farmer's Market also hosts vendors peddling local honey, locally caught seafood, and locally made packaged foods such as pastas, coffees and teas, breads, and sweets.
Neighboring Farmer's Markets
Other Sarasota County farmer's markets that take a farm-to-table approach include the Venice Farmer's Market in historic downtown Venice every Saturday, and the Philippi Farmhouse Market in south Sarasota every Wednesday.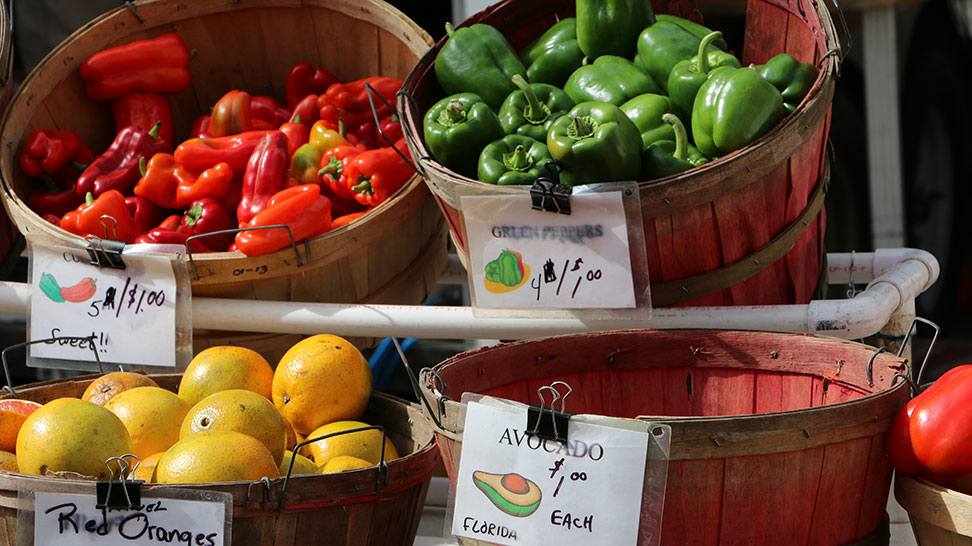 Restaurants
Ionie Healing Center & Raw Food Cafe
Ionie is a peaceful oasis located in the downtown Sarasota area where locals and visitors alike flock to escape the stress of daily living. Proprietor Ionie Bergs, who specializes in massage and acupuncture and is a proponent of raw, vegan living, has opened a raw café at the healing center to promote a nutritionally conscious healthy lifestyle to clients.
Lovely Square
Located in the Gulf Gate area, Lovely Square offers a variety of options for every diet including vegan, vegetarian, gluten free and traditional options. With background in Spanish and French cooking styles, Chef Serafin Garcia creates American favorites with his own special twist for breakfast, lunch and dinner. Everyone can enjoy their homemade from scratch crepes taht can be made vegan and gluten free.
Cafe Evergreen
With locally sourced and grown ingredients, Cafe Evergreen keeps your food "clean" by creating house made fresh meals with no preservatives. All sauces, soups and dressings are house made contributing to 2/3 less salt than most restaurants. Not only do they serve lunch and dinner every day with breakfast on the weekends, they even have a Juice Bar full of probiotic drinks, smoothies, juices, vegan organic wines and more. The Kefir Mojito
Simon's Coffee House
Another south Sarasota eatery, Simon's Coffee House, features a largely organic and locally sourced whole-foods menu that caters to vegetarian and vegan diets. The family-owned café and juice bar features a rotation of six or more soups made daily on the premises, a broad selection of fresh salads, and popular raw options, such as the raw lasagna and raw kale tabouleh. The menu also features vegan and gluten-free desserts, like the vegan chocolate cake and gluten-free Belgian chocolate and almond brownies. Lunch specials change daily, as reflected on the festive chalk boards in the café. In addition to vegan and vegetarian cuisine, Simon's Coffee House also serves a wide range of paninis and entrées for meat-eaters in its ever-rotating fresh, daily menu. It should go without saying that the coffee is excellent – and if you take yours au lait, sip easy knowing the milk from Dakin Dairy Farms is local, too.
Sun Garden Cafe
Sun Garden Café on sunny Siesta Key is renowned not only for its diverse menu, but for its pleasantly casual, family-friendly garden atmosphere. The multi-cultural influence is apparent in the cuisine, featuring wild-caught seafood from local waters, farm-fresh eggs, and locally grown organic produce. All elements can be found on their lengthy list of breakfast and lunch items, ranging from lean and healthy to hearty and heavy, depending on your appetite.
Sarasota: Ahead of the Organic Curve
As the trend toward healthier and more ecologically sustainable eating habits takes root in the United States, Sarasota sits at the forefront of the movement with its dedication to organic, vegan, raw and locally sourced dining alternatives. Feeling good about a full tummy has never been easier!