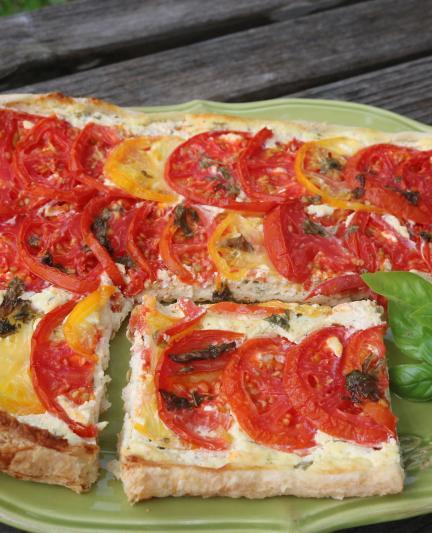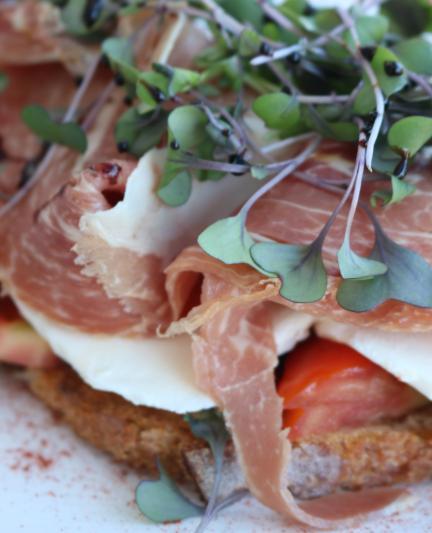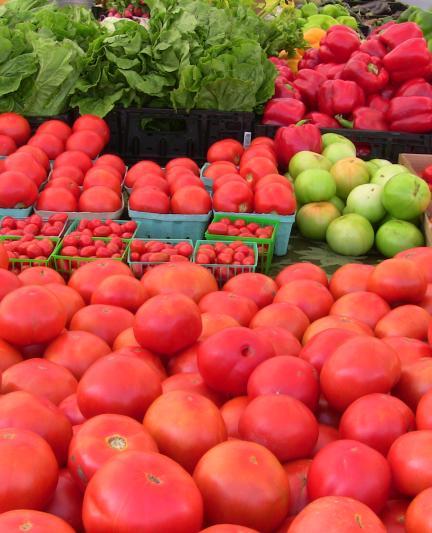 Enjoy Fresh Summer Tomatoes While in Sarasota
Enjoy some juicy tomatoes this summer while in Sarasota
During summer, many of us savor lighter, fresher meals – including salads and garden vegetables. Especially delicious are slices of vine ripe tomatoes. Luckily local restaurants incorporate fresh summer tomato dishes into their menus to celebrate the season. We've compiled some ideas on where to enjoy these garden-fresh delicacies, and have added a special bonus recipe to try while you are here.
Sarasota's French-inspired restaurant called Lolita Tartine creates fresh dishes daily, including its namesake item, the tartine. In French, the word means open-faced sandwich, and the menu here offers several. One in particular, called Lolita's Picasso, is stacked with thick fresh tomato slices, mozzarella, pesto and prosciutto.
During your Sarasota stay you will discover plenty of restaurants incorporating fresh tomatoes including the Jack Dusty Restaurant that serves up imaginative tomato dishes such as the Fried Green Tomato Po' Boy sandwich and a sumptuous Watermelon & Tomato Salad. Or try the Roasted Roma Tomato Flatbread at the University Town Center's Seasons 52 Fresh Grill. And out on Longboat Key Harry's Continental Kitchen serves up a Fresh Chunky Gazpacho, a chilled tomato based soup with fresh Gulf Shrimp. Englewood's Mango Bistro offers a Vegetarian Italiano - a classic grilled cheese sandwich on sourdough with tomato, provolone and fresh basil. Or you may try Venice's Cassariano Italian Eatery where tomatoes are always a staple. Enjoy the Capri Sandwich loaded with tomatoes or the tomato pasta dish of Linquine allo Scoglio. Check-out Mattison's Forty-One for its delicious Charred Tomato Bisque, and Bruschetta, an appetizer with marinated tomatoes, basil pesto and goat cheese. And for a tomato bonanza, the Beulah Restaurant in downtown Sarasota offers a classic wood-fired Margherita Pizza, a Garganelli Pomodoro with Hierloom cherry tomatoes, basil and stracciatella cheese and the Caprese Salad with fresh ripe tomatoes, arugula and mozzarella.
And if you need more to whet your appetite, here's a simple recipe to make your own fresh tomato treat called the Florida Tomato Tart. It's a great way to incorporate summer into your next meal.
Florida Tomato Tart Recipe
6 servings
Total time: 45 minutes
Preheat oven 425 degrees
Ingredients
1 sheet of frozen all-butter puff pastry
¾ lb. fresh tomatoes
2 Tbsp. olive oil
1 cup whole milk Ricotta Cheese
4 oz. soft goat cheese
3 large eggs
1/3 cup fresh chopped basil
1 Tbsp. kosher salt
1/2 tsp. freshly ground black pepper
Baking sheet pan
Parchment paper
Flour
Rolling pin
Egg wash: Use one egg and beat.
Steps to make the Tomato Tart:
Take the puff pasty out of freezer and let thaw.
Take a sheet of parchment paper and line the baking sheet pan.
On a lightly floured work surface, roll out the pastry and measure 10" X15 " rectangle and transfer it to the baking sheet.
With a pairing knife, score a border 1 inch on all edges around the rectangle. (Do not cut through the dough.)
Next, prick the remaining dough in the rectangle with a fork (this allows the border to rise higher than the center).
Next, brush the center with 1 tablespoon of olive oil.
Separately, in a medium sized bowl, mix 1 cup of Ricotta cheese, 4 oz. of goat cheese, 2 eggs, 1/3 cup of chopped basil, 1 tsp. salt, ½ tsp. pepper.
Spread the mixture over the center of the puff pastry sheet.
Place the tomatoes, overlapping slightly over the mixture.
Sprinkle tomatoes with a few pinches of salt and brush with 1 Tblsp. olive oil.
Finally, press the 1 inch edge border around the edge to form a border, tucking in the edges, to contain the mixture.
Brush the dough edges with an egg wash mixture.
Bake 30 minutes or until the pastry is golden brown and the filling is set.
Sarasota native Robin Draper is a columnist and owner of the award-winning website, AuthenticFlorida.com, a travel and lifestyle blog devoted to the simple and delightful pleasures for Florida living.