The Craft Beer Drinker's Guide to Sarasota
Thirsty for knowledge about the craft beer scene in Gulf Coast Florida? We've got your guide to Sarasota's most hoppin' breweries and local restaurants with a flair for pairing their bites with Florida pints.
Sarasota and craft beer are a natural pairing: citrusy wheat ales, hefeweizens with tropical notes, and crushable light lagers hit the spot on a summer day at the beach; inventive IPAs in their varied styles, tart sours and aromatic saison are perfect for sipping after an afternoon spent strolling an art gallery or evening of adventurous theatre. For fans of full-bodied brews, cacao and coffee are just some of the South Florida flavors typically found in specialty porters and stouts, which local brewers sometimes age using Siesta Key Rum barrels.
Sip whichever style you prefer at breweries and beer gardens throughout Sarasota County, and tune in with the latest trends in American craft brewing at local gastropubs, where variety is always on tap.
Hometown Brews: Sarasota's Craft Breweries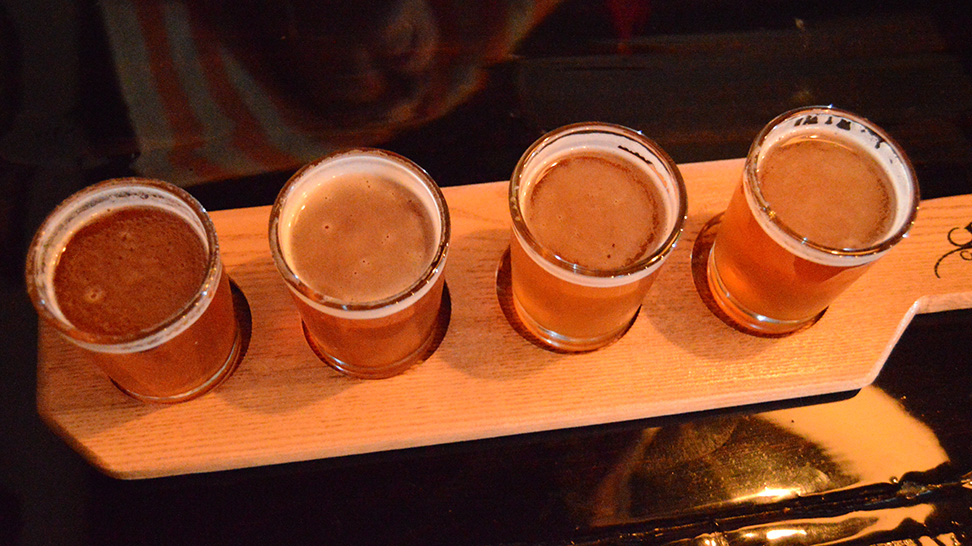 One microbrewery started it all more than 30 years ago. Established in 1989, Sarasota Brewing Company is southwest Florida's oldest microbrewery, where brewmaster Vince Pelosi has been crafting the same cornerstone beers for more than two decades. Straightforward flagship brews sit at opposite ends of the tasting spectrum -- the light and refreshing Sarasota Gold and the robust Midnight Pass Porter -- and you'll find amber lagers and ales somewhere in between. Five in-house brews are always on tap alongside a rotating selection of American and European beers at Sarasota's O.G. craft watering hole.
Sarasota's newest microbrewery, Almazónica Cervecería, puts South American flavors first in its adventurous small-batch beers and Peruvian street food-inspired bites. Founder, Darwin Santa Maria, is well-known in the local culinary and craft beer scenes for spotlighting ingredients from his native Peru in the eclectic dishes and brews at Selva Grill and Darwin's Brewing Company. Almazónica launched in summer, 2021.
Big Top Brewing Company's circus-themed beers celebrate the 'big top' circus culture that is central to Sarasota history. The brewery's flagship Circus City IPA and New England-style Hazy Highwire are solid examples of the versatile, hoppy IPA brewing style. Trapeze Monk, a citrusy Belgian witbier and Conch Republic Key Lime Pale Wheat are refreshing summer sippers. Keep an eye out for Big Top's limited releases, launched weekly, and only available in-house.
Calusa Brewing is named for the Indigenous people who inhabited southwest Florida from Tampa Bay to the Florida Keys prior to their extinction during European colonization in the late 1700s. "Calusa" translates to "fierce people," and with a nod to its namesake Native Florida inhabitants, the brewery produces fiercely flavorful, bold brews with a heavy, but not exclusive, emphasis on IPAs. Classics include the citrus-forward hazy Zote IPA, the 100% citra hop "Citronius B.I.G." DIPA, and the Dissonance Breakfast Brown Ale, which is flavored with coffee and cinnamon.
Brew Life is a small batch brewery and retro arcade located just down the road from Calusa Brewing. Classic vintage console games like Ms. Pac-Man, Galaga, and Dig Dug pair with quirky craft microbrews ranging from tart fruit-forward flavors in the brewery's best-known Pink Guava IPA and its Mango Sour ale to sweet, dessert-like stouts, mead, and barleywine. Classic red ale, kolsch, stout and IPA flavors also present more traditional options in the taproom.
In Venice, Off the Wagon Brewery & Kitchen is a gastropub-meets-microbrewery that houses 3 Bridges Brewing -- most recently named Sarasota Herald-Tribune Readers Choice "Best Brewery" in 2021. Try the brewery's flagship Skyway IPA with one of Off the Wagon's award-winning angus-brisket blend ½ lb burgers, get wickedly fruity with limited-run sours like the Banyan Blueberry-Lemon or the Sneaky Tiki Imperial Fruit Punch, or kick back with a crushable, light Florida Lager, Station.
Sarasota Restaurants with Florida Focused Beer Menus
If you're the kind of person who likes to sample everything a neighborhood has to offer, don't miss these restaurants that keep it local right down to the drinks menu.
In downtown Sarasota, 99 Bottles and Cask & Ale are two spots where you're guaranteed to find delicious gnosh (brunch and late night) alongside local brews from Sarasota and the Tampa Bay area. 99 Bottles showcases a diversity of "you probably haven't tasted this one before" beers in its 30+ rotating tap and specialty bottle store, and while Cask & Ale is best recognized for craft cocktails: the beer menu offers solid representation from Sarasota, Bradenton, Tampa, and St. Pete breweries.
The downtown-adjacent Mandeville Beer Garden in Sarasota's Rosemary District is a spacious, versatile hangout -- whether you're having a casual business lunch, or bringing the whole family (even well-behaved, leashed pups) to play cornhole and ping pong in the beer garden. Mandeville also carries an excellent global beer selection, with plenty of offerings from local breweries.
Does anything go better with beer than pizza? Two of our favorite, long-running pizza spots in town partner up with local breweries to offer the best of both worlds. Doughn't miss out on grabbing a slice (or their other specialty, a New York style bagel!) from Cock & Bull about 10 minutes east of downtown Sarasota, or pizza and triple-baked wings at 3.14 Craft Beer & Spirits on Siesta Key.
While they haven't been slinging pies as long as decades-old local standards like Cock & Bull and 3.14, Origin Craft Beer & Pizza, established in 2016, is a fast-growing-favorite pizza joint in Sarasota, with three locations at Southside Village, Palmer Ranch, and University Town Center -- each offering a selection of up to 20 craft beers with Florida-heavy brewery representation.
We told you about Venice's rising star in the Florida craft beer scene, 3 Bridges Brewing, in our section on breweries, but in-house (the outstanding Off the Wagon Brewery + Kitchen) isn't the only place to grab their brews when you're down south.
In the mood for tacos? Irma's Taco's is a craft tequila and taco spot you won't want to miss, featuring nearly a dozen delicious offerings from 3 Bridges' award-winning lineup alongside Irma's variety of traditional "Old World" Mexican-style, Tex-Mex, and seafood tacos.
Barrel & Bean at the Wellen Park Welcome Center on Mercado Drive is a concept eatery that specializes in craft beer, coffee, and al fresco bites. Come early for breakfast and coffee, or hang out in the evening with a 3 Bridges beer and something scrumptious from Barrel & Bean's specialty grill menu, accompanied by live music on the outdoor patio.
Snack Local with Boardwalk Food Co. Craft Beer Pretzels
In a foodie town filled with breweries, craft beer-flavored snacking makes sense. Sarasota residents Andy and Kim Yochum put a fresh spin on bland barstool snacking with their line of craft beer-flavored and beer cheese flavored pretzels.
Find Boardwalk Food Co. beer pretzels at Big Top Brewing, The Bazaar on Apricot & Lime, Tap72, Morton's Gourmet Market, and in select breweries throughout the Tampa Bay area.
Now that you have your snack fix: grab your growlers and get sipping in Sarasota. Be sure to tell us about your favorite local brews!