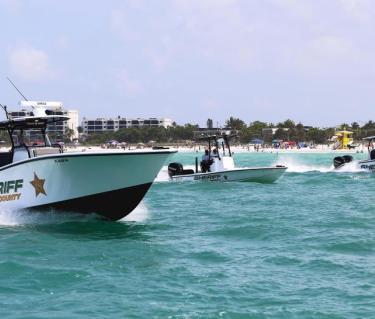 Careers on the Suncoast
Series highlights workforce opportunities for visitors and prospective Sarasota County residents
Visit Sarasota County (VSC), in collaboration with the Sarasota County Economic Development Corporation (EDC) launches "Careers on the Suncoast", to encourage relocation tourism to Sarasota County. See features of new and innovative Sarasota County amenities, and profiles of our residents highlighting their careers and quality of life living in the community.
"Our goal is to encourage relocation tourism to national markets by showcasing the diversity and breadth of career opportunities in our area, while highlighting what the value of living in Sarasota County is to visitors," says Virginia Haley, President of Visit Sarasota County. "This series is a part of our broader strategy to lure working-age adults to visit and consider permanently relocating to the region, while also finding local job positions to support our area businesses."
"Careers on the Suncoast" comes as Sarasota County ranked #3 on U.S. News & World Report's list of 2022/2023 Fastest-Growing Places in the nation. It is a vertical under its national Work Where You Want to Live ® campaign with the Sarasota County EDC, which was created to attract working-age adults to move and work in the community.
Information on the Economic Development Corporation of Sarasota County can be viewed at www.edcsarasotacounty.com.
1.
Sarasota County's Public Works Department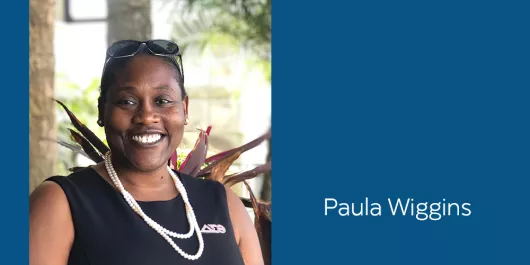 It's not uncommon for Sarasota natives to move back to the region and settle down. Upon seeing what other cities across the United States have to offer, the many benefits of Sarasota County continue to attract not just people from other states, but also those who originate from the area.
This is the case with Paula Wiggins. Born in Sarasota but raised between Tampa and Miami, Paula frequented Sarasota County so much to the point that she considered it a second home growing up. In 1998, upon receiving a degree in Civil Engineering from Florida State University (and before later earning an MBA from Webster University), Paula decided it was time to relocate back to Sarasota County and make it a permanent place to stay.
The summer before graduating from FSU, Paula landed an internship with the Sarasota County Government. Following the completion of her internship, she was able to join the county's Professional Engineer Development Program to support her career as an engineer.
Paula began working for the Sarasota County Government's Public Works department and has moved up the leadership ranks ever since. By 2006, after receiving her Professional Engineering license, Paula was promoted to her current role as Transportation Planning Manager leading on projects that determine the future of Sarasota County's infrastructure.
"I remember when University Parkway used to be a simple two-lane county road. Now we have a world class rowing facility," Paula tells us. "It's exciting to see where things are going. Sarasota is a slice of heaven, and it's no wonder why people want to live here."
By partnering with municipalities, regional metropolitan planning organizations, and state partners, Paula weighs in on jurisdictions for existing and future plans around the county. Given that Sarasota was ranked as number nine on U.S. News & World Report's list of Best Places to Live in the U.S. , the infrastructure has to be ready to accommodate the needs of its growing, vibrant community and population.
Through her position serving Sarasota County's Public Works division, Paula plays a critical role mapping out the future of Sarasota County's infrastructure. In fact, she is one of the first to know what the community might look like years before new projects even transpire.
What's more, the sense of community is what truly keeps Paula from ever wanting to leave. While she's away from the office, you can find her with family or spending time with members of her local church.
Sarasota County Government is currently hiring across all locations, departments, and services. To view current openings, visit the job search board on their website.
2.
Sarasota County Schools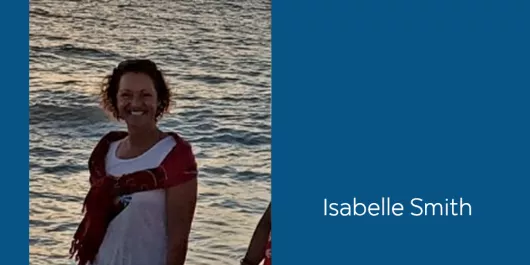 Sarasota County is a tropical paradise that many love to visit time and time again. And while the area is a beloved vacation destination for many, it's also home to nearly 500,000 residents. Many of those are former visitors who visited our little slice of paradise so many times that they finally decided to call it home.
Isabelle, an Exceptional Student Education (ESE) teacher, is the perfect example. She works for Sarasota County Schools, one of the highest-rated public-school systems in Florida and one of the area's largest employers. It is also rates high on Florida's teacher pay scales, according to a data from the Florida Department of Education.
After visiting Sarasota County for nearly a decade, Isabelle and her family decided to take the plunge and make a permanent move to the place they had long enjoyed on vacation. Having stayed in the Venice area many times, they purchased their dream home just south of there in Englewood, a community at the southern edge of Sarasota County with an old Florida feeling, in March of 2020.
So is living and working in Sarasota County as much fun as vacationing here? According to Isabelle, absolutely.
"There is so much support and professional development available," Isabelle tells us about her job with Sarasota County Schools. She is an ESE teacher at Glenallen Elementary in the City of North Port, very near her new home. "Compared to the schools in the surrounding counties, the benefits, healthcare and compensation made it easy to choose Sarasota County."
Isabelle was an ESE teacher in Colorado for more than two decades prior to packing up her snow boots and exchanging them for flip flops in sunny Florida. "The school system staff is friendly and welcoming," she tells us. "Pretty much anything you ask for you get." She says that the teachers feel that they consistently have a seat at the table when the school board is making major decisions, and that the teachers' voices are always heard.
"As an educator for 25 years, that's something I really appreciate," Isabelle elaborates.
While Isabelle is a dedicated and loyal elementary school educator, even she sometimes needs to find ways to relax. Fortunately, living in the ever-exciting Sarasota County makes it easy.
"I love the boat ride to Pop's," Isabelle tells us of her favorite way to spend her down time. She's referring to a popular dock-and-dine restaurant in Venice, Pop's Sunset Grill. And with over 35 miles of coastline Sarasota County, Isabelle, and everyone else who lives in Sarasota County, will always have access to waterways, waterfront dining, the Gulf of Mexico, and the best beaches in the U.S. – and perhaps the best work-lifestyle balance anywhere.
Sarasota County Schools is currently hiring for teachers at all levels and for non-instructional positions. To view current openings, visit the job search board on their website.
3.
Sarasota County Sheriff's Office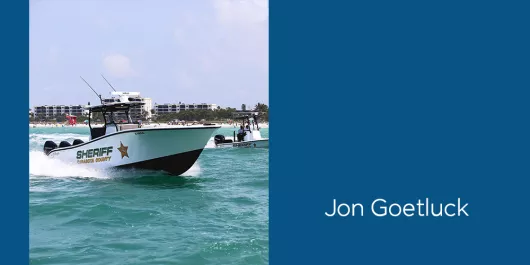 Anyone who seeks a career in law enforcement, or who is already a veteran of the profession, can apply to work with any of hundreds of agencies across the country that seek to fill openings and train the next generation of officers. With so many options, why not choose to work in a community with perpetual sunshine, a booming economy, and citizens who are broadly supportive of law enforcement?
The Sarasota County Sheriff's Office is hiring.
Located on the west coast of Florida, between Tampa and Fort Myers, Sarasota County is home to nearly 450,000 residents. As the 12th largest Sheriff's Office in the State of Florida, the fully-accredited SCSO already has more than 1,000 employees and is adding to its team as the county continues to grow. The organization is diverse and multi-faceted, with three main divisions—patrol, corrections, and courts—as well as a multitude of community services and programs ranging from animal services to mounted patrol, K9, aviation, and of course marine patrol units. (See the SCSO's annual report here).
Hiring civilian positions as well as sworn, the SCSO offers a variety of career paths for people who want to serve. While many of its employees have found their way there from other, colder states, some have spent their entire careers with the organization and risen through the ranks—like Major John Goetluck, who will soon be retiring after 35 years with the organization.
Having joined the SCSO in 1987 at the age of 20, Jon started in corrections and soon entered the law enforcement academy to become a certified law enforcement officer. He moved steadily up the ranks from patrol to training officer and progressive supervisory positions, eventually landing in community policing where he oversaw the Siesta Key substation, near the world-famous Siesta Key Beach. His promotions continued until he reached the rank of Major and served as a key member of the SCSO's command staff.
"At the SCSCO I have had more opportunity presented to me because the agency has always been progressive and supports individual growth," said Jon. "Being able to work in the place where I grew up and live gives me a sense of pride, knowing that our agency engages in our community and helps foster positive change. I'm always encouraged when a citizen thanks me for my service when I'm out in public in uniform. It shows we are doing something right and appreciated by the people we serve."
According to Human Resources Director Staci Pickavance the SCSO welcomes applicants at all stages of their law enforcement careers, including and especially those who are just starting out.
"We offer a unique opportunity in that you can start a career here right out of high school and immediately receive a highly competitive salary plus excellent benefits including full health care, retirement plans, and even tuition reimbursement," she said. "We will also help you get the training you need, setting you up for what could be a very long and successful career that allows you to care for your family and do good things in your community, too."
To tell the story of what it's really like to work for the SCSO, the agency has produced a new video: "Sarasota County Sheriff's Office: Careers Start Here."
4.
Sarasota Memorial Health Care System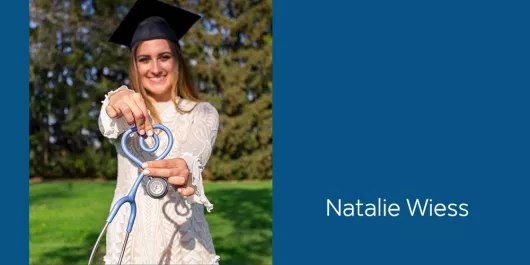 There's no question that Sarasota County's visitors come for its mild winters, unique culinary scene and world-class beaches. So much so that many of the destination's visitors eventually decide to make Sarasota County their permanent home.
Take Wisconsin native Natalie Wiess. Just two years ago, Natalie was searching for a place to call home as she neared the end of her undergraduate college nursing degree. Desperately seeking for a winter escape from her snowy hometown of Lake Geneva, WI— and after vacationing in Sarasota County with her family in 2018—Natalie's decision to move to the area was an easy one.
After narrowing her sights on Sarasota County as her home, Natalie and her university professors used Merative, an independent analytics company that assesses and rates hospital performance each year, to identify top-performing hospitals in the area. She soon discovered Sarasota Memorial Hospital (SMH), which has been recognized among the nation's 100 Top Hospitals for the last 6 years.
Knowing it was fate, Natalie applied and accepted a nursing position for their Cardiology Progressive Care Department, in May of 2021.
SMH offers a residency program for new graduates and nurses that have worked in the field for under a year. For 13 weeks, they are assigned to train alongside a preceptor to learn the ins and outs of the hospital. This program was the perfect transition for Natalie as she adjusted to her new Floridian lifestyle.
"Throughout the residency program nurses gain more independence and it prepares us to become more confident in the challenges we may face. Despite just receiving my nursing degree, it helped me feel more comfortable as a nurse," she tells us.
But it wasn't just the great job and ideal weather that made Natalie make Sarasota County her home.
"It stood out to me that everyone here is active and prioritizes their health, and it's easy to do this since you can be outside year-round," she says.
Outdoor yoga classes, pickle-ball, and community organized runs are just a few of her favorite things to do around town. "I especially love going to Turtle Beach to watch the waves and unwind after my workday," she adds. The public beach on Siesta Key, named for the large number of sea turtle nests on the shore, is a local favorite hidden gem.
After living in the area for four months, Natalie knew Sarasota was the right choice for her and quickly decided to buy a home. She was able to successfully find an up-and-coming neighborhood in Nokomis, just south of Sarasota, and bought a fully customizable new build on a lot that she was able to hand select. She officially moved in in April of 2022, after she customized the interior to her liking.
Natalie admitted that she initially had some reservations moving to a new city without knowing anyone, but it was worth the leap.
"When I moved to the area, I was worried that I wouldn't find much to do for somebody my age, but thanks to social media groups aimed at connecting millennials I quickly found great friends and activities I loved," she says.
Sarasota Memorial Health Care System is currently hiring across all locations, departments, and services. To view current openings, visit the job search board on their website.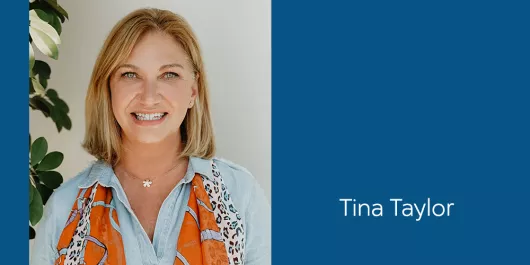 Sarasota County is a paradise visited by people all around the world, many who make the destination an annual trip to make family memories. But for some, just an annual trip isn't enough - they're ready to live in Sarasota County.
Take Tina Taylor for instance - she is the President of HR Elements, an outsource Human Resources company based in Dayton, OH. Tina grew up in Cincinnati and has a long career working in HR for companies like Deloitte and Fifth-Third Bank. With her incredible experience in the field, Tina opened her own outsource HR company to help support small businesses who needed human resources services, but didn't have the resources to have their own department. Seeing a hole desperately needing to be filled, Tina founded HR Elements and based it in Dayton, Ohio.
She continued operating her business in the Midwest, offering HR services to businesses ranging from 20 to 40,000 employees.
In 2020, one of HR Elements' employees relocated to Venice to work remotely and support her family. She continued working for HR Elements, expressing her love for the community and the ample opportunity the community had for growth, which piqued Tina's curiosity. After another employee relocated to Sarasota, Tina decided to explore the area for herself.
She found she loved the area so much that she wanted to move HR Element's headquarters to Sarasota. After working with Sarasota County's Economic Development Corporation, HR Elements expanded to Florida and Tina was soon living in the Sunshine State.
Today, Tina lives in Venice and is searching for a permanent home in Sarasota. HR Elements has offices in Ohio, Kentucky, and now Sarasota County.
Since its relocation, HR Elements has hired multiple Sarasota County residents and continues to grow. Tina feels a strong sense of community here and looks forward to expanding her business further. But there's so much more - from the stunning, sandy beaches to the sprawling state parks, there is never-ending excitement in Sarasota County.
Tina knows she's found the place she wants to call home for years to come.