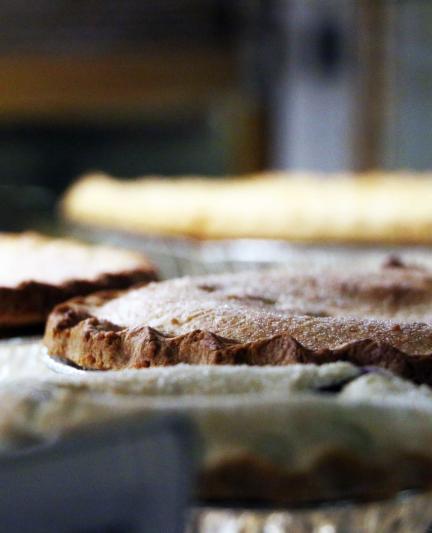 Ask the Experts: Holiday Meals Amish-Style in the Pinecraft Village
Get some old-school kitchen advice from one of the hearty, home-cooking hubs in Sarasota's charming Amish and Mennonite community Pinecraft
When it comes to infusing Thanksgiving and the winter holidays with a sense of tradition and good, old-fashioned homemade cooking: Sarasota's Pinecraft Village has the expertise to share.
We asked the folks at Der Dutchman — a restaurant known for its homestyle, from-scratch Amish cooking for more than three decades in Pinecraft — to glean some Thanksgiving turkey tips, settle the great pie debate, and learn their "secret ingredients" to enjoying the holidays in sunny Sarasota.
What's the most important thing that's at your table?
This isn't a food item, but we think it's the most important Thanksgiving ingredient: Dutchman hospitality. Inviting someone to your table who might not otherwise have another place to go is what Thanksgiving is all about. It's opening up your home or your heart for someone else.
Whether it's a party of 20 that comes in, or an elderly couple, there's a special energy here on Thanksgiving. Folks get to come and just sit and listen and watch, and be around other families, together.
Do you have any turkey tips?
It's all about putting in the time. We slow roast our bird overnight in its own juices because if you slow roast a turkey the right way, you don't need a lot of seasoning.
We're still old-fashioned, and we still do things the long way: Our gravy is made from scratch, and we invest the time into cooking. That's why roast chicken is our number-one item, year round, and slow-roasted turkey is a close second.
When you have someone who doesn't cook very often and they realize that they need to get the bird in the oven by 6 a.m. in order to eat by 4 or 5 p.m.— that's a real time commitment! In our case, we're cooking all night for Thanksgiving. And that's true of us all year, so in that sense: every day is Thanksgiving at Der Dutchman.
Pumpkin pie or apple pie?
Wait, don't forget about pecan pie!
Pumpkin is consistently our number-one seller on Pie Day — that's the Wednesday before Thanksgiving — but apple and pecan are neck-and-neck for number two. There are also plenty of folks these days who skip the traditional Thanksgiving pies because they think nothing beats a peanut butter cream pie, and who are we to disagree?
The traffic jam on Pie Day is really something to see. We sold about 8,000 pies last year!
Any recommendations for Thanksgiving leftovers?
Some really great options are turkey soup and open-faced turkey Manhattans. You can also make a casserole by layering the mashed potatoes, stuffing, turkey, peas and carrots, and gravy and re-heating. It's like a Thanksgiving meal in one bite!
Do you have any tips for getting in the mood for the holiday season here in Florida?
It's all about celebrating the seasons in spite of the temperature! It's about wearing fall colors and doing traditional fall things, even though it's still warm and sunny outside.
October 1st is when we bring out all things pumpkin, and throughout the month leading up to it, people are excited for it — and for the other fall favorites, like apple cider from Ohio. Who cares if it's 90 degrees outside when you have a pumpkin spice cake donut with cream cheese icing?
What do you love most about celebrating the holidays in Pinecraft?
Our favorite holiday tradition the annual Christmas Parade, but there's something special about celebrating the entire season in Pinecraft. Fall is here when you start seeing all the Amish bikes, the ice cream shop is full, and our northern staff and guests start filling the restaurant.
It's the winter destination for the Amish and conservative Mennonite, so when Thanksgiving comes around, you'll start to see all the familiar faces from Ohio, Indiana, and Pennsylvania arriving. They're like returning family.
Down here, fall is life. Up north, fall is when everything dies: leaves are falling on the ground; the cold is coming. But in Pinecraft, the ice cream shop is hopping all fall and through the winter!
---
All this talk about turkey, pie, and ice cream has us hungry for the holidays… Is it Thanksgiving, yet??
If you're looking for a spot to settle in for a Thanksgiving meal — sans the stress of cooking and cleaning up your kitchen at home — reserve your spot at Der Dutchman today.