After hours: Nightlife in Sarasota
Downtown
Attention martini connoisseurs: the raspberry lemon drop martini at the Ritz-Carlton may change your life. The chocolate-covered cherry martini at Selva Grill is also money well-spent.
Downtown Sarasota is teeming with bars and clubs for all tastes (and ages…over 21, that is). While the Ritz and Selva are swanky enough for donning a little black dress or a suit, several downtown venues have a more casual, island vibe.
While taking a stroll down Main Street on a weekend evening, you'll likely hear the sounds of live music wafting over from Mattison's City Grille. Outdoor dancing and a full bar make this casual spot a favorite among locals.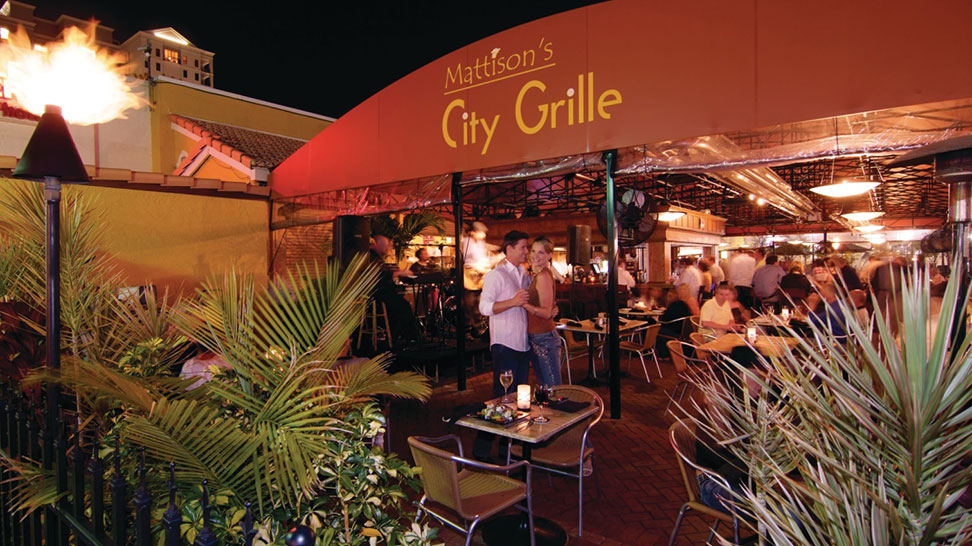 The Gator Club is a lovable dive and a downtown favorite. There is a mixed crowd that tends to be slightly older, but the live music, dancing, pool tables, lounge area and reasonably priced drinks make it fun for residents and visitors of all ages.
Evie's Tavern draws a crowd most nights, but on Fridays and Saturdays, you may have some trouble getting through the door. However, it's worth the wait--the drinks are affordable and strong and the crowd is easy-going. Evie's is popular among younger people in Sarasota, particularly recent grads or college students visiting for weekends or breaks. Some patrons get dressed up while others come in jeans so, no matter your style, you'll fit right in at Evie's.
Smokin' Joes is a popular bar also along Main Street where you can sit inside or outside, smoke and/or enjoy a cheap but impressive beer selection.
Midtown
Before you reach downtown, you'll pass the Five O'Clock Club, known simply as "the 5-O" by its regulars. The bar has live music every night of the week and its acts range from local bands to well-known performers. The dimly-lit, casual spot is the perfect place to relax with a beer.
Shakespeare's English Pub is low-key--a great spot to grab a beer and munch on some very delicious bar food.
St. Armand's Circle
While St. Armand's is known for its restaurants, galleries, shopping and nearby Lido Beach, it's also home to 15 South Martini Bar. The upstairs bar has live music and dancing. Pop by after a meal at one of the popular nearby restaurants.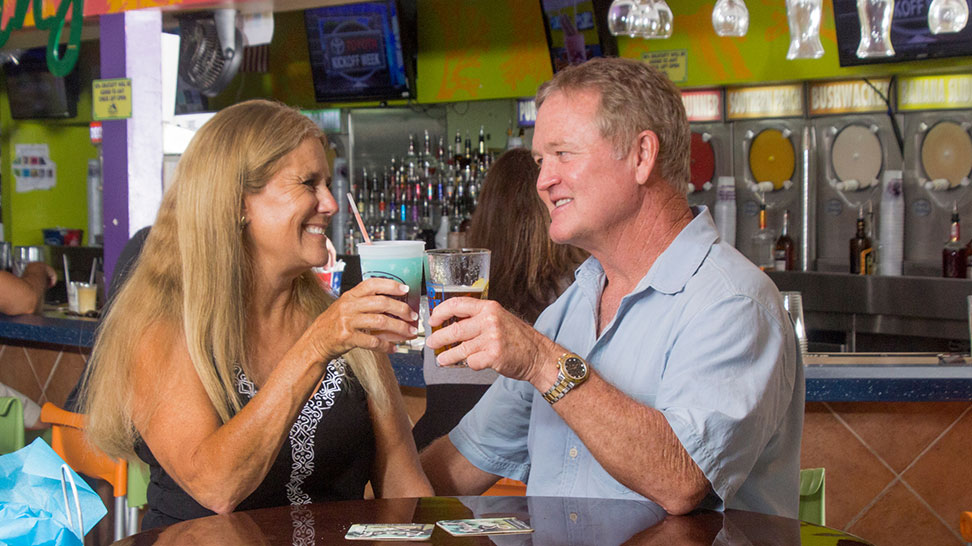 Daiquiri Deck's newest location on the Circle with both indoor and outdoor dining. Have a frozen drink out on the balcony, looking down at all the beautiful shops, statues and homes.
Siesta Village
Siesta Key Oyster Bar is packed on any given night. Its live music is excellent, with musicians performing everything from fun, upbeat songs to rock 'n roll to laid back beach tunes. SKOB has a late night menu, drink specials and both an indoor and outdoor bar. The patio is usually packed to capacity, but you can squeeze inside, as well. It feels like a true beach shack filled with hundreds of your closest friends. Odds are, some of your closest friends are inside--this local favorite is a great spot for reunions.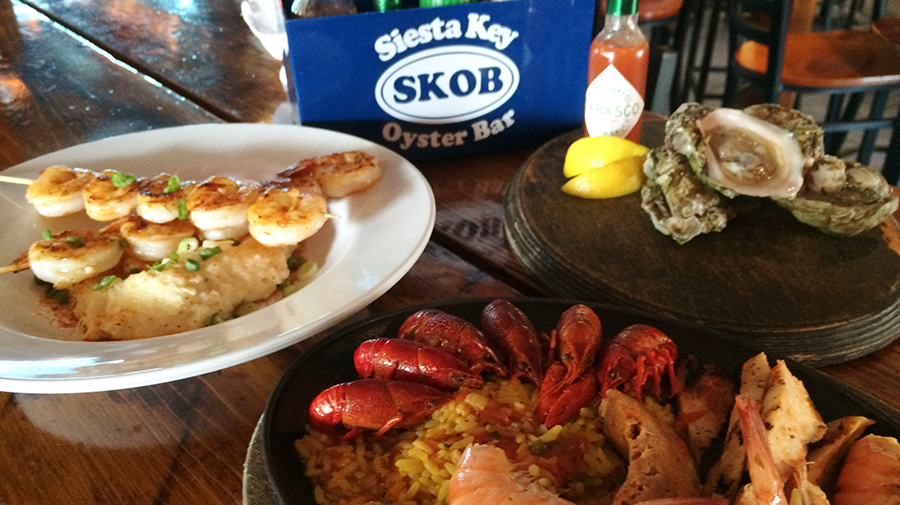 Daiquiri Deck's original Siesta location is an outdoor oasis of beach-y drinks, light bites and good people. The spot is usually less crowded than SKOB, making it a good place to chill out at the bar or at one of the many tables. The drink menu is almost overwhelming with its inventive, ice-cold concoctions. The orange Deck Diesel, the yellow Banana Slider or the blue Electric Lemonade will definitely add some color to your night.
Gilligan's is another fun spot across the street. Its outdoor bar is reminiscent of one you'd find on a private beach on a remote island.
The Beach Club is indoors, but you'll still feel like you're on the beach with the cold beer and live music. There's usually a band playing and the dance floor is packed. Let loose and meet some interesting people--everyone is very friendly.
The Hub is mostly indoors, but they have tables outside, as well. As one of the newest bars/restaurants in the Village, it's often packed. The drink selection is great and the crowd is fairly young. It is most certainly a hub of fun activity on weekend nights.
Gulf Gate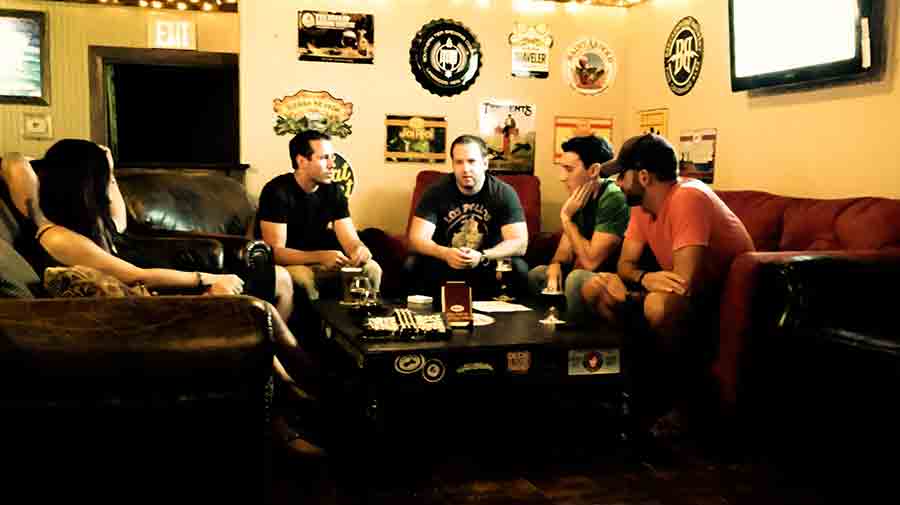 Gulf Gate has a bar scene that, until recently, was untapped. The regulars keep coming back to the fun pubs like Mr. Beery's. Each bar has something different to offer, whether it's live music, unusual beer on tap, a young crowd or an after-work spot for the working class. With so many different places on a two-street stretch, you can start your own pub crawl.
North Sarasota
Experience a different side of Sarasota at the Cock and Bull Pub on Cattleman Road. You'll feel like you're in true farm country when you roll up to this local favorite. Inside, relax on comfy sofas, shoot some pool or grab a table with all your friends. Most patrons hang outside at the picnic tables. The fire pit is a draw, but the best thing about Cock and Bull is the beer selection. The pub, which only serves beer and wine, has a legendary menu unmatched by most other places in Florida. Their beers range from the cheap classics like PBR to the difficult-to-find Lambic. They frequently have live music, as well--the shows feature local bands outside on the deck. Everyone is welcoming and you'll find yourself seeing familiar faces each time you return.
The Bahi Hut on the North Trail is legendary among locals, but it's also gaining national fame. Recently covered in major publications, the Hut is known for its Mai Tais. They're delicious, but oh-so-strong, so there is a limit of two-per-customer. It's a true dive in every sense of the word--cheesy in an endearing way. You'll definitely want to stop by.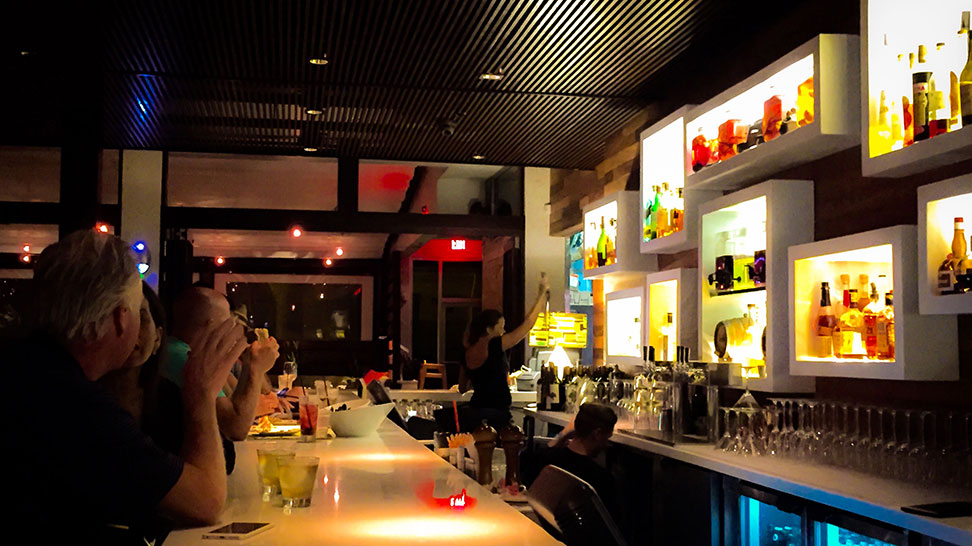 The Social Eatery & Bar is one of Sarasota's newer dowtown attractions. A classy and comfortable lounge in an unexpected location, it's a great place for a party.
Longboat Key
Longboat is known more for its beach and breathtaking homes, but there is nightlife, as well.
Euphemia Haye's Haye Loft closes earlier (usually around 11 p.m.), but it's a great place to start the night--it's quiet, relaxing and they serve up delicious coffee liqueur drinks, as well as live music.
Venice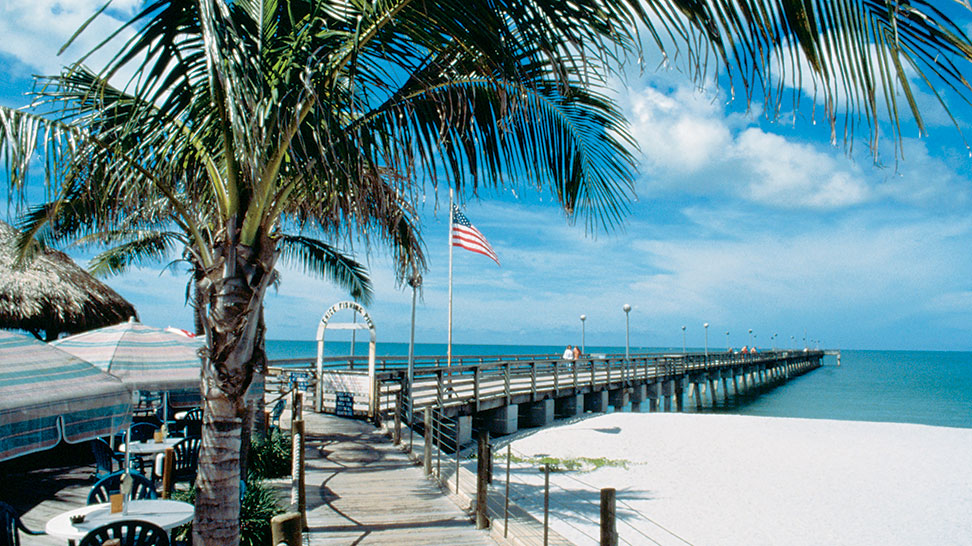 You'll feel like you're in Margaritaville at Sharky's on the Pier in Venice. The frozen drinks and island music will take you away.
For such a small town, Sarasota has a big nightlife. No matter your scene, you'll find something spectacular.