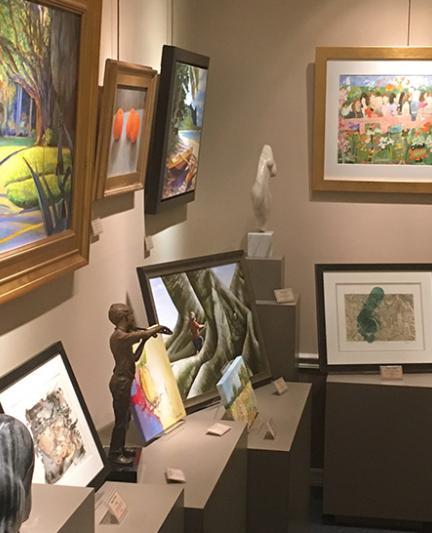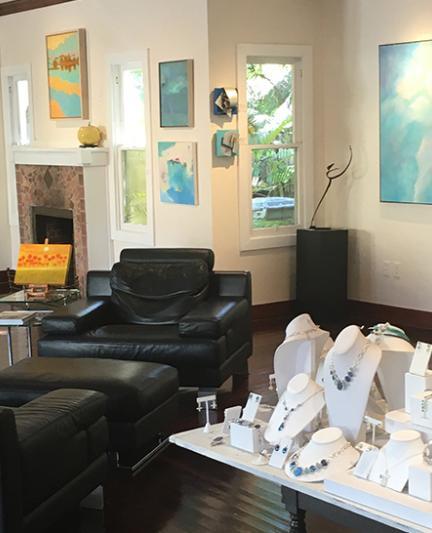 Sarasota's Art Galleries: Downtown Sarasota, Part 1
Art in Sarasota County is not just found on museum walls or artist colony tours, but also in our rich collection of art galleries all around the destination
Sarasota has a vibrant and radiant spectrum of visual arts amenities, which should hardly be a surprise considering the communities visibly deep roots in the arts. Ringling Museum and Ringling College are just two notable examples of the long-standing arts institutions that act as hubs for elevated visual arts experiences -- available for visitors and locals alike. Art creation has also flowed continuously from a handful of artists' districts and art-friendly communities in the area (Towles Court, The Rosemary District, just to name two). These institutions and districts alike serve as examples of the fully-bloomed state of art production and exhibition in Sarasota. This bloom has been unfolding for the better part of Sarasota's history, and continues to this day.
Sarasotans value art to such a degree that the opportunities to experience it here step beyond institutional, educational or historical. Many of us in the community are the creators of pieces, which inhabit the museums, galleries and festival booths around town. Our arts are for creators and consumers alike; whether local or visiting. And Florida's cultural coast is not only a great place to see the arts, but also maybe even take a piece of them with you.
Art purchasers have a rather impressive variety of options to explore in Sarasota, as we've been blessed with a plentiful (and varied) selection of curated galleries throughout the area. Our diverse landscape of gallery walls features a rather special array of gifted artists recognized both locally and internationally,and these categories often overlap. Take note, though: no two galleries are interchangeable by any means. Each space will feature one-of-a-kind pieces of art which will find new homes in a private collection on any given day. These pieces may even become the first acquisition in a new collection; maybe even yours.
There are galleries in nearly every part of Sarasota County, but many of these are in the heart of Downtown Sarasota -- so many, in fact, that one summary blog post will simply not do the galleries justice in terms of representation. With that in mind, we'll share a few examples of our Downtown Sarasota galleries in this post. Each of the galleries mentioned will catch the discerning art buyer's eye in their own particular (and thoughtfully curated) ways.
Dabbert Gallery
dabbertgallery.com
76 S Palm Ave, Sarasota Fl 34236
(941) 955-1315
The multiple award-winning Dabbert Gallery houses a selection of stunning visual works across a range of mediums - everything from oil paintings and drawings to sculptures of metal, wood, marble and other materials. The artists featured may be local and/or international in their notoriety, sometimes even in the same show. The Art Center has a number of exhibits scheduled from now through December and beyond. Here is at least one fascinating example of an upcoming show:
"The Art of Engagement"runs through Oct. 31: An exhibit of works with an emotionally evocative and fantastical element, which the gallery dubs "the reality of creative fantasy".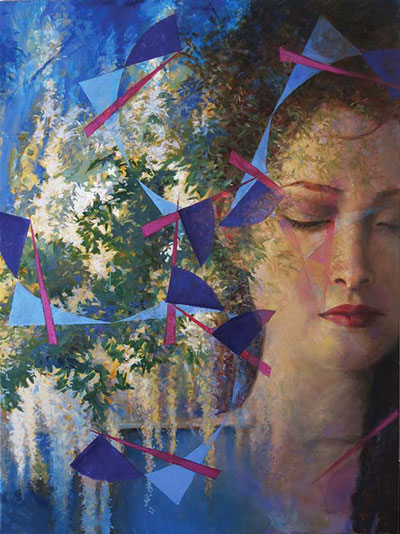 ​"The Dreamer" by James Griffin, oil on canvas 50" x 38" framed; part of the "Art of Engagement" exhibit.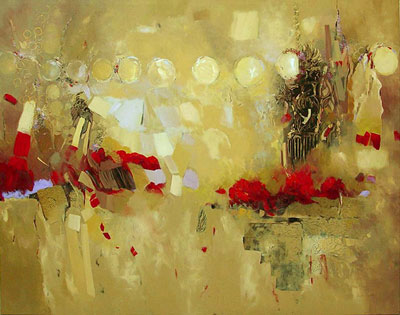 "The Obverse World" by Barbara Krupp, acrylic on canvas, 65" x 83"; also part of the "Art of Engagement" exhibit.
530 Burns Gallery
530burnsgallery.com
530 Burns Ln, Sarasota Fl 34236
(941) 951-0620
The location of this gallery provides at least some part of its charm. You can catch an intriguing highbrow independent film at the Burns Court movie theatre (something of another cultural "hidden treasure" in terms of the layout of Downtown Sarasota) and walk just a small handful of yards to browse the art at 530 Burns Gallery afterward. The gallery itself features a variety of mediums ranging from fine oil paintings to fine jewelry to glass sculpture and more. The gallery also features a pop-up shop in Fall and Winter, and is currently host to an artist-in-residence.
Upcoming events at 530 Burns:
Friday, Oct. 14: "Season Preview Under the Banyan Tree": an artist reception of new and popular featured artists at the gallery
Friday, Nov. 11: "Sunrises, Sunsets and the Color Palates of Their Skies": a meet-the-artist and showing of artists who've captured sunrises and sunsets
Friday, Dec. 9: "Sarasota Scenes, Sights and Local Talents": a reception featuring work whose subject matter is no less than that inspired by Sarasota itself.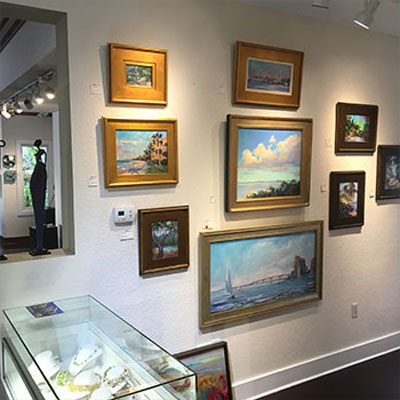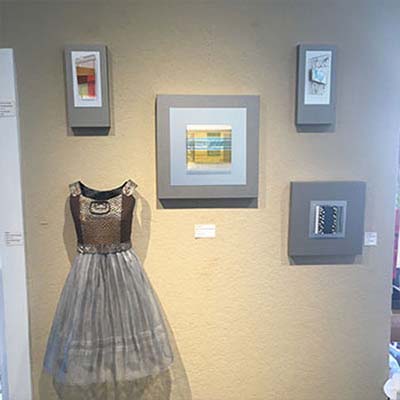 Snapshots of the Gallery Floor at 530 Burns
Art Center Sarasota
artsarasota.org
707 N Tamiami Trail, Sarasota Fl 34236
(941) 365-2032
Not merely a place to buy art, the Art Center Sarasota is a bit of an institutional art asset in and of itself. There are certainly curated (and juried) exhibitions throughout different parts of the year, but there are also a number of art education functions provided by the Art Center. The organization organizes educational programs for every level of proficiency, including classes for both youth and adult artists.
The Art Center also occasionally serves as a venue for other special events (not limited to exhibition of visual arts). In fact, the writer of this piece has performed live music in that space at least twice, flanked on all sides by intriguing pieces of art on all four walls surrounding the makeshift performance stage. The schedule of events can be referenced on their website, though we'll share two notable examples of upcoming events occurring this season.
Upcoming events at Art Center Sarasota:
Oct. 13 through November: "Swing State": a juried politically-themed exhibit whose works reference current events and beyond. Interestingly, local candidates on the current ballots are scheduled to be in attendance at the opening reception (October 13, 5-7pm).
Oct. 20 through Dec. 2: An opening reception for three works, including one that this writer found particularly fascinating: "Viewpoints: All Sewn Up - Patricia Anderson Turner". In this show, the artist will exhibit an elaborate installation ranging from the floor to the ceiling, featuring a representation of 49 silk "creatures" with wings; the work will feature iconic foreground imagery informed by conflict-driven social and political tones surrounded by vibrant colorful backgrounds.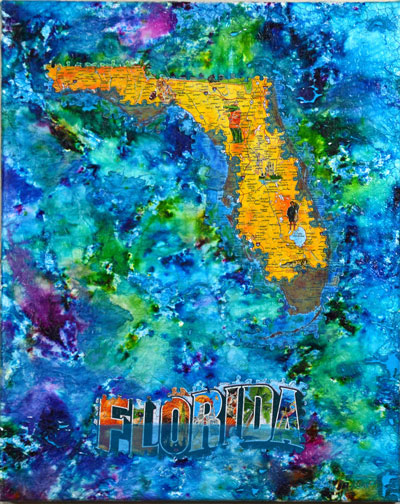 "Florida's Flooded Future" by Patricia Anderson Turner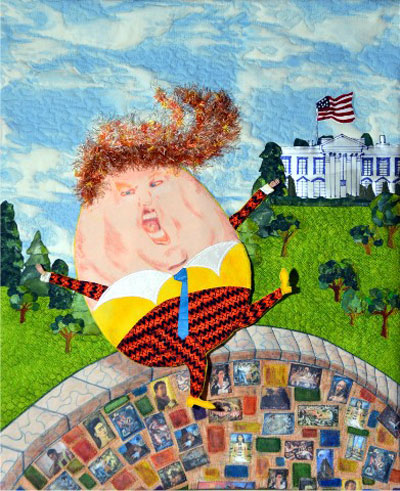 "Humpty Trumpty" (by Patricia Anderson Turner
There are a number of other art galleries in Downtown Sarasota, but this is just one sampling of three very interesting (and very different) galleries. Each venue has a different curated experience to offer the discerning (or novice) art buyer, and is worth checking out both for internationally renowned work and locally-created pieces by up and coming talents working in the area. In a community that creates and showcases as much (and as diverse) work as Sarasota, it is virtually impossible to fail in finding something special and authentic to add to your collection.