Downtown Dining in Venice
You can find a good meal any time of day in Venice's historic area
Spending the day in downtown Venice can definitely make you hungry. And it's not only the physical exertion of some serious power shopping that can whet the appetite. It's also the fact that there are all kinds of restaurants to tempt you at seemingly every turn.
No matter the time of day, visitors can find something delicious to eat in downtown Venice. So when it's time to refuel, here's where you should head.
Morning Meals
They say breakfast is the most important meal of the day. Good thing there are lots of options here to start things off on the right foot.
Begin your morning at the Upper Crust Café & Bakery, a charming spot done up in Shabby Chic style. Order a scone with Devonshire cream and a pot of tea or create your own omelet combination.
Longtime local favorite Althea's serves up plate-sized pancakes, coconut-crusted French toast, and other hearty fare, while the nearby Burgundy Square Cafe wins kudos for its breakfast menu, which includes eggs done up in almost any way imaginable.
If coffee's all you really need to get you going, grab a cup at the Venice Wine & Coffee Company or Bella Luna Café. Get it to go, or sit down and listen in on any interesting talk of the town.
Let's Do Lunch
You may be in Florida, but several restaurants in downtown Venice bring a little foreign flair to the lunchtime dining experience.
Newcomer Croissant & Co. has been drawing in customers for indulgent pastries and lunch options including quiches, warm ham and cheese croissants, and baguette sandwiches filled with everything from French Brie and prosciutto to smoked salmon with cream cheese. Touches of hot pink and mixed-media pieces done by French artists give the eatery a cheery ambience.
The cozy and continental Ristorante San Marco offers a calming spot for a midday break. Opt for a lunch combination, which pairs soup and a mixed-greens salad with half of a panini or pasta dish. Panini choices include a classic Caprese and the Romagnolo, featuring grilled sausage, sautéed onions, and smoked mozzarella; pastas range from tagliatelle with a Tuscan-style meat sauce to spaghetti with clams, mussels, sea scallops, and shrimp.
For a meal from a different part of the world, grab a table at Bushido. Sushi lovers head here for California and spicy tuna rolls or other specialty combinations. The lunch menu also features bento boxes and teriyaki and tempura dishes.
What's for Dinner?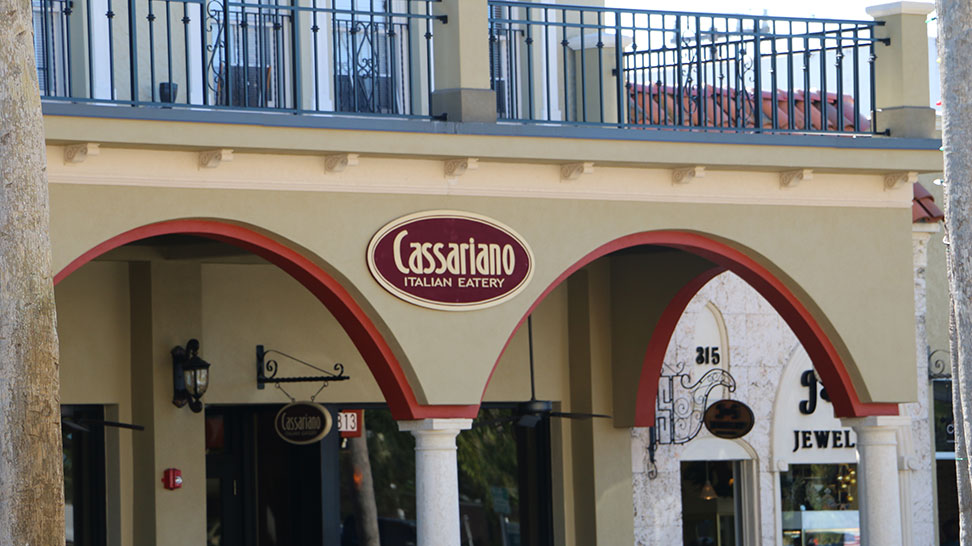 Italian restaurants are well-represented in the downtown area, not surprising for a city named Venice. Try Cassariano Italian Eatery for upscale Northern Italian cuisine in an elegant setting or Made in Italy for brick-oven pizza by the yard available in all sorts of combinations. For something more casual, head to local institution Luna Ristorante, which serves gut-busting portions of old standards (think baked ziti, chicken parmigiana) in sports memorabilia–covered dining areas.
Cafe Venice rates as a popular spot for an occasion meal or a pre-theater dinner. The sophisticated but still approachable menu features a combination of classic dishes (chicken piccata, veal medallions) and more contemporary offerings (Chilean sea bass, yellowfin tuna).
At the Back Eddy Bistro, diners can enjoy the culinary work of chef Ed Glennon, who spent years as a private chef for names like Rupert Murdoch, Jimmy Buffett, and Neil Young. Dinner entrees include his takes on proteins like duck, lamb, and tilapia.
New spot Flynn's on Venice Ave. boasts a dinner menu that is mostly gluten free and filled with locally sourced ingredients ranging from beef to produce. Menu items change depending on what's available and feature suggested wine pairings.
On the Late Side
Truth be told—Venice isn't exactly a late-night mecca. But there are a few spots where you can sip cocktails, sup on casual fare, and enjoy a little music and dancing long after the sun has set. The newish Brewhouse Sports Grill stays open till 2 a.m., offering a variety of beer along with burgers and other bar food.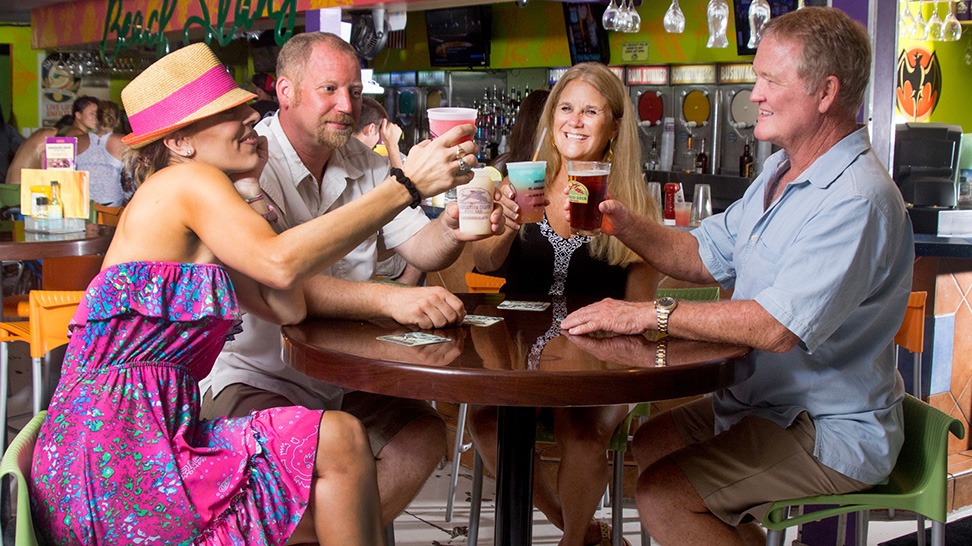 There's usually a lively scene until the wee hours at the Daiquiri Deck, where weekly evening events include live music, DJs, and "Bar Wars" beer pong and cornhole competitions. Its menu features raw bar offerings, sandwiches, lots of appetizers for snacking, and all kinds of flavors of its namesake drink.
And when you wake up hungry the next morning after a spirited evening out, at least you'll have some ideas as to where to get breakfast.