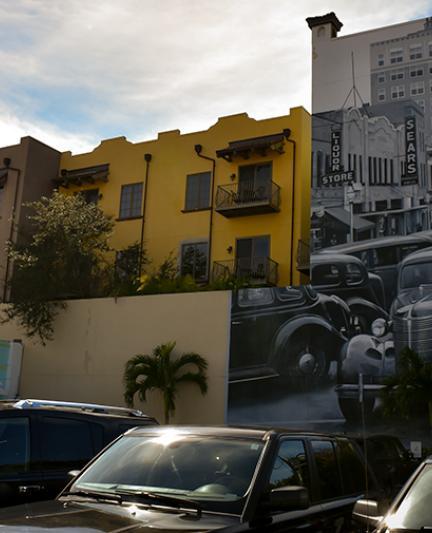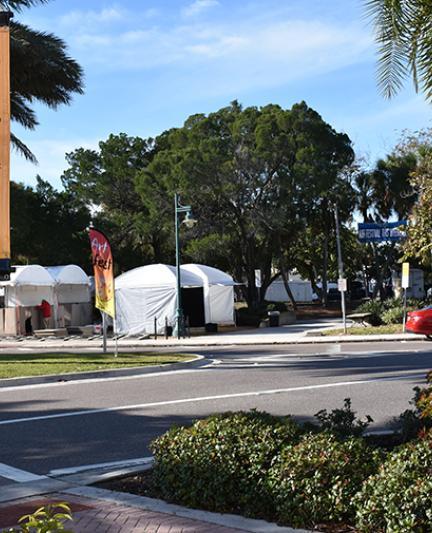 Shopping Districts of Sarasota
See what catches your eye while exploring Sarasota County's shopping scene
Looking to give your credit card a workout? There are plenty of places in Sarasota County where you can browse and buy everything from high-end handbags to beachy souvenirs.
Burns Court
Burns Court is an enclave of historic, 1920s-era bungalows and an eclectic mix of shops offering art, antiques, home decor, and gift items. Sarasota Trading Co. features a veritable treasure trove of vintage goodies, think everything from Knoll and Herman Miller chairs to a life-sized Bengal tiger.
From October through May, visit Burns Court near downtown Sarasota on the second Friday of the month for a neighborhood "Sip, Shop & Stroll" from 5 to 8 p.m.
Rosemary District
To the north of downtown, the Rosemary District's Central Avenue boasts a collection of retailers focused on the home. Check out contemporary furnishings at various stores. Or search for cool finds at Sarasota Architectural Salvage.
St. Armands Circle
Sometimes called Sarasota's Rodeo Drive, St. Armands Circle is home to high-end boutiques, national chain stores, art galleries, and jewelers. The walkable loop just over the Ringling Causeway from downtown attracts everyone from well-heeled condo dwellers to dressed-down day-trippers and hosts annual exotic car and art shows.
Southside Village
Head south of downtown to Southside Village, a small enclave of shops and restaurants. A stroll at stores there turns up cool cuffs and earrings, and wine, chocolates, and other foodie treats at Morton's Gourmet Market.
Siesta Key Village
Not surprisingly, the shopping scene in Siesta Key Village exudes a decidedly by-the-seashore vibe. Strip centers (many done up in bright pink, turquoise, and lime green hues) house retailers trading in everything from T-shirts and beach towels to luxe swimwear and yoga gear.
Venice Main Street
Farther south, Venice features several blocks of independent shops and boutiques in a downtown area rich on historic charm, known as the Venice Mainstreet. Browse the racks of colorful swimwear at SunBug, island-style men's and women's fashions at Captain's Landing, and beachy home furnishings and decor at Seaside Chic. You can also snag cool jewelry and gifts at spots like Venice Stationers and Sirene Coastal Interiors.
The Venice Farmer's Market takes place downtown every Saturday, and the gazebo in Centennial Park plays host to a variety of bands and musicians throughout the year that provide a pleasant shopping soundtrack. Art and craft festivals also set up downtown several times a year with everything from homespun pottery to large-scale nature photography for sale.
The Mall at University Town Center
If hitting the mall is more your style, head to the Mall at University Town Center. Opened in late 2014, this stylish new Sarasota shopping zone includes several stores making their first appearance in Sarasota County. The two-story space is filled with retailers ranging from high-end to kid- and budget-friendly. Check out the "Passport to Shopping" by the customer service desk, which is full of discounts and special offers!
Southgate Mall
Sarasota's Westfield Southgate Mall is home to popular retailers. A new Cobb CinéBistro location sits at one end of the site, offering a luxe movie-watching experience complete with gourmet eats. Plans are in the works to turn the mall into an outdoor shopping, dining, and entertainment space.
Downtown Sarasota
In downtown Sarasota, Main Street and its offshoots are home to both national retailers and local boutiques trading in everything from home furnishings to gourmet goodies.
Search the shelves at Bookstore1 Sarasota, a more than 30-year veteran of downtown that specializes in antiquarian and rare books. And when it's time to refuel, dining options abound, ranging from French and Italian to Thai cuisine.
Want to learn more about things to do in Sarasota on Florida's Gulf Coast? Subscribe to our eNewsletter!