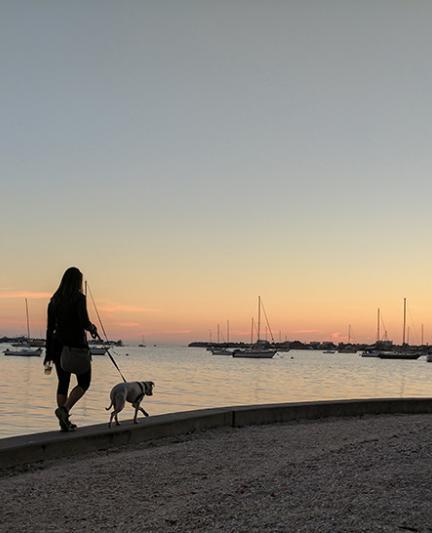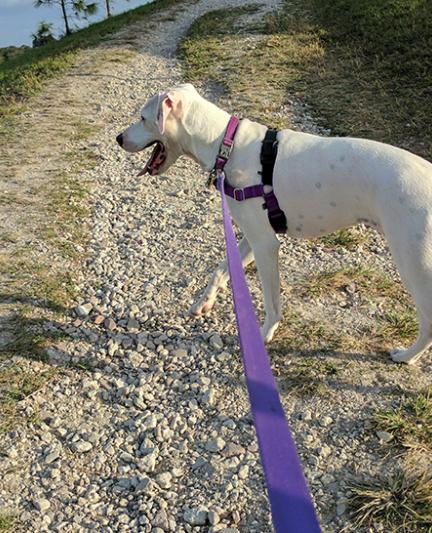 Traveling with Pets in Sarasota: What to Expect and What to Bring
Traveling with a pet? Get prepared with our guide on this critter-friendly destination offering plenty of options for accommodations.
When it's time for a vacation, plenty of people like to plan trips the entire family can enjoy—and for lots of us, family includes our furry four-legged friends. If you wouldn't dream of leaving Fido at home during your trip to the sunny Gulf Coast of Florida, we've got the dish for you on traveling with pets in Sarasota County.
Fortunately for folks who choose to hit the road with their furry friends, Sarasota is a critter-friendly destination that offers plenty of options to accommodate even the most pampered Pekingese.
Read on for the "Fur-One-One": what to expect, what to pack, and where to visit when you bring your furry friend to Sarasota County.
What to Expect
Pet-friendly people, places, and activities aplenty: Chances are, if you hit the town with your pet while you're in Sarasota, you're sure to come across plenty of doting admirers. Sarasota is a very pet-friendly place, with dozens of fur friend-accommodating restaurants, lodgings, and activities.

If your (leashed) pup is comfortable with the hustle and bustle of a big outdoor market, check out the Downtown Sarasota Farmer's Market—otherwise known as dog central—open year-round from 7:00 a.m. until 1:00 p.m. on Saturdays. A note to humans: pets prone to anxiety in crowded places may not enjoy the downtown crowds at this busy market. Try the Venice Farmer's Market, instead, year-round on Saturdays, or the Englewood Farmer's Market on Thursdays (October through May) for a less crowded scene.
Sunshine State temperatures: Pets traveling from outside Florida during the spring and summertime may not be accustomed to the subtropical climate. Make sure to plan and pack with warm weather in mind to keep your furry friends cool, comfy and healthy! We'll tell you more about how to beat the heat in our "Pet Checklist" below.
Yes, there is a beach just for dogs: Don't be dismayed to learn that pets aren't allowed on most of Sarasota County's public beaches. There's a beachy paradise near the Venice Fishing Pier that is a sandy, salty and sunny dream come true for dogs. Dogs are allowed off-leash to romp and splash freely to their hearts' content at Sarasota County's only dog beach, Brohard Park. A note to dog owners: the dry beach sand between the Brohard parking area and the shoreline can get extremely hot, so please keep paw-protection in mind for the walk to and from the waterside.
Pet Travel Checklist
Make sure your pet has information on them at all times. If the puppy gets lost, this will quickly help in making sure they are reunited with you.
Pet first-aid kit: Include up-to-date medical and vaccination records, veterinarian contact info, and tags with your own contact info. Other essentials might include gauze, non-stick bandages, adhesive, and hydrogen peroxide. It's always best to be prepared in case of an emergency away from home.
A six-foot leash: dogs are welcome in lots of local places, including Florida State Parks, Farmer's Markets, and at scores of restaurants in Sarasota County—as long as they're accompanied by an owner on a six-foot leash.
Pet sunscreen: If you're worried about getting a sunburn, your pet might be, too. Any trip to Florida should include a pet-safe SPF for sensitive ears and noses exposed to the sun.
A portable water dish and bottle of water: this is a Florida must have during every outdoor excursion. Keep your pets hydrated!
Dog booties: Are you planning to be outdoors on hot sand, asphalt or concrete? Surfaces get HOT during the summertime in Florida, so keep your pets' paws in mind. A good rule of thumb is: if you wouldn't walk on it barefoot, neither should Bowser! Check outdoor ground-surfaces with the palm of your hand to get an idea how it will feel on your pup's feet. If you're uncomfortable, so are they.
Comfort items: Consider bringing your pet's favorite bedding and some toys to help them feel at home and at ease in unfamiliar settings. Some lodgings may also require you to provide a kennel or crate for your pet's stay.
Pet food: Avoid upset tummies by keeping your pets' diet consistent with what they eat at home by keeping their favorite kibble on hand for their main daily meals.
Where to Visit:
Accommodations: Whether you and your pet would prefer to "ruff it" at a wilderness campsite or be pampered at a posh luxury hotels, there are dozens of pet-friendly accommodations in Sarasota for all kinds of travelers including classic hotel chains, boutique and luxury suites, beachfront timeshares, furnished Airbnbs, and campgrounds. It's wise to consider your travel needs and those of your pet ahead of time—a little call-ahead research goes a long way! Here are some great options:

Recognizable hotel hallmarks like Home2 Suites, Comfort Suites, La Quinta, Holiday Inn, and Ramada offer rooms where pets are welcome for a no-fuss, casual stay.

Some of Sarasota's newest and poshest hotels include Aloft Sarasota, The Westin, and Zota Beach Resort—all of which offer varying pet-friendly policies. Other boutique and high-end hotels where some pets are welcome—with some restrictions on size and number of pets—include Hotel Indigo, Hyatt Regency, and the Ritz Carlton.

Prefer something a little more outdoorsy? Bring your (leashed) dog on a camping trip at select pet-friendly campsites at the Oscar Scherer State Park Campground or at the Myakka River State Campground, where leashed dogs are allowed with no fee.

Whether or not you plan to stay overnight, both of these State Parks are great spots to spend entire days exploring nature with your pet. Although some areas in both parks are marked off-limits to dogs for the pups' safety—because they are located near alligator habitats—well-behaved pets are welcome in many of the parks' visitor recreation areas. This includes several miles of trails that wind through native Florida habitats, and are abundant with a plethora of exciting sights and smells to intrigue and delight hikers—both human and canine alike.
Time Off the Leash: Good news pups who need a little freedom to roam: Sarasota has plenty of dog parks where pups can play fetch, socialize, and spend time off the leash. In addition to the dog beach at Brohard Park, the 17th Street Paw Park, Arlington Park, Bayfront Park, Lakeview Park, The Canine Club and Woodmere Park feature off-leash dog park space for dogs.

Sarasota County Parks offers a complete list of Sarasota County public parks where dogs are welcome, but must remain confined to a six-foot or shorter leash.
Dining Out: With over 140 pet-friendly restaurants listed for the Sarasota region on Bring Fido, you're guaranteed to find a smorgasbord of dining options to satisfy every appetite. We've compiled a selection some of the stand-out pet friendly spots in Sarasota County to get you started:

Cafe L'Europe on St. Armands Circle goes the extra mile to make its four-legged customers smile (or wag…) with an exclusive pet menu. Steak tartare, filet mignon and chicken are on the doggie dinner menu, which also offers dessert options such as peanut butter-and-cheese or mint-flavored ice cream treats, or a biscuit du jour.

Cafe in the Park also offers pup-friendly ice cream. It's the perfect place to stop for a treat after an on-leash stroll at Payne Park—a 1920s-era baseball field that once served as the spring training field for the Boston Red Sox, Chicago White Sox, and New York Giants, and is now a popular public park near downtown Sarasota featuring a circus-themed playground, frequent family-friendly events, recreational trails, skatepark, and sports facilities.

With a name like Old Salty Dog, we certainly couldn't forget this Sarasota classic on this list. You may be wondering, just how much does the Old Salty Dog love its canine clientele?: Enough to have a its very own "Dog Blog" dedicated to celebrating the Old Salty Dog(s) of the Month! There's no doubt canine clientele will be in good hands dining at Old Salty Dog restaurants, which boast 30+ years serving Sarasota County.

Down South: Casey Key Fish House in Osprey offers dog-friendly outside seating located right on the water. Treat your furry companion to classic "Old Florida" vibes at this popular fish house and tiki bar on the bay.
In Case of Emergency
A final note: If you're traveling with your pets in Sarasota, it's a good idea to keep the contact info for the Sarasota Veterinary Emergency & Specialty Center on hand—just in case. The SVE hospital is open 24 hours a day, 365 days a week, and is centrally located at 7417 S. Tamiami Trail, Sarasota, FL 34231. To reach the hospital, call 941-923-7260.
Have a Tail-Wagging Good Time in Sarasota County
If you're traveling with your dog or cat in Sarasota County, rest assured that with a little pre-planning, your trip can be stress-free and fun for everyone.
One last piece of advice is to always call ahead. When booking your reservations, remember to mention any special accommodation needs your pet may require, to help the hotel prepare. Also consider placing a confirmation call within 24 hours of your travel date: that way, you can rest absolutely sure your chosen accommodations will be fully prepared for your pets' specific needs when you arrive.
Sarasota loves our furry, fuzzy, fluffy and floppy-eared visitors. Let us make your pet's vacation a tail-wagging, toothy-grinning, booty-wiggling, happy-drooling trip they won't forget in this lifetime (or even the next nine)!