Pet-Friendly Travel and Leisure in Sarasota
From the beachside resorts to sidewalk cafes, dozens of hotels and restaurants in the Sarasota destination offer a first-class experience to travelers and their four-legged friends.
We believe that the best vacations are the ones that you can take with your best friend—so pet lovers may be thrilled to learn that wet noses and sandy paws are always welcome in Sarasota.
From the beachside resorts to sidewalk cafes, dozens of hotels and restaurants in Sarasota County offer a first-class experience to travelers and their four-legged friends. Whether you and your pup are the rugged outdoors adventure types, or pampered poodles that prefer the finer things in life, Sarasota has activities and accommodations to satisfy even the most finicky Fido.
Leash-Free Paw Parks
There's nothing like a little fresh air and freedom—in a safe and supervised environment—to make any dog's day. Sarasota and Venice are home to several off-leash dog parks that allow pups to exercise, explore and play in a fenced environment where owners can rest assured their four-legged friends can't wander too far.
17th Street Paw Park
The 17th Street Paw Park is the longest running dog park in Sarasota County, established in 1999. The park comes with all the amenities a pooch could want: doggie drinking fountains, separate fenced areas for small and large dogs, and plenty of waste disposal bags and trash cans so that their caregivers can help keep the park clean. Humans visiting the 17th Street Park without their pups also have access to softball and soccer fields, as well as an archery range.
Canine Club at Gillespie Park
Located on the corner of North Osprey Ave & 10th St, this dog park provides two fenced areas for pets near the basketball courts. This canine club is the most recent addition to the Gillespie Park, which is named after Sarasota's Scottish first mayor: John Hamilton Gillespie. Other park amenities include picnic tables, a playground, fitness trail, three tennis courts, outside fitness areas and a pond. Leashed pets are also allowed outside of the dog park.
Arlington Paw Park
Arlington Paw Park, near downtown Sarasota, is another popular hangout for Sarasota's canine set. Like other paw parks in the area, Arlington offers separate fenced areas for small and large dogs, as well as access to drinking fountains to help pups keep cool during the 'dog days' of summer. On-leash dogs can join their owners for a walk in the public park.
Lakeview & Woodmere Paw Parks
The Lakeview Paw Park south of the city of Sarasota and the Woodmere Paw Park in Venice both provide a safe space for dogs under owner supervision to exercise and play, with access to water fountains and shady spots.
The Dog Beach
For beach-loving pups, we've saved the best for last: Brohard Beach and Paw Park is one of the most unique dog parks on Florida's Gulf Coast. An enclosed paw park offers all the amenities of other dog parks in the area, but pups with a taste for sand 'n' surf will also love the opportunity to splash and romp on the pet-friendly section of the beach. Brohard Beach offers the only dog-friendly, off-leash beach area in Sarasota County.
The Great Dog-Friendly Outdoors (On a Leash, Please!)
From salty beach and bayside havens to the untamed Florida wilderness, there's a bounty of nature to explore in Sarasota County. Fortunately, adventurous pups have access to several of Sarasota's parks and hiking trails—as long as they are on a leash no longer than six feet, and accompanied by a responsible human pal.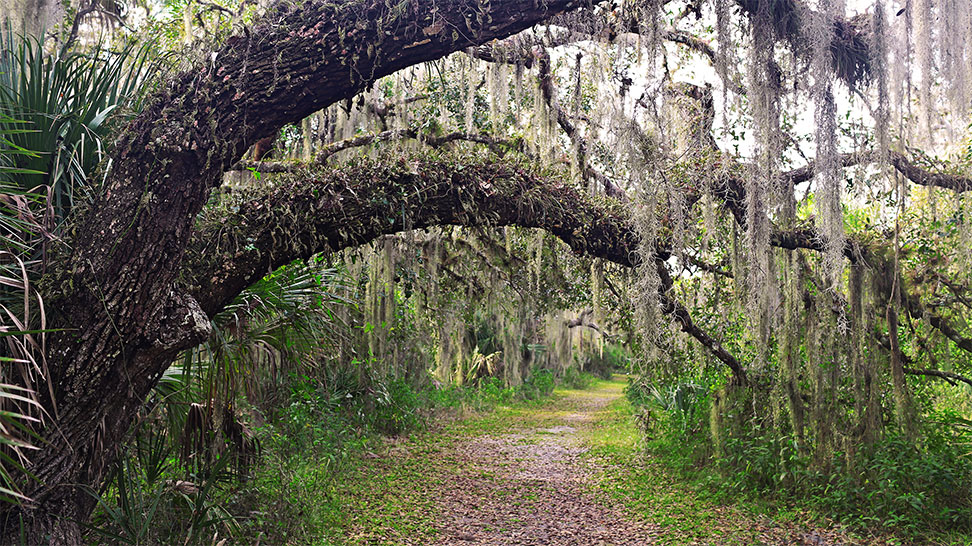 Myakka River State Park
Like all state parks in Florida, Myakka State Park welcomes pets that are leashed, supervised and well-behaved. Located in east Sarasota County and portions of Manatee County, Myakka River State Park spans over 58 square miles of pine forest, scrub and prairies. Accessible hiking trails lead to true Florida adventure, where visitors have a chance to encounter native Florida wildlife, like the rare roseate spoonbill, bald eagles, and armadillos. Dogs are welcome, not only on day trips to the trails, but also on Myakka River State Park's overnight campgrounds.
Red Bug Slough Preserve
Located off of Beneva Road Red Bug Slough Preserve is one of Sarasota's best-kept secrets, featuring 72 acres of natural Florida wilderness in the middle of the Sarasota suburbs. Quiet, unpaved hiking trails wind through Red Bug Slough (pronounced "sloo"), providing paw-friendly passage through the wilderness. Red Bug Slough also features a butterfly garden as well as a fishing dock, picnic tables and restrooms. Just don't forget to bring a bag to collect Fido's waste!
Bayfront Park
Sarasota's most popular bayside urban park, Bayfront Park is one of the most dog and family-friendly spots in town. Located near downtown Sarasota, Bayfront Park is a 32-acre peninsula with breathtaking vistas of Sarasota Bay and the Ringling Causeway. Leashed dogs are welcome to stroll with their owners through the grassy park and around its paved perimeter, which is bordered by the bay. Bayfront Park features a playground and waterpark for kids, and is home to O'Leary's Tiki Bar— a waterside restaurant that welcomes dogs on its spacious patio.
Venetian Waterway Park
In Venice, the Venetian Waterway Park connects with the Legacy Trail and Caspersen Beach. Dogs on leashes are welcome on the scenic 10-mile, paved Venetian Waterway Park trail—but please keep in mind that the pavement can be hot on doggie paws on sunny days! Although some parts of the park are in an urban setting, most of the walking trails on either side of the Intracoastal Waterway offer quiet, peaceful paths where you may spot a native Florida scrub jay, gopher turtles, or even alligators.
Pet-Friendly Accommodations
Finding pet-friendly accommodations for your vacation doesn't need to be a hassle. Sarasota County features a variety of hotels, resorts and beach rentals where you and your pooch are welcome to catch some R&R, and we can help you find the right fit.
Looking for comfort, convenience and affordability? To stay even closer to the beach, stay at the Holiday Inn on Lido, where dogs up to 45 lbs are welcome with a $75, non-refundable fee. Nearby Lido Beach Resort allows up to two dogs in select guest rooms and suites after completing major room renovaitons in 2020.
Lido Beach Resort completed major room renovations in 2019 and is allowing up to two dogs in select guest rooms and suites
Located near the Sarasota Bradenton International Airport, Residence Inn allows any household pet, any size, for a one-time non-refundable fee of $75.
Dogs up to 50 lbs are welcome at the Hyatt Regency in downtown Sarasota, where a $100 per room, per stay applies. Upon arrival pets receive treats and concierge assistance in locating nearby pet services.
Pups can vacation in luxury at the Ritz-Carlton, where dogs under 40 lbs are welcome with a $150 non-refundable fee, and guests are only asked to keep dogs away from the food service and pool areas. Hotel Indigo in downtown Sarasota also offers upscale accommodations, welcoming cats and dogs for an additional $100 per stay (and generally a room on the first floor only). Another pet-friendly, high-end option in downtown Sarasota is Aloft, where one dog up to 45 lbs are welcome with guests, no extra fee required.
Turtle Beach Resort and Inn has been offering pet-friendly accommodations for over 15 years, making it one of the longest-running pet-friendly resorts in Sarasota. The property allows dogs of any size for $25 per day per pet, and guests must stay in rooms on the resort side only. Turtle Beach Resorts offers complimentary kayaks and canoes, and welcomes sea-worthy canines to catch a ride on the water with their owners.
Gulf Surf Resorts on Casey Key offer a variety of comfortable, furnished accommodations for the whole family—including fur friends, with a nominal surcharge. One large dog or two small dogs are allowed with guests for a $50 fee, and cats must be declawed or the hotel can collect a $125 security deposit upon check-in for any damaged property. Located directly on the water on the Gulf of Mexico barrier island of Casey Key, Gulf Surf Resorts is the ultimate secluded tropical hideaway.
Hitting the road with your four-legged friend? The Sun-N-Fun RV Park welcomes up to two pets per person—dogs and cats of all breeds and sizes—so long as they are leashed (6 ft maximum leash length) at all times and never left unattended outside. In addition to being a fully equipped RV resort, Sun-N-Fun offers vacation homes where pets are also welcome. Sun-N-Fun offers two fenced-in dog runs where pups can run off excess energy.
Home2 Suites by Hilton Sarasota Bradenton Airport located on Tamiami Trail is an extended stay property perfect for those who can't leave their pet family at home. All pets, not only dogs, are welcome. If you want to bring your turtle or chinchilla- they would love to have them! Pets under 40 lbs are allowed with a $100 non-refundable fee and no more than two pets per room.
Doggy Dining
More than 40 restaurants in Sarasota welcome dogs if their owners are dining al fresco—and on Florida's sunny Gulf Coast, there's plenty of patio space to go around. Here are some of our top Fido-approved picks.
Based on its name alone, it should come as no surprise that The Old Salty Dog is one of the most popular spots to dine with a pup in Sarasota County. Best known for its beer-battered hot dogs and bar eats, the restaurant features three popular locations on Siesta Key, City Island, and in Venice.
Owen's Fish Camp
For award-winning southern style cooking and seafood, look no further than Owen's Fish Camp in the heart of historic Burns Court in downtown Sarasota. Dogs are welcome on the outdoor patio deck, where the "Old Florida" atmosphere offers a one-of-a-kind experience and people-watching in one of Sarasota's most eclectic districts.
Located in the downtown theatre district, Bijou Cafe is steeped in history: it was originally a pumping station in the 1920s, and was converted into a restaurant in the 1980s. Today, this charming, award winning continental eatery remains a local favorite, providing ample patio seating for patrons who enjoy dining with their dogs.
Looking to bite into one of the best burgers in town? Patrick's 1481 offers a generous amount of dog-friendly sidewalk seating, and grills up some of the most sought-after burgers in town at the heart of downtown Sarasota.
Located just next door to Patrick's on the corner of Lemon and Main, Mattison's City Grille is a prime location for people-watching—and a great spot to bring your pup. Mattison's al fresco dining area offers shady, covered dining at what is arguably the most bustling corner in downtown Sarasota.
Is your dog—or shall we say, chien—a Francophile? C'est La Vie in downtown Sarasota offers up popular French cafe bites, from fresh croissants to tartine sandwiches and croque monsieurs, in pet-friendly sidewalk cafe settings. The people-watching is just as delightful as the cafe au lait.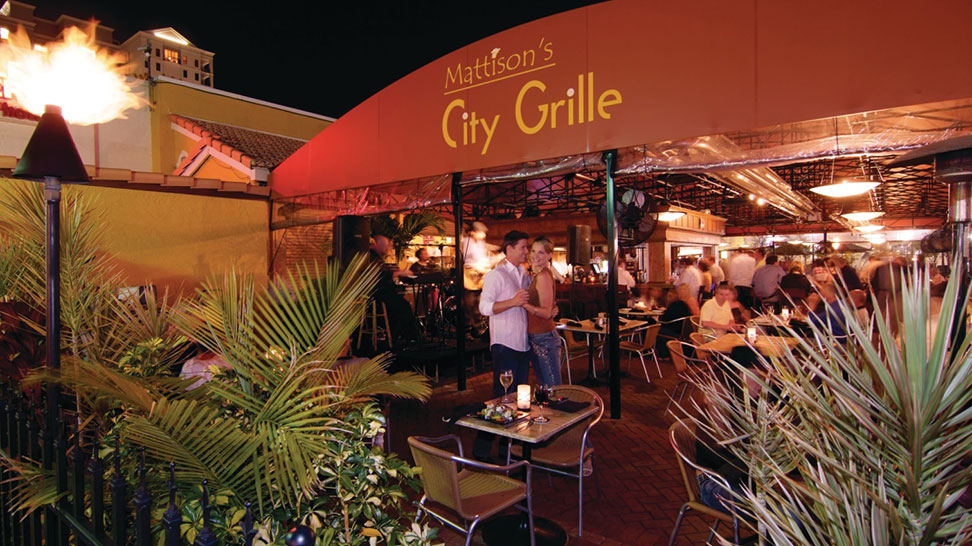 In St. Armand's Circle, Cafe L'Europe and the Columbia Restaurant are two longstanding local favorites for human patrons and pups alike. Cafe L'Europe offers up an array of award-winning European cuisine, while Columbia provides a Floridian-Latin flair with its delectable Tampa-Cuban dishes.
Take your pup on the town for a Sunday brunch date at Libby's Brasserie in Sarasota's Southside Village, or Station 400 in the Rosemary District. Both restaurants offer some of the most sought-after brunch items in town. Another great option is State Street, where dogs are welcome in the sidewalk dining area.
Located on City Island near the (on-leash) dog-friendly Ken Thompson Park, New Pass Grill & Bait Shop is a circa-1929 bait and tackle shop that boasts oodles of 'Old Florida' charm. Enjoy affordable pub bites, including award-winning burgers, deckside, with your pup by your side.
Pamper Your Pooch
Perhaps someone got a little too wet, wild and sandy at the Brohard Paw Park and dog beach… Or maybe your dog is simply feeling overdue for a spa day. Pamper your pup at Sarasota's fine pet spas.
Wet Noses Sarasota offers full grooming services to get your pup squeaky clean and feeling fancy in downtown Sarasota. In addition to grooming services, Wet Noses offers an extensive retail selection with canine-themed gift items, dog accessories, and gourmet treats.
The Bayside Pet Resort has three locations in Sarasota County, in Sarasota, University Park, and Osprey. Bayside Pet Resort offers canine lodging and daycare, as well as grooming services and dog training.
For top of the line treats and pet supplies visit the posh Woof Gang Bakery in Sarasota. Dogs are welcome in the store, which features premium house-baked dog cookies and other treats, top dog food brands, accessories, stylish doggie outfits, and dog-related gifts.
Enjoy Dog-Friendly Sarasota
We've got you set with the top accommodations, restaurants, outdoor excursions, and pooch-pampering amenities in Sarasota… So get out there and have a blast with your furry bestie.
Please keep in mind that Sarasota gets lots of sunshine, especially during the summertime. Keep your pet cool by carrying bottled-water and a travel water dish for your pup at all times, and pay attention to the pavement heat—if it's too hot for your bare feet, it's too hot for your pet too!
Want to learn more about things to do in Sarasota on Florida's Gulf Coast? Subscribe to our eNewsletter!