Grilled Cheese Sandwich Sarasota-Style
To make one at home, pick up some cheese at Morton's Gourmet Market, or enjoy a grilled favorite at one of our local restaurants.
When faced with the prospect of a grilled cheese sandwich, our reaction is likely that of restrained glee for the perfect sandwich consisting of buttered bread and gooey cheese. As kids, we gobbled up the ones made with white bread and American cheese and we didn't bother to ask why it wasn't Gruyere.
It's a sandwich that can be made with inexpensive ingredients or specialty cheeses and artisanal breads. It can be made in a cast iron pan or panini press, on a flat grill, a campfire stove, or under a hot iron in a college dorm. It can be a main dish or a bite-sized appetizer. It can be served with soup, crunchy pickle, or salad. In all cases the basic formula still applies: bread and cheese grilled to perfection.
Local Expert's Guide to Grilled Cheese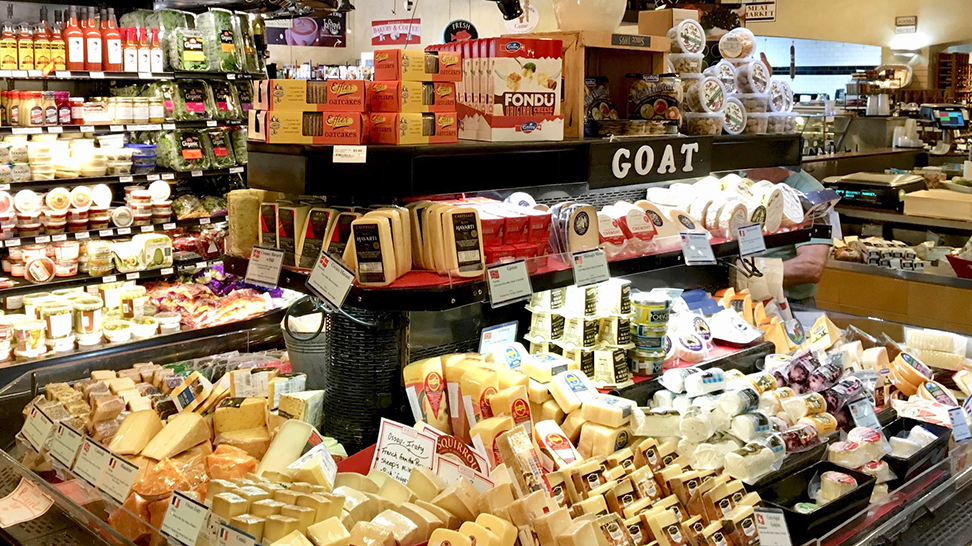 If you're craving a grilled cheese and want to make your own, stop into a great spot in Sarasota that has been around for 50 years. Morton's Gourmet Market on Osprey Avenue offers everything your regular grocer carries, and several items it doesn't, but their selection of 200+ cheeses are a must. Rob Grills - the new cheesemonger who recently joined the family-owned business after 8 years at Whole Foods – has some top suggestions for constructing a classic grilled cheese at home:
Start with airy bread with lots of nooks and crannies, good for holding onto butter and offering crunch (ciabatta or focaccia work very well) when grilled. And be sure the bread is thick enough to allow enough heft after pressing in a panini or skillet.
Use unsalted butter since there's plenty of salt in the cheese; or use olive oil in the pan or as a spray.
Use flavorful cheeses that melt easily and offer creaminess — Gruyere or aged Cheddar are always good choices. (Author's note: grate the cheese, rather than using thick slabs, which may result in inconsistent melting).
Use a non-stick skillet or panini press. If using a skillet, top the sandwich with a small pan, or use a lid for a portion of time to achieve even heat.
Take it a Step Further
If you want to move away from the classic version, try ingredients that create what Rob calls "palate confusion" — flavor sensations in your mouth, like sweet, salty, briny or peppery, that all work together but still allow you to taste individual components.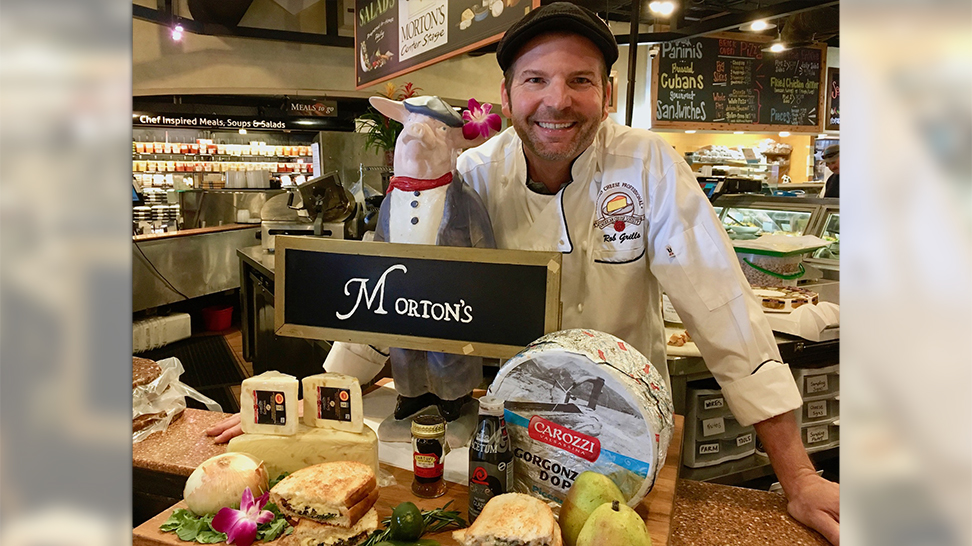 Dab on caramelized bacon jam, pesto, fig preserves or balsamic glaze. Add freshness with thinly-sliced fruit (pear, green apple), arugula, mushrooms, herbs, or heirloom tomato. Use an amazing cheese like a cave-cured variety of cheddar or gruyere, Fontina (which also has a fantastic melting factor), pecorino with truffles, morbier (from France) offering creaminess and a touch of bitterness; or try different types of bread, like rosemary focaccia at Morton's, or hearty rye or sprouted bread.
To highlight two of their amazing cheeses, Rob grilled up some tasty combinations: mango-ginger stilton with caramelized onion and arugula, and gorgonzola picante with anjou pear and balsamic glaze — both amazing, and proof that experimenting is fun when it comes to grilled cheese. If you visit Morton's, don't hesitate to ask for help - the team is happy to share their expertise!
Where is Grilled Cheese on the Menu?
If you're tired from a long day of activities, and just want someone else to do the work, you can find some great restaurants with a twist on the classic favorite:
Boca Sarasota (Sarasota) has a flavor-packed "Mission Grilled Cheese" of gorgonzola, mozzarella, caramelized onions, mushrooms, and grilled green tomato.
Artisan Cheese Company (Sarasota) has an amazing "Toastie" with cheese curds and herbs.
Cafe in the Park (Sarasota) pairs sourdough with a 'secret combination of cheeses.'
Lido Beach Restaurant (Sarasota) serves a mean grilled cheese and tomato sandwich.
Made Restaurant (Sarasota) offers a flavor explosion with house-made pimiento cheese, jalapeño jack, sweet onion, billionaire bacon jam, green tomato and arugula.
Ed's Tavern (Lakewood Ranch) serves "Adult Grilled Cheese" with mozzarella, cheddar and pepper jack, on parmesan-crusted sourdough.
Mango Bistro (Englewood) has an "Italiano" of sourdough, provolone, tomato, and basil aioli.
Venice Wine & Coffee Company (Venice) makes a unique, local favorite of four cheeses paired with a ginger/wasabi spread.
Station 400 (Sarasota) serves "Havarti Grilled Cheese" - dill, tomato jam, guac and bacon.
###
Nicole Coudal is a home chef and food writer based in southwest Florida, where she fishes and cooks using local ingredients. When not on the water, she visits farms, farmer's markets, and other food venues to highlight what's in-season and to create tasty recipes for her blog. Nicole is a regular contributor to Edible Sarasota, as well as, a frequent guest on ABC 7's Suncoast View. Read more at www.MyDeliciousBlog.com.