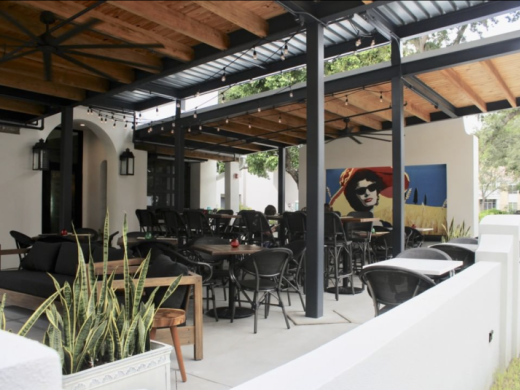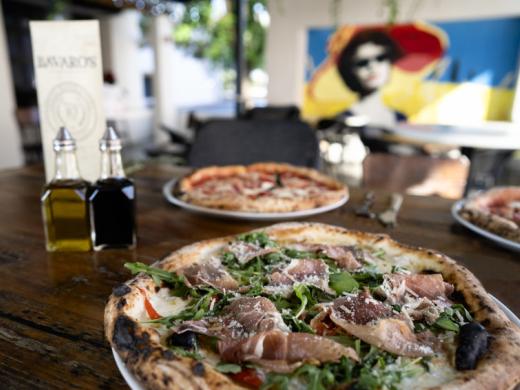 Bavaro's Pizza Napoletana & Pastaria
27 Fletcher Ave, Sarasota, FL 34237
(941) 552-9131
[email protected]
After success in the Tampa Bay area, Dan Bavaro took his passion and notable Pizzeria brand to the Sarasota area.  After years of labor and love, the restaurant opened in 2019 after renovating a 1920's historic building in the heart of downtown Sarasota.  We are located on 27 Fletcher, right next to Sarasota's famed historic courthouse. This location is unique, unlike all of the others, because it provides private dining spaces to cater to all small venue needs of local business and Sarasota residents and visitors.  Our upstairs seats around 50 guests and our covered outdoor patio 50-70 guests. All available for rental, and onsite catering. We have a catering and events coordinator, to help plan your next private business meeting, to wedding rehearsal dinner, or to host any special occasion event. Please reach out to us at any time at [email protected].  Please read our story below and we are looking forward to your visit.
Our Story:
Out of passion, tradition, hard work and integrity, Bavaro's opened its doors in March 2009 as the first traditional Neapolitan Pizzeria in the state of Florida. Determined to share their family recipes with the world, Dan Bavaro, his wife Anna-Maria, and their five beautiful children packed their U-Haul, left their friends and family, drove from New Jersey to Tampa, and set out to provide for others the same love, energy, and authenticity that they experience around their own dinner table.
A company committed to the art and craft of Neapolitan pizza, Bavaro's stays true to tradition by using hand-crafted, wood-fired brick ovens designed by third-generation Neapolitan craftsmen, a 100-year-old yeast culture, 100-year-old Neapolitan recipes, and top-of-the-line ingredients sourced directly from Italy.
In 2010, after a canceled catering event left them with 20 gallons of homemade pasta sauce, wife Anna-Maria suggested that the team batch the sauces rather than throwing it all away. Thus, Bavaro's introduced their line of handmade gourmet sauces to the world; allowing loyal guests to take the Bavaro's family recipes into the comfort of their own home.
From a restaurant in downtown Tampa that seats 50 guests, to a global brand with a standard of quality that resonates around the world, Bavaro's has since built 3 additional locations in St. Petersburg, the Tampa International Airport, and Sarasota, and continues to commit itself to the high-quality, welcoming experience that guests all around the country have grown to love.
As a pioneer in the traditional Neapolitan pizza culture, Bavaro's has set the standard for authentic Italian food, and has paved, and continues to pave, the way for many others in the industry.
Amenities
General Info
Accessible
Family-Friendly
Pet-Friendly
WiFi
Meeting Venues & Services Amenities
Group Dining:
-Located in downtown Sarasota
-Authentic Neapolitan pizza
-Private upstairs with handicapped accessibility seats 50 guests
-Private outdoor patio seats 60 and total buyout accommodates 150 guests
Restaurants Amenities
Bar/Lounge
Downtown Dining
Gluten Free Options
Happy Hour
Live Entertainment
Makes Deliveries
Number of Seats:


78

Outdoor Dining
Private Dining
Vegan Options