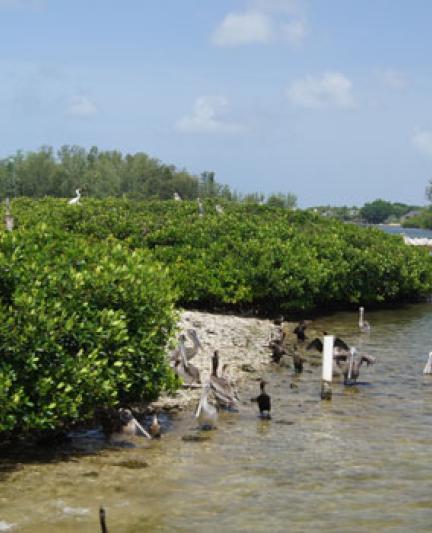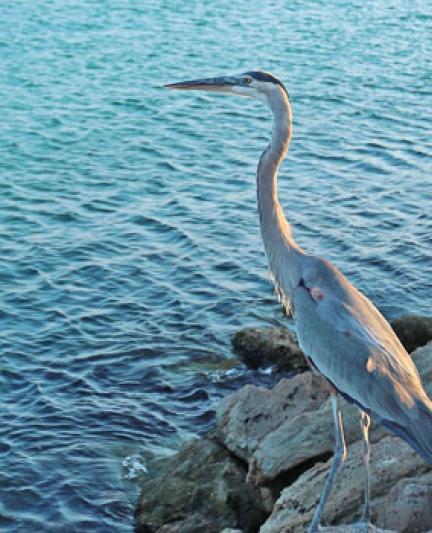 Wildlife by the water in Sarasota County
Head to Sarasota County's beaches to spot a variety of animal life.
Sarasota County beaches are great for people watching, with all kinds of personalities (sandcastle-building dads, oh-so-cool teen skimboarders, sunbaked senior citizens) coming out to play on the sand. But our beaches are also a great place for spotting many of the area's animal inhabitants, from playful dolphins to the actual, winged version of our beloved snowbirds.
Feathered Finds
Year-round, beachgoers might see birds such as snowy plovers, laughing gulls, anhingas, pelicans and egrets walking across the sand or soaring overhead. During the winter months, all kinds of birds migrate to our area to spend some time away from the cold. Winter sightings might include ring-billed gulls, royal and Sandwich terns, willets, black-bellied plovers, ruddy turnstones and sanderlings.
Summer is breeding time for many beach birds in our area. Black skimmers tend to breed in large numbers on Lido Key. Least terns and snowy plovers often try to breed here as well but can be less successful.
"We've encroached on their habitat, so they have difficulty finding available space," says Stu Wilson, who helps the Sarasota Audubon Society monitor shorebirds and do its Christmas bird count. "And they face a myriad of predators. Black skimmers do much better, because they're larger birds and they can do a better job defending themselves. They also breed in large colonies which provides self-defense."
Wilson recommends Siesta and Lido Beaches for the best beach bird-watching in the area. Hitting the sand during the early-morning hours leads to better observations than later in the day.
"The trick to rewarding shorebirding is getting there before the human hordes arrive," says Wilson. "And be prepared to do some beach walking, as the birds tend to congregate. Tidal pools, wide stretches of beach and sand spits/shoals all attract groups of shorebirds."
Be a Bird Lover
Whatever types of birds you see, resist offering them a piece of your sandwich or a French fry. Anyone who's ever been swarmed by gulls while trying to eat their lunch at the beach knows the trouble feeding shorebirds can bring about.
"Interacting with birds and other wild species by feeding them human food takes away their 'wild' and makes them more reliant on human interaction and food sources," says Luke Thema, environmental specialist for Sarasota County Parks, Recreation and Natural Resources. "There is a lot of food for species to forage naturally and remain independent and wild."
While many kiddos (and some adults) love running up to a group of birds resting on the beach and making them fly away, that actually isn't a very nice thing to do. "Birds need to rest and recover," says Wilson. "Having to frequently fly away and resettle as a four-year-old tot runs through them while their father or mother is videotaping the whole event is not helpful."
Any bird nests that are on or near the beach will be marked off to protect them and make beachgoers aware of their presence. "Beach nesting birds generally lay eggs right on the sand, and it makes the nests invisible to humans," says Lee Amos, land stewardship manager for Conservation Foundation of the Gulf Coast. "It just all looks like sand, so the best thing you can do when there are postings about beach nesting is to respect them and stay away."
"You want to keep your distance from nesting birds," says Wilson. "If you are seeing a bird moving away from you, it probably means you're too close."
Turtle Time
If you visit Sarasota County's beaches during the summer months, you'll be sharing the sand with some significant reptiles. From May 1 to Oct. 31, loggerhead (and occasionally green sea turtles and the rarer Kemp's ridley sea turtle) come to our beaches to nest. Several thousand nests have been documented in the area each of the past several years by Mote Marine Laboratory's Sea Turtle Conservation & Research Program and the volunteers who work with it.
Beachgoers can help turtles have nesting success by taking all their beach toys and chairs off the sand at the end of their beach day and filling in any holes they might have dug.
"Everyone loves to make sandcastles, but a turtle can get stuck if you've built a big enough moat," says Tim Thurman, president of Longboat Key Turtle Watch, which helps monitor nesting activity on its namesake key and educate the public about nesting sea turtles. "If a hatchling falls in and gets stuck, it becomes easy prey for night herons and other animals. So we encourage people to return the beach to as natural a state as they can when they're done enjoying it and to fill in their holes when they leave."
Picking up your trash also helps protect sea turtles and other animals. "Turtles can get caught in trash, and they sometimes eat trash because it looks like food to them," says Thurman.
"It's always great to not only take your own trash, but if you spot any trash that might not be yours, it's great to take that too," says Jillian McGonigle, lead biologist with Sarasota Bay Explorers. "The more that people take trash off the beach, the less it ends up in the ocean and impacting wildlife in ways we can't see immediately on the beach."
Sea turtle nests will be clearly marked off. Keep your distance and set up your beach chairs and umbrellas well away from any nests in the sand. And after the sun sets, leave the beach to the wildlife.
"Almost all turtle activity occurs at night, so we really want no one on the beach at night," says Thurman. "Humans being there doesn't encourage the turtles to do their normal things."
If you do come across a sick, injured or stranded sea turtle during the day, contact Mote Marine Laboratory's Stranding Investigations Program at 888-345-2335. If you see someone tampering with a sea turtle nest or harassing a sea turtle, call the Florida Fish and Wildlife Conservation Commission at 888-404-3922.
Other Animal Sightings
Visitors might spot gopher tortoises while walking from their car down to the beach. These reptiles dig burrows for shelter and forage on low-growing plants. "These native ground-dwelling turtles do not belong in the water and should not be picked up, touched or fed," says Thema.
Dolphins can be found at our beaches any time of year, and manatees might be spotted during the hotter months. (They move to the warmer waters of springs and rivers during the winter.)
If you're lucky enough to see a dolphin or manatee, act appropriately, especially if you yourself are in the water nearby. "Make sure you are giving them their space, and if you're able to, move away from them," says McGonigle. "Don't swim up to them or impact their day in any way. Keep your distance and just observe them."
Whatever kind of wildlife you're watching, a camera or binoculars can allow you to get a closer look and help you keep a respectful distance, so that these creatures remain residents of area beaches for many years to come. "The beach is a very special place," says Amos. "What we want to do is enjoy the beach in a way that helps iconic Florida wildlife thrive at same time."
"We care about our wildlife and we want our wildlife to stay wild," says McGonigle. "And if we're focusing on that, it creates a nice unique experience for visitors."