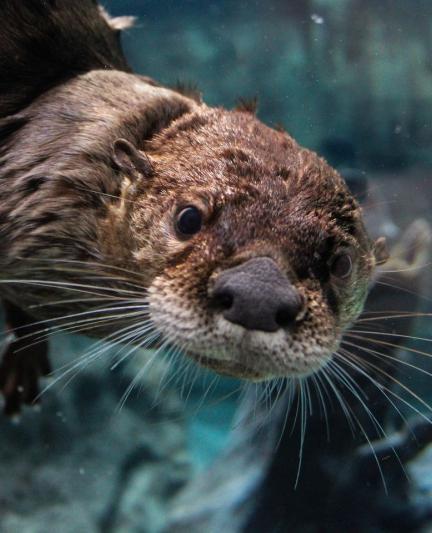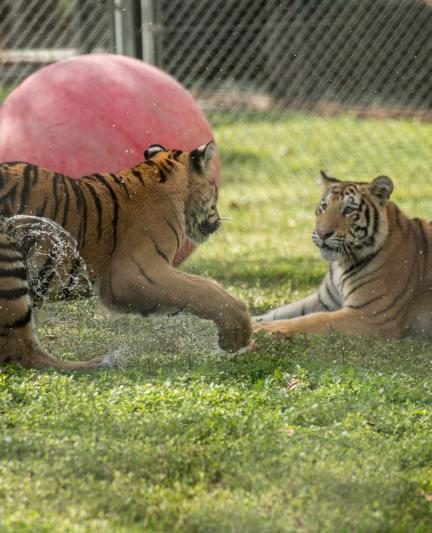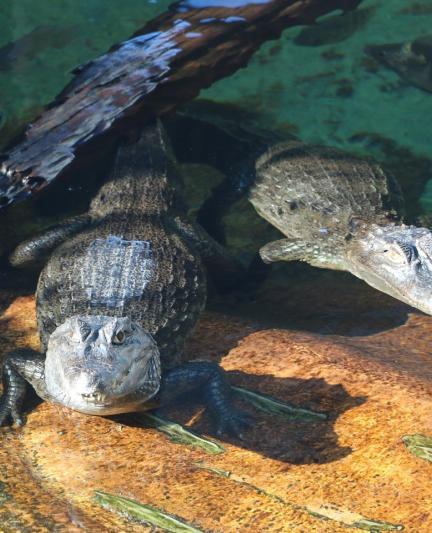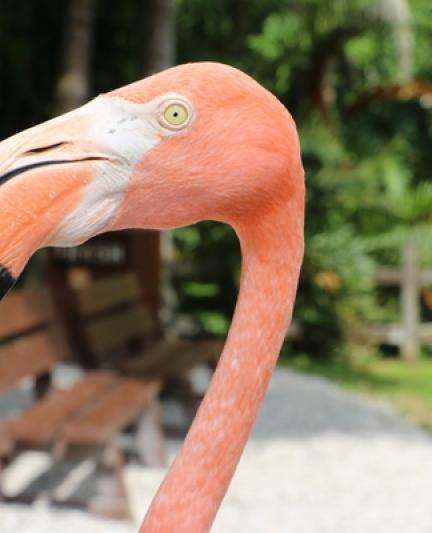 Where the Wild Things Are
Guide to the Top Wildlife Encounters and Wild Animal Experiences in Sarasota County
Long to get up close and personal with some beautiful, wild creatures? Sarasota County's year-round subtropical climate means we've got a longer list than most destinations for sanctuaries, nature preserves and conservation foundations—land and sea. Whether you're here for just a visit or live here, the wildest of places are all within a 30-minute drive of Downtown Sarasota, so you can sneak in an exciting afternoon with some exotic animals. Learn about their wild habits and the conservation efforts being done on local, national and even some international levels for these precious species.
This secret hideaway oasis off the main drag of Tamiami Trail boasts flamingos galore and more. Walk through the expansive, jungle-like grounds to pet and learn about an entire kingdom of species all in one place. Its 10 acres of "Old Florida" fun offer more than 200 native and exotic animals (many of them rescued). Visitors can expect to see trees full of colorful and tropical birds, snakes, gators, iguanas, tortoises and lemurs. Want to be face to face? Sarasota Jungle Gardens offers bird and alligator encounters daily—where you can hold, take pictures and learn about them from the zookeepers. Tickets may be purchased online in advance, or in-person while visiting.
The ever-growing, large-animal rescue in eastern Sarasota County is home to more than 150 exotic and domestic animals in need of a safe, permanent home. The nonprofit sanctuary is a permanent home to giant creatures like bears, monkeys, and of course, the big cats. From lions, tigers and cougars to leopards and ligers, these massive predators roam three indoor/outdoor housing complexes complete with exercise habitats and swimming pools. Visitors can also drop the little ones at the petting zoo to meet more mild, gentler animals like goats, llamas and chickens. Tickets may be purchased online in advance, or in-person while visiting.
Dive in and learn all about your favorite sea creatures—there is no shortage of underwater dwellers at this independent nonprofit marina research organization based on City Island in Sarasota. Find more than 100 species of marine life—including sharks, manatees, playful otters, turtles, moray eels, mesmerizing jellyfish, the majestic rays at stingray touch pool and lots and lots of colorful fish. Visitors can also observe ocean research as it is happening, and special educational presentations offer more information on Mote's in-depth research. Tickets may be purchased online in advance, or in-person while visiting.
If you have a soft spot for majestic creatures five times your size, your dreams will come true at a Myakka City nonprofit conservation center. At the Elephant Ranch, you can learn everything about African and Asian elephants in an educational one-hour seminar. Book a "Rise and Shine Encounter" to touch, feed and love up on everyone's favorite gentle giant with family photo options. And, if you're not afraid to get your shoes wet, consider the "Elephant Spa Encounter" for the special chance to bathe the animals. Water is very important for an elephant's skin, so they must get a full bath at least once a day. By reservation/appointment only.
Sarasota Sea Lion Preserve
Myakka City is home to some slippery sea lions of a special conservation and care center. The rescue facility is open to the public for educational presentations and swim interactions with their 13 sea lion residents. Home to a mix of Californian and South African species, these flippered sea friends have been rescued and rehabilitated from injuries in the wild. Depending on how close and how wet you're willing to get, experiences range from land interactions and painting with the sea lions, to hugs, kisses and game playing with them. The top package includes suiting up and diving in the water with them as they perform tricks. Tickets may be purchased online in advance.
Save Our Seabirds
For some winged creatures, head to a local nonprofit whose mission is to rescue, rehabilitate and release sick and injured wild birds found in the area. Stroll the three-acre "birdwalk" to meet pelicans, owls, vultures, herons, and other once-wild birds. Be ready for a steady soundtrack of squawks, caws, and chirps as you learn about the traits and characteristics of each species, as well as what you can do to help protect them from harm in the wild. The Wild Bird Learning Center is also home to more than 120 other animals that were injured and treated, unable to return to the wild. There is currently no charge for admission to SOS, but donations of any amount are appreciated.
Bearadise Ranch Bear Preserve
For an unexpected species on the coast of Florida, prepare to get up close and personal with some very large, furry mammals at Bearadise Ranch Bear Preserve. The multi-generational family-owned wildlife park and learning facility was established back in 1926. Today, Bearadise promotes habitat preservation and conservation for the Florida bear species. Located in Myakka City, tours are by reservation only and operations are seasonal. Educational and entertaining presentations are part of the tour, as well as plenty of photographic opportunities for the nature lover or big bear enthusiast. By reservation/appointment only.