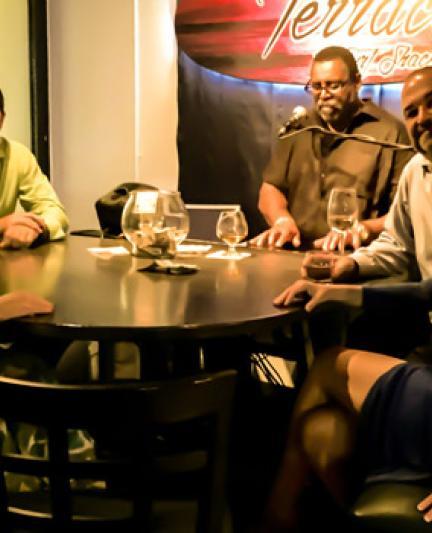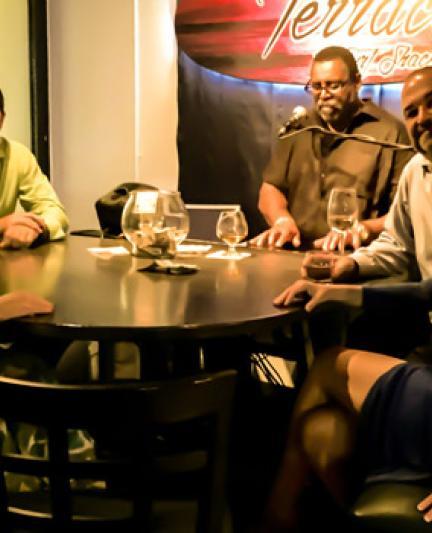 Strolling the St. Armands nightlife scene
St. Armands is often thought of as a popular dining and shopping up on the Florida Gulf Coast, but as the sun goes down, nightlife heats up in this Sarasota locale.
If you find yourself strolling along picturesque St. Armands during the sun-soaked hours of daylight, you'll notice that it's a cheerful, perfectly mapped out circle of colorful boutiques, specialty shops and restaurants. Everyone is friendly and doggie water bowls couldn't be more plentiful. And the aroma of just-made waffle cones is just enough to make you salivate at the mouth. But I've found that if you venture out there when the sun dips below the horizon, St. Armands really amps up the romance and gets the cocktails flowing.
Shore Diner
I round up two girlfriends on a Thursday and we head to our first stop of the evening: Shore Diner. One of the newer venues on the circle, this trendy al fresco restaurant is located upstairs from The Shore clothing boutique and features a terrace with lounge furniture perfect for sinking into and sipping hand-crafted drinks such as the signature Shore Cocktail or glass of wine. The bartenders are crafting up cocktails and sending them to guests sitting in the dining area below one of Shore's coolest features — a retractable roof.
Shore has has an amazing rooftop garden, where fresh herbs flourish in hydroponic growers. I order the Slow Roasted Carnitas Tacos and am diving in when Shore Manager Dan Goltz suggests I try the apple, pear and cherry house-made infusions. Pretty strong by themselves, but definitely delicious. As my friend Amanda downs her Hibiscus Sparkler, she notes that the vibe here feels more like Miami than Sarasota. And just like that, Right Said Fred's "I'm Too Sexy" starts playing, and begin to sing about doing our little turns on the catwalk.
Cha Cha Coconuts
Next on our list is a super low key St. Armands staple: Cha Cha Coconuts. Sporting a carefree, island vibe all day, every day — think Jimmy Buffet meets Bob Marley— you can always count on a hot-pressed Cuban sandwich, Calypso Chicken Wings and a Hava' Havana Mojito, Bahama Mama and Jamaica Me Crazy. Cha Cha's serves up other drinks of course, but these are tonight's cravings and we're saying yes! Show up in anything from a beach cover up or board shorts to a maxi dress and you'll fit right in. As much as you may want to cozy up at a booth inside the restaurant, the outdoor umbrella tables (if you're lucky enough to grab one!) lining the circle amidst the tropical landscaping are the best spot in the house for people watching, great conversation and chugging those icy blended drinks. Plus, there's even live entertainment on the weekends.
Daiquiri Deck
Our final mission for the evening: daiquiris! And what better place to party than Daiquiri Deck, which has two additional locations — Siesta Key and Venice. Not only does this local staple have a raw bar and full menu, but they also offer live music and happy hour seven days a week, plus killer competitions like beer pong and corn hole. You definitely won't find any sort of dance club vibe here like you will at the DD on Siesta. But you will find a heavenly selection of oysters and so many drink concoctions you'll think you've died and gone to cocktail heaven. On a serious note — if you do start feeling the need to break it down on the dance floor and dance the night away, the 15 South Nightclub offers live Latin performances Friday, Saturday and Sunday, until 2 a.m.
Don't Forget the Fudge
Now, if Kilwin's is still open by the time we leave Daiquiri Deck tonight, you better believe I'm grabbing a double scoop of chocolate-peanut butter ice cream in a waffle cone.