Game-watching: 5 spots you should know about in Sarasota County
Don't miss your favorite sports team's game while on vacation. Sarasota County has several sports bars with plenty of televisions, wings and beer. Read our list of five bars you should be sure to check out during your stay.
If you're visiting Sarasota County during that can't miss game and looking for a bar to find the game, you won't need to look far. There are a plethora of bars with dozens of HD televisions, succulent wings and cool, refreshing beers. Check out our list of some great bars to check out during your stay this season:
Gecko's Pub and Grill
For serious game-watchers, visit one of Gecko's six locations. Established in 1992, Gecko's (check out locations here) is well known for it's mouth-watering food*. Like many of the bars in this list, Gecko's has a slew of beer on tap, a full bar and lots of televisions.
Locals will tell you Gecko's is an established local staple and, notably, the restaurant has been active for a long time in community engagement. As partners with Honeyside Farms, a nearby sustainable farm in the area, Gecko's serves great farm produce and partners with the grower to plan the seasons and crops. In September 2014, the restaurant joined in on the No Kid Hungry Campaign to end childhood hunger in America. For more information about the campaign, check out their site.
* Editor's Note: Seriously, if you are in Sarasota County right now, stop whatever it is you're doing and go get an order the blue cheese chips! These crisp chips with blue cheese fondue, smoked bacon and balsamic glaze are our guilty pleasure!
Siesta Key Oyster Bar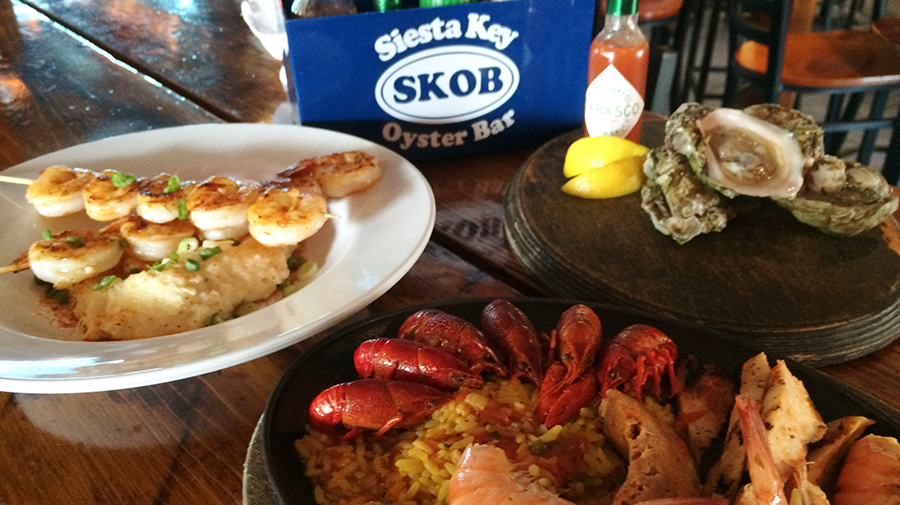 Siesta Key Oyster Bar, often just called SKOB by local residents, is a perfect place to walk off the beach and into the bar for the game. Located in Siesta Key Village, the bar broadcasts every game from DIRECTV's NFL Sunday Ticket.
This bar has plenty of game-time fare, such as burgers, bbq chicken, and beer battered fish and chips. However, Siesta Key Oyster Bar also has some of the best oysters in town and some great fresh food for those who would prefer to have something healthy.
Square 1 Burgers & Bar
Square 1 Burgers & Bar has two locations in Sarasota County, and they make our list for one reason: the burgers. Everything about the "Drunken Pig and Bull" burger (bourbon pulled pork, pepper jack cheese, onion rings and a special "Sooner" sauce) is a perfect symbol of game day. Square 1 Burgers & Bar has it's own line of beer, and a full bar as well.
Harry's Sports Bar & Grille
Here's one number you'll want to know about Harry's: 61.
The bar's 61 big screen with satellite television means whatever your favorite sport is and whatever your favorite team is, Harry's probably has in on television.
Harry's has a full bar and a giant menu that includes Mexican, pizza, and steaks. You can also visit Harry's website to enter for a chance to win a pitcher of draft beer and a pizza.
Evie's Tavern & Grill
Evie's's on Bee Ridge is one of the best places for the whole family to watch the game. Not only does this restaurant provide great food and drinks -- it also offers a unique experience with a golf driving range, a miniature golf course and an ice cream parlor. For late night games, Evie's has three dollar house wine, five dollar mixed drinks, half-price appetizers and six dollar personal pizzas.