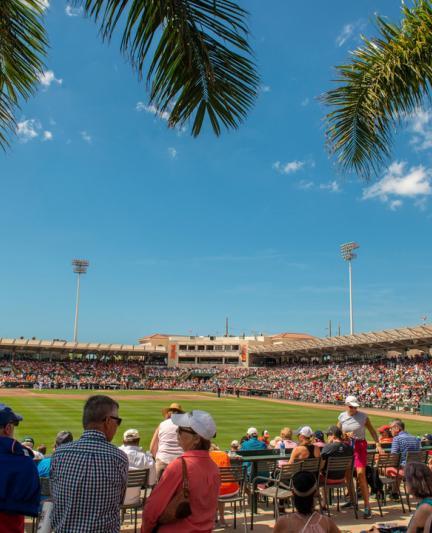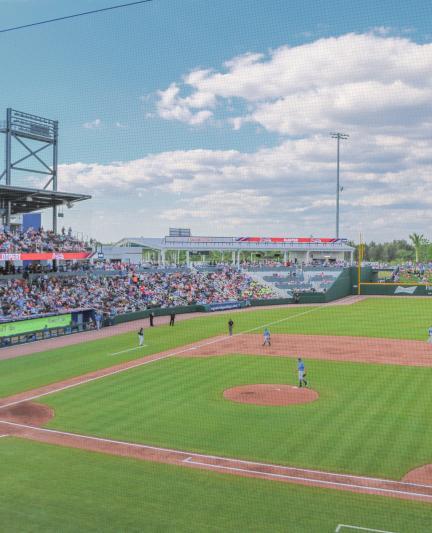 Heating Up As Spring Training Returns
Spring Training season is back and in full swing on the Gulf Coast!
Sarasota County is proud to call two Major League Baseball teams—the Atlanta Braves and Baltimore Orioles—its home base for Spring Training season. Spring Training offers fans a chance to see both well-known stars and up-and-coming prospects in an intimate setting.
This is the first year since 2019 that the stadiums are able to host a full-fledged season and schedule of games for fans to attend. So make your way down south this February and March to defrost those winter-chilled bones as your favorite players warm up those homerun swings. Spring Training practices are free and open to the public starting in mid-February, while ticketed games begin in March—arguably two if the nicest months weather-wise here on the Suncoast. Not a bad way to spend nine innings outdoors on the Gulf Coast!
Atlanta Braves at CoolToday Park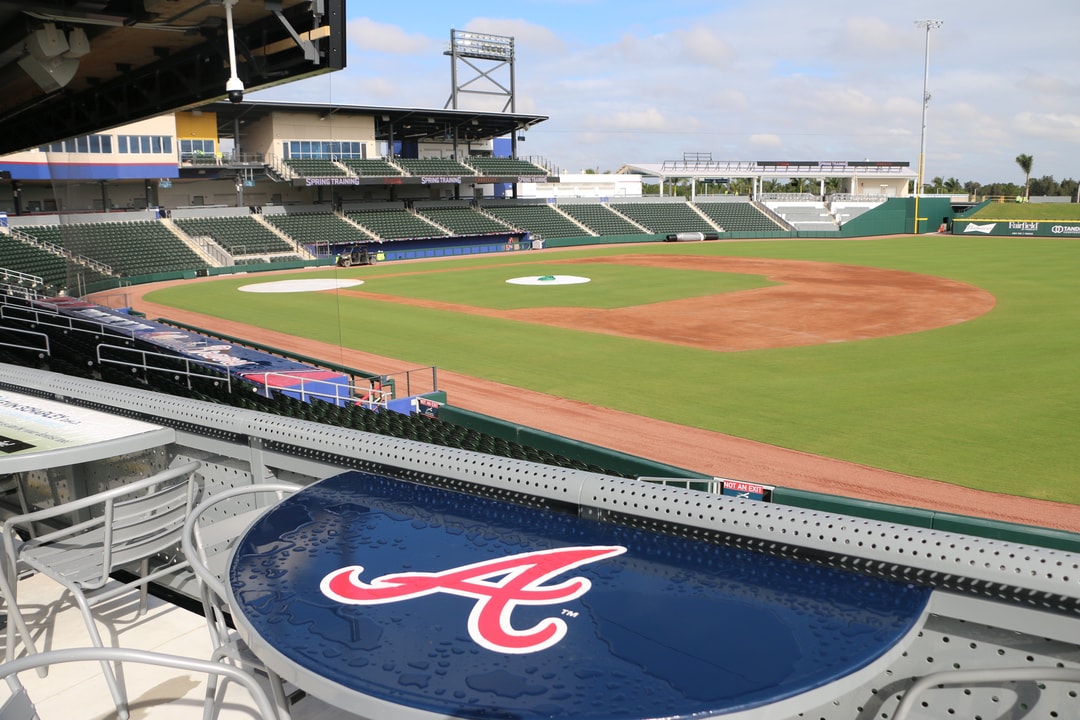 Every February, Braves Country heads south to North Port, Florida as they prepare for the start of a new baseball season at CoolToday Park. The season kicks off on February 25th and will run through March 27th.
With a capacity to fit approximately 8,000 fans over 50,000 sq. ft. of open green space, explore CoolToday Park's multiple full-service suites and clubs; a two-level Braves Clubhouse Team Store for Spring Training t-shirts, hats, sweatshirts and novelty items; and an expansive outfield patio area—perfect for a family-fun outing to enjoy a ballgame outside of a seat. Also outfield, enjoy bites and beverages at Superior Pools Tomahawk Tiki Bar & Grill, CoolToday Park is open year-round. The open-air, covered restaurant and bar is perched above the left field line and is open all year round. Featuring views of both the ballpark and spectacular sunsets, Tomahawk Tiki Bar and Grill is the perfect spot to enjoy a meal between innings or catch happy hour and weekly live entertainment.
For the Braves' calendar of events at CoolToday Park, visit here.
Baltimore Orioles at Ed Smith Stadium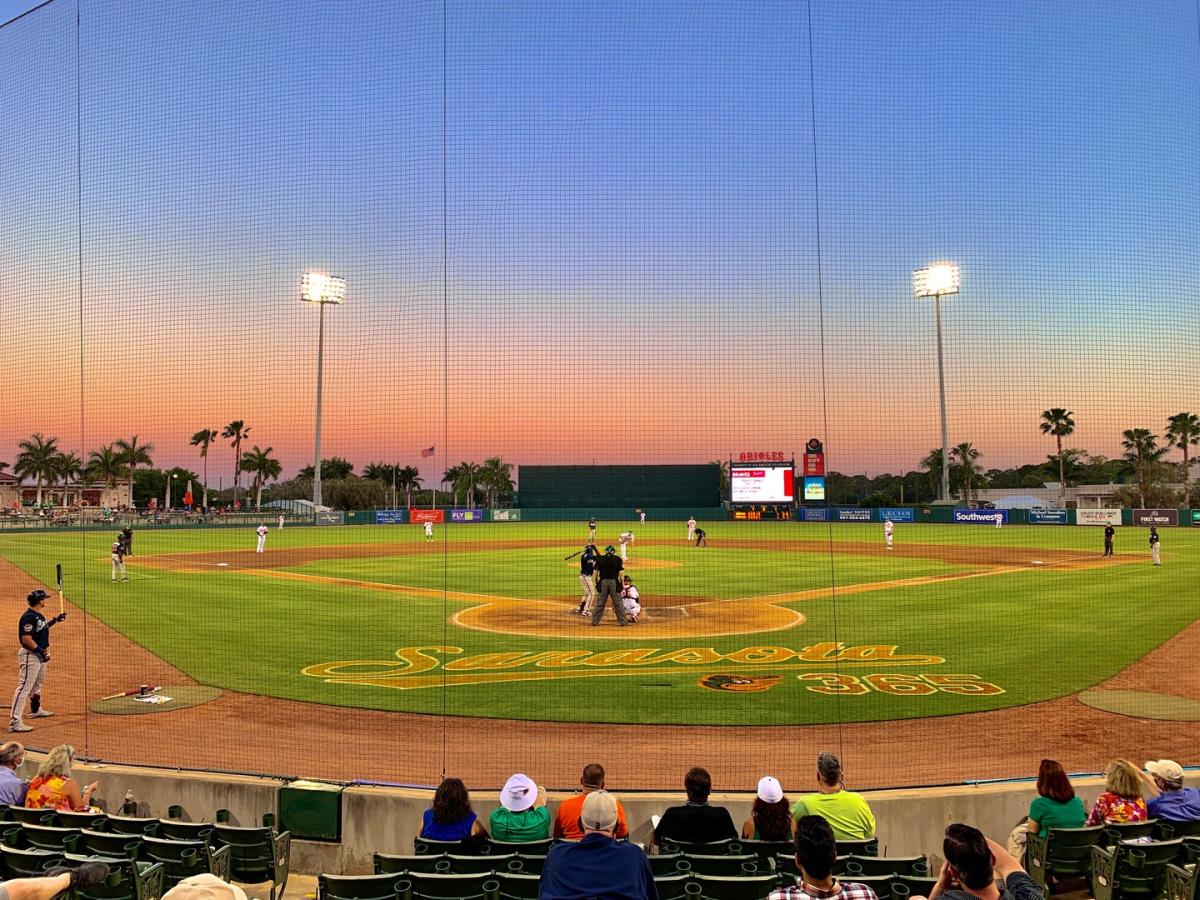 The Orioles' home opener for the season kicks off on February 25th at Ed Smith Stadium in Sarasota. Often referred to as "Birdland South," Ed Smith Stadium also includes the Buck O'Neil Baseball Complex at Twin Lakes Park, which features all of the ballpark amenities to make any athlete feel like they're in the big leagues. This major league facility features about 7,500 seats within the stadium, with standing room space taking the park's total capacity to 8,5000.
There is also a clubhouse, two concourses that include food and beverage stands, a cafe and a 2,000 sq. ft. gift shop. If you ever have to stray from your seat, don't miss a beat with the 100 HDTVs located throughout the stadium and a HD LED video board in the outfield.
For the Braves' full spring training schedule at Ed Smith Stadium, visit here.