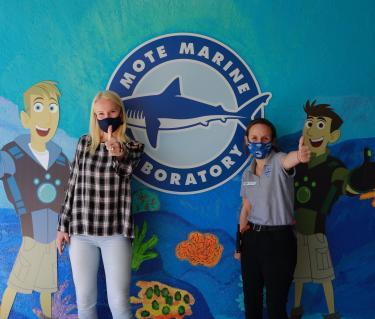 Directing Guest Services at Mote Marine
Originally from the Philadelphia area, Danielle Mosteller moved to Sarasota 2 ½ years ago to accept a position as director of guest services and membership at Mote Marine Laboratory & Aquarium. She handles ticketing, Mote's virtual reality program, its fossil creek and membership services.
"We have a couple of different virtual reality experiences for our guests," Danielle said. "They come in, put on masks and they experience what it is like to dive with the sharks, or to go on an expedition for humpback whales, and we have one where it feels like you are on a submarine and you find a giant squid. These programs are not just entertainment; they are also meant to educate. Both kids and adults love this exhibit, and it is very rare that it is not in use," she said.

In the fossil creek, Danielle collects shark's teeth and other fossils and guests sift through the sand to find the them. "That way, they don't have to go all the way to Venice to find their shark's teeth. It's like getting an interactive souvenir," she said.
"My passion has always been creating memories for families. With Mote, however, we are bringing so much more to the table than memories. We are also giving people the passion for conservation," Danielle said. When she used to work at the Philadelphia Zoo and learned how much zoos and aquariums do towards preservation and conservation, Danielle said it really ignited something in her. "I wanted to bring same feeling, that same passion to more people," she said.