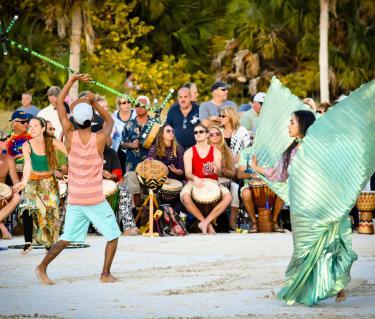 10 Ways to Watch Live Music in the Summer
Trying to get funky? From jazz to folk, trop-rock to classical and much more, the Sarasota County area has a spot to experience every genre during the warmer months.
There's a reason so many songs are about summertime – "Hot Fun in the Summertime," "Summer Breeze," "Summer Nights," "Summer in the City." The freedom of the season plus the long summer hours equals the universe serenading a message – go out and listen to some music!
Live music isn't just about listening, but also enjoying the venue and its vibe. Read on to rock on at these 10 uniquely-Sarasota live music locations this summer.
O'Leary's Tiki Bar and Grill
A visit to Florida usually rouses daydreams of fruity tropical drinks, sandy toes and guitar serenades on the waterfront. Make those dreams a reality at
O'Leary's Tiki Bar and Grill
in
Bayfront Park
. Their cool cocktails are accompanied by trop-rock tunes during
afternoons and evenings
to help you drift into flip-flop tranquility as you sit with your toes in the sand, palapa overhead and waves adding to the sounds of music. The adjacent park with water fountain (and popsicles – always popsicles) will keep the kiddos happy while you savor that margarita and escape the summer sun.
Blue Rooster
Whether Florida is part of THE South is often a point of contention. While we joke that you need to go north to get to The South, a visit to the downtown's
Blue Rooster
will have y'all begging for a mint julep and a song with soul. With nightly indoor
music
of the Southern persuasion, a plate of catfish, collards or their epic
Sunday Gospel Brunch
, you'll feel that southern comfort down to the bones.
Van Wezel Friday Fest
The
Van Wezel
- the large purple venue on Tamiami Trail – is always home to concerts, ballets, comedians, and performers. But come summertime, the show moves outdoors for the
Friday Fest Free Outdoor Concert Series
. On select Fridays June through September, they open their grounds from 5 to 9 p.m. to music-lovers and local bands overlooking Sarasota Bay. As the sun goes down, the beats go up and all is well in Florida.
Jazz Club of Sarasota
Beat the heat with some cool cats. Jazz fans will appreciate that the first time I heard – and saw – Trombone Shorty was in Sarasota. While typically known for its Margaritaville vibe, Florida has a bluesy side too. Try the
Jazz Club of Sarasota
for some southern soul and the opportunity experience true musical talent. Their summer schedule features Monday Night Jazz Cabaret held at downtown Sarasota's
Florida Studio Theatre
.
Sharky's on the Pier
Whether you're winding down a long day of fishing on the Venice Pier, shark tooth hunting along Caspersen Beach or just looking for a chill night out with friends and loved ones, look no further than Sharky's on the Pier. Sarasota County's only beach front restaurant is the perfect spot to take in some island tunes while watching the sunset over the Gulf of Mexico. Check their
website
to see who, what and when will be playing the night you want to stroll over to this casual spot recently voted the
best beach bar in Florida
.
Owen's Fish Camp
Universally popular amongst locals for its outstanding seafood creations, Owen's Fish Camp is equally celebrated for its tucked-away
backyard
. Beyond the banyan tree and front patio of the Camp, you'll find an oasis of fun, filled with games, a tire swing, oysters on the grill and uber-cool live music. Fiddles, banjos, and spoons are at home here, as you will be too. The schedule is not posted – they keep it simple - but the talent is there, waiting to be enjoyed as you sit under the stars and pines. Find a seat, grab a drink, and prepare for backyard bliss.
Live Music in the Park
Friday nights – and some bonus Saturdays – means it's time for
Live Music in the Park
at
Payne Park
in downtown Sarasota. Outside of Café in the Park, a grassy, open expanse fills its tiered levels with the sounds of songs from various genres: folk to blues, country to psychedelic and almost every acoustic level in-between. Free to the public, the experience runs approximately 7 to 9:30 p.m. Feel free to pop in anytime as these shows support a casual, free-spirited approach.
The Beach Club Siesta Key
Did you order some dancing to go with your live music? With a side of beach? Your order is ready at
The Beach Club Siesta Key
. Sundays feature local live music from 7 to 11 p.m., Fridays and Saturdays are reserved for grooving the night away until 2 a.m. When you need a break, take a few steps to the sands of Siesta Key Beach, breathe in some salty air, and head on back to the dance floor for the next jam session. Other venues in the Siesta Key Village like
Gilligan's Island Bar & Grill
and
Siesta Key Oyster Bar
also feature live music regularly.
Siesta Key Drum Circle
Enjoy the long days of summer and the insanely beautiful sunsets with a visit to the epic
Siesta Key Drum Circle
. Held Sunday evenings at sunset, dozens of musicians arrive as if the falling sun was a beacon, calling them to share their craft. As the sun lowers, the beats increase in intensity as a dance party ensues, an homage to life itself. Your participation level is optional – watch as a spectator, dance as if no one is watching, bring a cooler or chair and relax, or play your instrument along. As the Bard says, "All the world's a stage, and all the men and women merely players" – in this case, the stage is world-famous white quartz sand. While the drum circle occurs year-round, I love going in summer, hopping into the Gulf after the sun goes down, the salt water rinsing away the day as the drums beat in the background.
5 O'Clock Club
This local haunt has been around since the 1950s and is well known for hosting some big names at its quaint, Hillview Street location. Rockstar residents who have graced the stage include AC/DC's Brian Johnson and Allman Brothers Band guitarist Dickey Betts. Top local bands help fill out the schedule most days, so grab a drink among a crowd of mostly other local music fans and enjoy the whichever style of guitar is shredding that night.