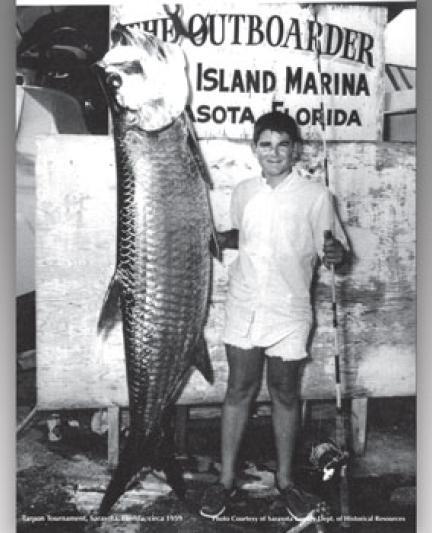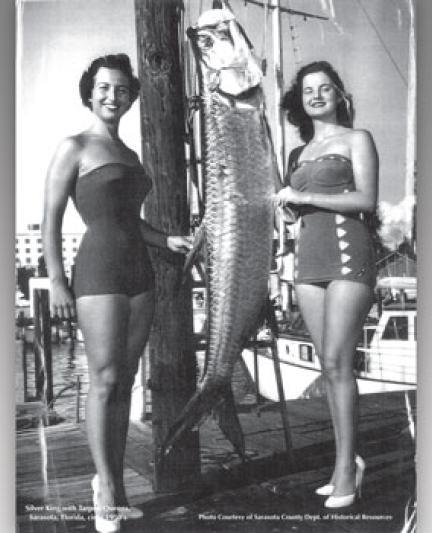 Time-Traveler's Guide: A Brief History of Sarasota County
Take a trip through time with Visit Sarasota County as your guide: Explore the area's pre-recorded history and learn about sites of interest, meet the men and women who transformed a rugged fishing village into a world-class leisure destination, and immerse yourself in the fascinating history of Sarasota, Florida.
Prehistoric Sarasota
Long before Sarasota grew into the small urban metropolis it is today, it was home to some of the earliest humans to inhabit Florida's Gulf Coast. Prior to the arrival of European explorers, Native tribes including the Calusa, Tocobaga, and Timucuan people lived, fished and traveled through the region that is today known as Sarasota County.
Sarasota County's Historic Spanish Point, located in the town of Osprey, houses one of the largest preserved archaeological sites on Florida's Gulf Coast. Historic Spanish Point's Window to the Past is located inside an original shell midden—an archaeological term for a waste-dumping site—which provides a stratified glimpse at 5,000 years of history, including the dietary habits and day-to-day activities of the first Floridians. The Spanish Point site is also home to a prehistoric burial ground where archaeologists in the early 1960s discovered more than 400 human skeletons and a ceremonially-interred alligator skeleton dating back over 1000 years.
Prehistory buffs should also pay a visit to the The Bishop Museum of Science and Nature located in neighboring Bradenton, just a half hour north of Sarasota in Manatee County. The Bishop Museum is a natural and cultural history museum dedicated to the archaeology and paleontology of Florida's Gulf Coast—a must-visit for fans of fossils—and home of the Planetarium and Parker Habitat, where visitors can manatees rehabilitating from injuries or other distresses in the wild.
John Hamilton Gillespie: The Scotsman "Father of Sarasota"
Sarasota's first real estate developer, J.H. Gillespie, arrived in Sarasota in 1886 to assist the failing 'Ormiston Colony'—a colony of approximately 60 Scottish families sent to settle 50,000 acres of land acquired by the Florida Mortgage and Investment Company, which was partially owned by Gillespie's father. Though the Florida Mortgage and Investment Company promised a tropical paradise, settlers were dismayed to arrive to an unruly, inhospitable Florida wilderness. Sir John Gillespie Sr. sent his son to manage the colony as the disillusioned Scots began to disband, just a few short months after their arrival.
Under J.H. Gillespie's leadership, Sarasota cleared the land to build its first roads, and eventually established the first railroad service. Gillespie also created 40 acres of experimental farmland and a wharf on Sarasota Bay, which established a vital commercial livelihood for the emerging fishing village of Sarasota in the early 1890s. In 1902, the town of Sarasota was incorporated, and J.H. Gillespie was named its first mayor.
Gillespie is not only the 'Father of Sarasota', but the visionary founder of the tourism and leisure industry that thrives today. His legacy can be found at the modern core of downtown Sarasota, known as 'Five Points', where he constructed Sarasota's first hotel, the DeSoto Hotel, in 1887.
J.H. Gillespie's greatest legacy, perhaps, is his introduction of the sport of golf to Florida. In 1904, Gillespie built the first golf course in the state; just the second golf course in the United States. The 9-hole practice course was constructed on what is now the aptly named Links Avenue in downtown Sarasota.
During World War I, Gillespie volunteered for the Scottish army and served as a colonel. He returned to Sarasota following the war, and died on his golf course in 1923. He was buried locally in the Rosemary Cemetery. Gillespie's legacy lives on today in his surviving buildings in downtown Sarasota, and in the abundance of golf courses that succeeded his first on Florida's Gulf Coast.
The Scottish heritage of Sarasota's founding colonists also lingers today, in traditions such as the annual Highland Games and Celtic Festival hosted by the Scottish Heritage Society of Sarasota, and in the bag-piped anthems of the nationally-recognized 'Riverview Kilties' high school marching band.
Owen Burns: The King of Urban Development
When Chicago banker, Owen Burns, arrived in Sarasota in 1910—attracted largely by J.H. Gillespie's successful efforts to brand the fledgling city as a winter holiday for the wealthy elite—he immediately purchased a massive 75% of the land from Gillespie for $35,000 and settled in to make Sarasota his permanent home.
Owen Burns is responsible for creating the city we know today. When Burns first arrived, Sarasota was a rustic, dirt-road town featuring just the beginnings of real estate development initiated by J.H. Gillespie. Burns helped to organize the Sarasota Board of Trade—which would later become the Chamber of Commerce—in 1911, and established the first locally-owned bank, the Citizens Bank.
Burns is responsible for Sarasota's first paved streets, as well as the construction of the city's first seawalls, major dredging projects, and the construction of the original causeways that connect downtown Sarasota with St. Armands and Lido Key. He was also instrumental in the push to divide Sarasota from Manatee County, leading to the establishment of Sarasota County in 1921.
During the Florida Land Boom, Burns oversaw the development of subdivisions such as Golden Gate Point and Sunset Park, and his construction company built circus magnate John Ringling's Ca' d'Zan estate on the Sarasota bayfront. In downtown Sarasota, the historic district of Burns Court bears the late developer's name.
When he wasn't busy erecting a city, Sarasota's most influential developer's favorite hobby was fishing. Today in Burns Court, visitors can enjoy a meal at Owen's Fish Camp, a southern-style seafood restaurant that pays homage to Sarasota's most ambitious developer. Look for the aged banyan tree in front of the restaurant—a gift from Burns' friend, inventor Thomas Edison.
Bertha Palmer: Sarasota's Gentlewoman Rancher
After J.H. Gillespie introduced a hotel, rail service, and institutions of leisure to Sarasota in early 1900s, wealthy northern socialites were enticed to vacation in the tropical climate of Florida's Gulf Coast—among them, the influential Chicago businesswoman and philanthropist, Bertha Palmer, who traveled the world to find a winter vacation home before landing in Sarasota in 1910, the same year as Owen Burns.
A keen agricultural business woman, Palmer hired surveyors and soil specialists to determine the region's viability for farming. She purchased 80,000 acres extending from Manatee County to modern day Venice, at the southern end of Sarasota County, to use for farmland and cattle ranching. The land holdings she acquired comprise approximately ¼ of modern day Sarasota County. When Palmer became the Vice President of the Florida Livestock Association in 1917, she used her platform to revolutionize the cattle ranching industry with innovative modern practices, and introduced purebred hogs to the region.
Palmer established her estates in Sarasota, in the area now known as the town of Osprey. An avid gardner, Bertha Palmer also explored experimental horticultural practices in Sarasota's unique subtropical climate. Her botanical legacy remains today in her sunken gardens at her home at Historic Spanish Point.
Bertha Palmer was diagnosed with breast cancer in 1916, but remained actively involved in the business and agricultural community in Sarasota until her death in 1918. Her two sons, Potter and Honoré, continued her agricultural legacy by establishing citrus groves and cattle ranches in southern and eastern Sarasota County, as well as the Palmer First National Bank in 1929.
Bertha Palmer's family also gifted 1,920 acres of land to the State of Florida for a park to honor their matriarch. In 1941, Myakka River State Park opened, and remains to this day a reminder of Bertha Palmer's naturalist legacy in Sarasota.
Circus Town Sarasota: The Legacy of John and Mable Ringling
Pioneering real estate developers J.H. Gillespie and Owen Burns are primarily responsible for creating Sarasota's civic infrastructure, but circus mogul John Ringling receives credit for the artistic vibrancy that characterizes modern Sarasota.
Charles and John Ringling, the brothers behind the Ringling Brothers Barnum & Bailey Circus, began purchasing land in Sarasota in 1911, and beginning in 1912, John and his wife Mable made Sarasota their winter home. The Ringlings were members of the wealthy elite in an era when 'American royalty' thrived on turn-of-the-century investments in oil, railroads and real estate. It was John's dream to transform Sarasota into a luxury resort town to rival the fashionable winter holiday destinations of Florida's more established east coast.
During the Florida Land Boom of the 1920s, John Ringling was a powerful name in Florida real estate: at one point the Ringlings owned more than 25% of Sarasota's total area. Ringling purchased St. Armand's Key in 1917, and developed its unique urban plan of residential and shopping centers laid out in a circle, known today as the chic shopping and dining district, St. Armand's Circle. Ringling's circus elephants helped haul the timbers that Owen Burns' construction company used to build the John Ringling Causeway, which connects downtown Sarasota to St. Armand's and Lido Key.
Ringling moved the circus' winter headquarters from Bridgeport, CT to Sarasota in 1927, establishing the city's lasting title as Florida's 'Circus City'. Circus culture thrives to this day in Sarasota, where one of the most comprehensive collections of circus history resides at The Ringling on John and Mable Ringling's historic estate.
The circus business brought the Ringlings to Europe annually in search of new talent, and in their travels, America's circus royalty amassed an outstanding collection of Renaissance and Baroque art of the European Masters. In a turn of misfortune following the dissolution of the Florida Land Boom and market crash of 1929, the Ringling financial empire collapsed. Although John Ringling died with just $300 in the bank, his legacy lives on, however in his priceless collection of art and private estate, which he left to the public upon his passing.
Today, The Ringling remains a top attraction in Sarasota. John Ringling's permanent art collection in the estate galleries serves as the State Art Museum of Florida, and the Ringlings' elaborate 1920s Mediterranean Revival-style mansion, Ca' d'Zan ('House of John'), resides on the Ringling estate. The Ca' d'Zan is also open to the public, offering a trip through time into the parlor rooms of America's Gatsby-era elite.
Learn More About Sarasota History
Strolling through the historic neighborhoods of downtown Sarasota, Historic Spanish Point, and the Ringling Estate is a great way to discover Sarasota's history at every turn— but these are certainly not the only places where local history springs to life.
The Historical Society of Sarasota is one of the best resources for all things related to the region's past. The Historical Society celebrates local history with trolley tours, community events and its popular lecture series, 'Conversations at the Crocker', which invites local historians to lead conversations on a variety of historical topics at the historic Crocker Memorial Church. Located in Pioneer Park, the Historical Society of Sarasota is also home to the oldest standing residence in Sarasota, the Bidwell-Wood pioneer house, dating back to 1882.
To experience what it was like to live in an undeveloped Sarasota at the turn of the century, pay a visit to the Manatee Village Historical Park in Sarasota's neighboring Bradenton. The Manatee Village features an authentic turn-of-the-century homestead, boat works, general store, school house, and a 1914 steam engine similar to that which brought Burns, Palmer and the Ringlings to Sarasota in the early 1900s.
Other historical spots of interest in Sarasota include Hotel Ranola, a 1920s apartment building in the heart of downtown Sarasota that serves today as a quirky boutique hotel, and Selby Gardens. Selby Gardens is the legacy of horticulturalist Marie Selby—the first woman to travel across the country by automobile—who settled in Sarasota in the 1920s. The Selbys' Spanish-style two-story house still resides on the bayside garden grounds.
Modern architecture buffs will also find a wealth of historical treasures to explore throughout Sarasota, particularly on Lido Key, where homes in the Sarasota School of Architecture (Sarasota Modern) style were made famous by world-renowned architects such as Paul Rudolph, Ralph Twitchell and Jack West in the years immediately following World War II. In downtown Sarasota, City Hall and Art Center Sarasota are original post-war structures that bear the architectural legacy of the Sarasota Modern style. For a tour of select properties, visit the Sarasota Architectural Foundation.
From the shores of Osprey where native Floridians lived off the land for centuries before the arrival of European explorers, to the heart of downtown Sarasota, where turn-of-the-20th-century developers erected a resort paradise, there is a wealth of local history to be unearthed in Sarasota County.
Where will your time travel lead?