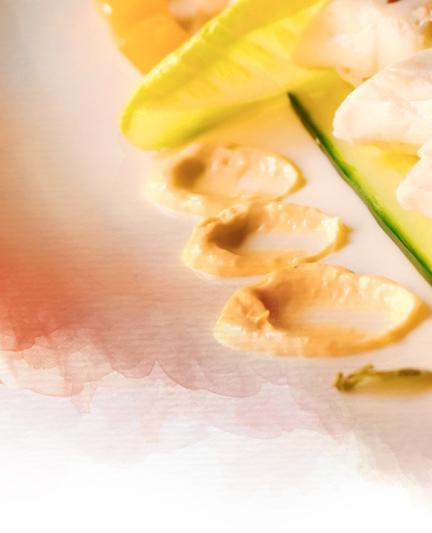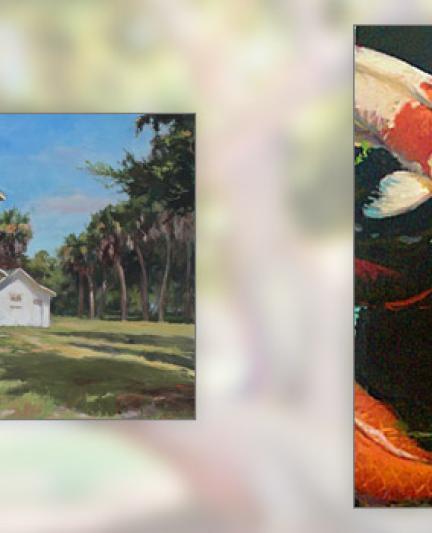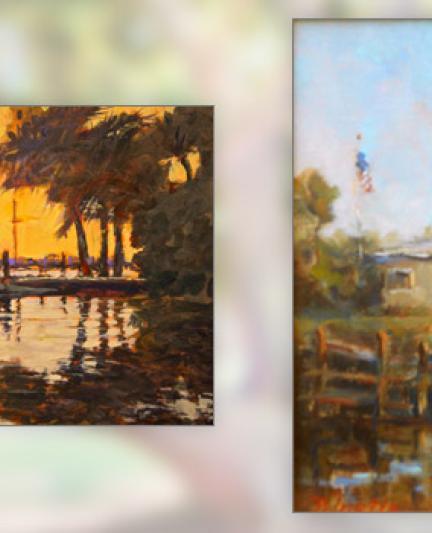 Plein Air Painting in Sarasota County
Sarasota County is a place for the muses. There's plenty of places to capture an iconic moment with a brush in a canvas in the area.
To the modern-day Monet, Sarasota is a heavenly muse.
"When you paint the landscape, you're painting more than just a memory: you're painting a feeling of place—and Sarasota is a very special and exquisite place to paint," says Terry Mason, president of the Sarasota Light Chasers. The Light Chasers and their sister organization, Peace River Painters, share a combined membership of well over 700 artists, making Sarasota County Florida's largest and most prolific plein air painting community—and it's no surprise why. From the pristine tropical beaches and sailboat-dotted bayfront parks to the untouched, wild wetland habitats that await discovery off the beaten path, Sarasota County is teeming with inspiring imagery and natural settings.Painters from the Light Chasers sat down with us to share some of their favorite painting haunts in Sarasota County. Visiting artists, we hope you pack a portable easel—to follow is a list of sites you'll be eager to put on canvas!
Downtown Sarasota Bayfront
Sarasota Light Chaser and winner of the organization's 2014 "Paint Sarasota: Paint Out" competition, Michelle Held, is a prolific painter whose murals can be found throughout Sarasota and the Sun Coast.

Though commissions keep her busy, Held says she returns frequently to the Sarasota bayfront for recreational painting. Her favorite spots are Ken Thompson Park and the Bayfront Park at Marina Jack's, which provide bayside vistas from both sides of Sarasota's iconic John Ringling Bridge.

"One of the best things about Sarasota is that I can paint year-round here," Held says. "It gets a little warm in the summers, but I have a big umbrella. And the closer you are to the water—by the bay, or the second you're on any of those beaches—the breeze is amazing, so you rarely feel the heat at all."
Both parks—particularly Bayfront Park—also provide ample people-watching opportunities for artists, as well handy visual references for the dozens of styles of boats that sail and anchor in the bay.
"You find them all at the bayfront—sailboats, yachts, rowboats… On any given day, you can paint a period piece with an old sailboat, or a modern piece of the Marina Jack yacht—all from the same spot," Mason adds.
Siesta Key
The combination of powder white sand, blazing sunsets, and the warm, rolling waves of the Gulf of Mexico recently earned Siesta Key Beach the title of #1 beach in the United States. With a natural beauty and appeal reminiscent of Caribbean islands, Siesta catches the eye of beach-combing tourists and artists alike.
But what is it, exactly, that makes Siesta such a special place? Terry Mason suggests it all comes down to the meteorology.
"We're a subtropical climate, so we get a different weather pattern—and thus a different color pattern—than other areas to the north or south. The light is different in Sarasota. On Siesta, it's like painting on an island because you get such a water-air effect," Mason says.
"We get these giant cumulus clouds here because of our heat and humidity, especially in summer. When the sun comes and splits through the clouds over the Gulf, you'll get these incredible spots of turquoise on the water. You may find sights like that in the Caribbean, but you won't find that anywhere else in the U.S.," she adds.
Myakka State Park
For landscape artists, Mason notes that Myakka State Park is one of the most wildly varied locations in Sarasota County. Sprawling over 37,000 ecologically-diverse acres of pinelands, dry prairies, hammocks and wetlands, Myakka State Park is an awe-inspiring field trip for artists who are drawn to natural, untamed Florida.
"Artists typically like to paint two types of landscape: one is closed, looking dead into the jungle, and the other is a vista that looks across a long distance, like a field or body of water. In Myakka State Park, you can take one path and be immersed deep in jungle in a matter of minutes—and you can turn around and walk the other way, and suddenly find yourself before a glorious vista," Mason says.
The Light Chasers advise early morning visits to the park, when the weather is cool and the wildlife is undisturbed. In the early morning, a visit to the bird walk may reward park visitors with the opportunity to see more than 100 varieties of birds, Mason says.
Celery Fields
Bird watchers and plein air painters alike are also drawn to Celery Fields, a protected wetland habitat that whispers to life early each morning as its native wildlife awakens. As an avid admirer and painter of native Florida birds including herons and roseate spoonbills, Michelle Held says Celery Fields is one of her most treasured spots.
"At a drive-by glance, Celery Fields just looks like average wetlands. But once you're up on the new boardwalks that go out to the water, you can see so much wildlife down in there. It's really incredible," says Held.
She adds that the trip off the beaten path is rewarding, also, because it often leads her to like-minded birders and artists.
"Another fun part is meeting all these photographers and other artists who you'll also run into on the boardwalk. You'll meet all these people with similar interests who you didn't even know were out there. I've made photographer friends who even share reference photos with me," Held says.
Selby Gardens
While many typically seek the untamed wilderness locales of Myakka State Park and Celery Fields, some of Sarasota's plein air painters also confess an affinity for the immaculately manicured, 9-acre grounds of the Marie Selby Botanical Gardens. The gardens are widely recognized for their bromeliad and orchid collections, as well as the hundred year-old banyan tree that serves as a picturesque centerpiece.
"There are so many lush and diverse settings at Selby Gardens that painters never run out of inspiration," says Marilynn Shelley, Selby's manager of community classes and exhibits.
"Painters are often found capturing scenes of the butterfly and bromeliad gardens, the koi pond, the towering banyan trees, and our two historic homes; the Selby House and the Christy Payne Mansion," Shelley adds.
For the opportunity to paint detailed exotic flora, Mason notes that Selby is an invaluable resource for artists.
"There's nothing closer on earth than the artist, the environmentalist, and the gardner. We're all looking for the beauty in nature and we're passionate about protecting it," Mason says.
Ringling Grounds
There is a lot of ground to cover at the Ringling Estate—and a great deal of scenery to paint. While Myakka State Park boasts eco-diversity, the Ringling grounds display a plethora of arts, culture and the allure of America's bygone Gilded Age.
Mason references circus mogul John Ringling's 1920s mansion, Ca d'Zan, which overlooks Sarasota Bay, as a starting point for artists who visit the Ringling grounds. From there, Mason hints, a little exploration in virtually any direction leads to exquisite statuary, circus memorabilia, hidden properties with scenic ponds, and Mable Ringling's century-old Italian style rose garden.
"Some of the roses in Mable Ringling's garden are from a hundred years ago, so you're going to see little cabbage roses which otherwise you wouldn't see outside of England, right in that garden," Mason says.
Mason notes that Florida's unique climate allows roses two blooming seasons, in fall and spring. September, April and May are lovely months to paint roses, she says. According to Ringling's landscape superintendent, Kevin Green, April is the best month to visit the gardens, as that is the time when the greatest number of rose bushes are in bloom.
Phillippi Estate Park
According to the Light Chasers, a little known fact about the Phillippi Estate Park's Edson Keith farmhouse is that in the 1970s, it was a home to a collective of artists who would create and sell their plein air paintings at a weekly market. Today, the century-old farmhouse is undergoing renovations that will restore it to functionality as an educational center for local history.
Phillippi Estate Park sits on 60 acres in Sarasota, along Phillippi Creek. In addition to the historic clapboard farmhouse, Phillippi Estate Park includes a wide variety of palm trees, a rose garden, three scenic docks overlooking the creek, a children's playground, and secluded woodland areas. The park is also the location of a weekly farmer's market that takes place on Wednesdays.
"If you want to be alone in the woods you can go to Phillippi Creek anytime. If you want to be in the middle of a crowd in full of vibrant colors, you can go on a Wednesday and take in the farmer's market," Mason says.
"You can stand anywhere in that park, make a circle, and find five paintings right off the bat… Whether you want to paint a mansion or a hundred year-old farmhouse, a busy farmer's market, or just practice painting your palms—it's all there."
Historic Spanish Point
Hundreds—even thousands—of years of local history come to life at Historic Spanish Point. The park's prehistoric history includes undisturbed wilderness and Native American shell mounds, while its modern, 20th century history bears the legacy of Gilded Age Chicago businesswoman and philanthropist, Bertha Palmer, who purchased and developed part of the property as a winter estate in 1910.
"At Spanish Point, you'll not only see and feel history—you'll get to paint it," says Mason.
In the preserved nature pathways around Spanish Point, Mason says artists will find knobbed, trees with natural curves, and magical spaces where rays of light filter through the forest canopy. In and around the buildings of the property, she adds, are breathtaking gardens with unique plants and butterflies that are difficult to find anywhere else.
"This is a special place for artists. You know that because this place was built for the beauty of the eye," Mason says.
Venice
"If you want to paint America, go to Venice," Mason says.
Painters in the southern reaches of Sarasota County will find a canvas of inspiration in Venice, from the city's charming historic Main Street, where the people-watching is divine, to the unbridled wilderness habitats outside of the small city.
"And if you want to see beaches as wild as they were a hundred years ago or more, take a walk along Caspersen Beach," Mason adds.
Caspersen is known for its nature trails, which meander through mangrove areas, freshwater and saltwater habitats, and tidal flats, offering ample opportunity to take in varied scenery and to experience native wildlife. Boardwalk-style walkovers also protect the beach dunes, while providing breathtaking sunset views.
As an "off the beaten path" destination in Sarasota County, Caspersen Beach is a tranquil place to retreat for some peace and quiet, any time from dawn through twilight, while the creative juices and brush strokes are flowing.
"Paint Out" in Sarasota
Feeling inspired to bring your easel outside? There's so much Sarasota to explore, and you've only just begun to map out your plein air painting journey!
If you crave a sense of community, the Light Chasers meet for weekly "Paint Outs" during each season to paint at a variety of locations, detailed in the Light Chasers Sunday Newsletter—and Mason says they are always thrilled to welcome newcomers.
So dust off your brushes, artists! There's a wonderful world to put on canvas, and it's right outside your door in Sarasota.