Delicious Citrus! Sarasota seasonal produce
Citrus, berries, tomatoes, oh my! Winter time is the best time to enjoy delicious produce in Florida.
Lucious, mouthwatering, red strawberries. Juicy, sweet citrus. Vibrant red and tasty tomatoes.
Hungry yet?
Produce becomes the star of the show in Florida in the winter—and you're in luck because there are plenty of places to find these items in-season in Sarasota, grown from local sources.
Unlike colder states that can't grow produce in abundance during the winter, Florida produce thrives under the Sunshine State's milder climate. Although Florida has a long and well-known citrus history, the market for strawberries and even blueberries grown in Florida has quickly expanded as well. Add Florida tomatoes, peppers, and greens (like lettuce and kale) to the mix, and you could eat well all winter long.
Although downtown Sarasota has all the conveniences of a small city, there are enough rural parts nearby to sustain the growth of oranges and grapefruits as well as berries and tomatoes.
Typically, citrus season in Florida runs from October to April. Strawberry season is roughly from December to April, and blueberry season runs from April to May. These dates can vary slightly depending on where you are in the state and the weather trends.
So, now that you're probably dreaming of a fresh glass of orange juice, a strawberry smoothie, or a strawberry shortcake, here's where you can find fresh, in-season produce in Sarasota.
Farmers Markets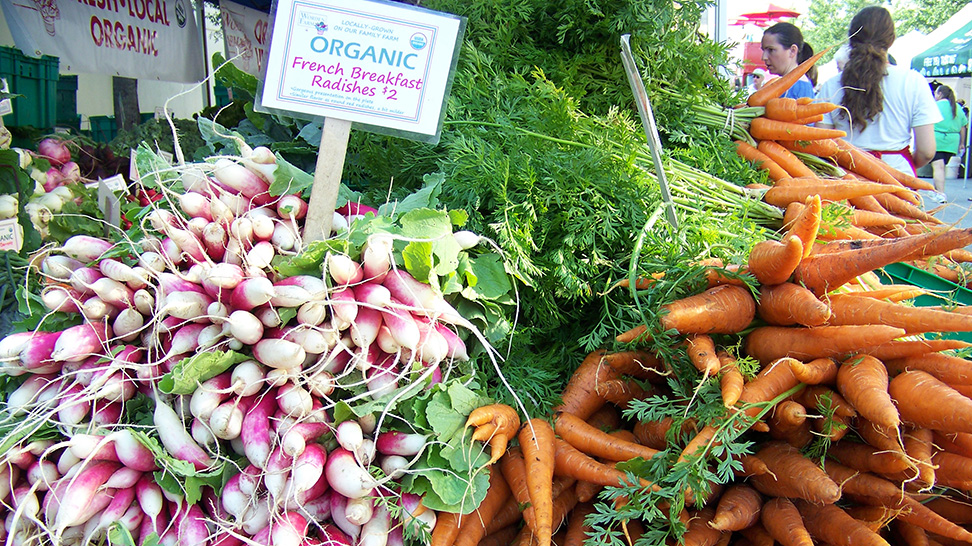 Local residents and visitors to Sarasota both have a strong interest in locally grown produce—and nowhere is that more evident than at the farmers' markets in Sarasota County. Take, for example, the Sarasota Farmers Market, held in downtown Sarasota on Saturdays from 7 a.m. to 1 p.m. This year-round market can attract as many as 15,000 visitors during its busiest time, says market manager Phil Pagano. Market attendees show up, many with well-behaved canine pals, and stock up on citrus, berries, or tomatoes from vendors such as Brown's Grove, Worden Farm, or Pete Burkhard, a grower who's been with the market since it started in 1979.
"I'm a huge foodie, so I love the variety at the Sarasota Farmers Market as well as the feeling that comes with supporting local vendors and markets. The atmosphere is one of the primary reasons I love the market," says local resident Andi Watson.
Yet your farmers market options around town for in-season produce don't stop there. There's also the Venice Market and Central Sarasota Farmers Market, both on Saturdays; the Phillippi Farmhouse Market on Wednesdays; the Englewood Farmers Market on Thursdays; and the Siesta Key Farmers Market on Sundays.
U-Pick Options
What can be more fun than u-pick fruit? Grab the kids, put on your sunscreen and comfy shoes, and head on over to any of the farms below for a relaxing day of u-pick action.
In 2017, Honeyside Farms will have u-pick strawberries on Saturdays and Sundays from 9 a.m. to 1 p.m., Feb. 18 through March 26. "The u-pick is a great family experience for people who want to see where their food comes from," says the farm's Tiffany Bailey.
Over at Sweetgrass Farms, many visitors come for u-pick strawberries, but they also enjoy fresh "everything," says Barrett Demler. That includes popular, tasty heirloom tomatoes, lettuce and greens, broccoli, and cauliflower. Strawberries are generally available the end of November through April.
O'Brien Family Farms in nearby Bradenton also has a great u-pick experience and an education center; much of the u-pick produce is hydroponically grown. The folks there serve up sandwiches, strawberry smoothies and milkshakes, and local and specialty gourmet food items.
For up-to-date information on u-pick, check the farms' Facebook pages in advance. Opening dates and times occasionally change due to weather or availability.
Other Markets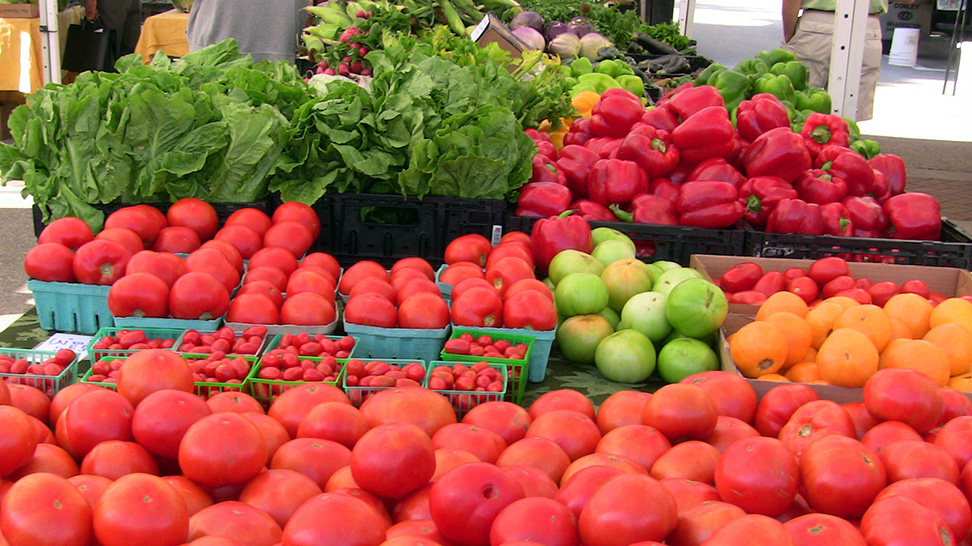 You could make a half-day or day-long adventure of your visits to locally owned markets that offer in-season produce. In fact, that's sometimes the first thing on the agenda for visitors who know about Albritton Fruit Company, says sales associate Daryn Pearlstein. "People call and say, 'We just got off our plane, how do we get there?'" she says. Visitors are loyal to Albritton for their oranges, grapefruit, and fresh juices as well as their orange and vanilla ice cream. "Everything here is local," Pearlstein says. The produce is grown in nearby Arcadia.
Fruitville Grove will amaze and delight the whole family, thanks to the varied produce options as well as the animals onsite, including a turkey, goats, chickens, and an affectionate orange tabby cat. Fruitville Grove holds an annual Pumpkin Festival, but this year it also hopes to attract visitors with its Berry Festival on March 11th and 12th and 18th and 19th, says owner Kim White. The festival will feature strawberry milkshakes (yum), an Easter egg hunt, a bounce house, music, games, and of course, the animals.
Jessica's Organic Farmstand has a focus on—you guessed it—organic items, ranging from salad greens to tomatoes and other kinds of produce.
And finally, no in-season foodie venture around Sarasota would be complete without a stop at Detwiler's Farm Market, with three locations. Detwiler's carries in-season items from farms around Florida but also has a massive selection of gourmet, high-quality meats, deli items, dairy, pastries, and more. "Detwiler's Market has just about anything you could want, from fresh local produce, an amazing butcher block, fresh seafood, homemade sweets and breads, and organic products of all kinds," says Judy Vobroucek of Bradenton.