8 Venues for a LGBTQ+ Wedding
It's an enchanting evening of southern tropical charm under the banyan trees at Marie Selby Botanical Gardens. It's the romantic, classic setting of The Ringling, Ca' d'Zan and The Powel Crosley Estate. It's the sugary sand of the local beaches and the quaintness of Mary's Chapel at Historic Spanish Point.
The Sky is the Limit
Sarasota resident Jason Champion married the love of his life, Jim Del Rio, seven years ago in Massachusetts. But it wasn't the ceremony of his dreams.
Champion didn't say "I do" on the rooftop of the Palm Avenue parking complex, where he can envision decor themes spanning from Miami Beach to urban chic. And his friends and family didn't spend a weekend getaway at the Hyatt Regency.
"The sky is the limit when you choose Sarasota to say 'I do!'" says Ashley Gruters, wedding planner and owner of SRQtees Events.
Jason Champion and Jim Del Rio plan to renew their vows at one of the three venues come April, but after celebrating New Year's Eve on top of the garage at the Jewish Federation's Silent Disco Party, the garage ranks No. 1 for its creative and alternative edge.
In addition to same-sex couples planning to marry, Sarasota wedding and event planners, videographers and photographers alike are brimming with happiness now that Florida has legalized gay marriage.
"I cannot tell you how happy I was when I heard that gay marriage would finally be legal in Florida," says Sage Hall, owner of StarFruit Productions. "Now all of my LGBT friends can enjoy the laughter, tears and angst involved in wedding planning. It can certainly be overwhelming to plan such an important event…but it is your day, your moment."
Nicole Kaney, owner of NK Productions, plans more than 50 weddings a year. Although 75% of her clients live out of state, they choose to tie the knot in Sarasota.
"We tend to have a high-end bride, so we are asked to bring in everything from circus performers and surprise jets and helicopters to vintage cars," Kaney says. "We planned a December winter wonderland wedding at The Ringling and during the first dance, we had a snowfall."
The Ringling & Ca' d'Zan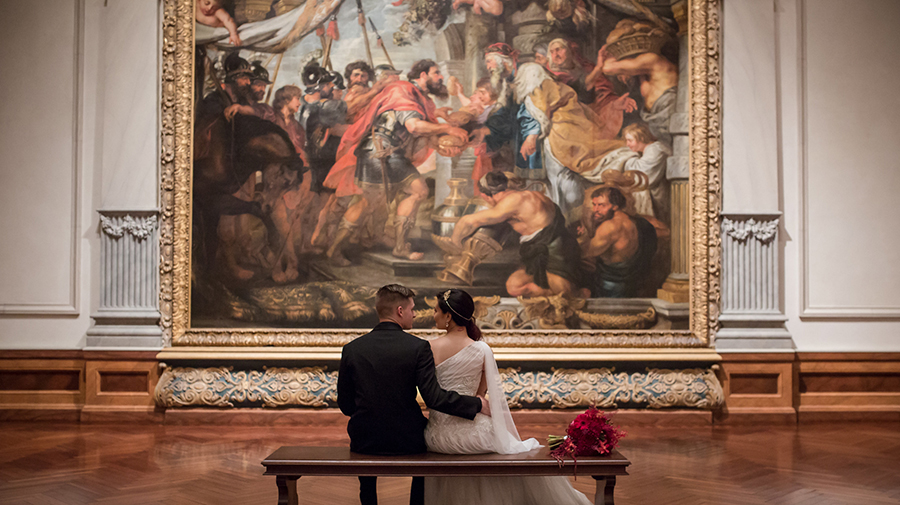 Voted The Knot Best of Weddings 2013, The Ringling's grounds are treasured for their romantic settings, architecture and breathtaking views of Sarasota Bay.
"I love The Ringling and Ca' d'Zan properties — they are regal with a hint of that eclectic whimsy that is such a unique part of Sarasota," Hall says.
The Museum of Art Courtyard provides a magnificent and romantic setting surrounded by ancient Greek, Roman and Baroque statues and accommodates up to 400 guests, while the Ca' d'Zan Terrace and Bayfront, located along the Bayfront Promenade, is illuminated when the sun and stars set over Sarasota Bay. For an intimate and elegant affair, the Belvedere Tower is a choice location for its panoramic view of The Ringling grounds and Sarasota Bay, in addition to Sarasota and Longboat Key. It accommodates up to seven guests. For couples who wish to delight in a circus-inspired theme, the Circus Museum features a miniature circus and reception area beneath a tent reminiscent of the big top.
The Powel Crosley Estate
This Mediterranean Revival-style bayfront estate, listed on the National Register of Historic Places, is a 21-room estate built in 1929 for Powel Crosley's wife, Gwendolyn. The mansion, named "Seagate," is perfect for hosting 1920's themed events, such as Great Gatsby or a Midsummer Night's Dream. Bigger wedding parties can also add tenting behind the mansion.
Marie Selby Botanical Gardens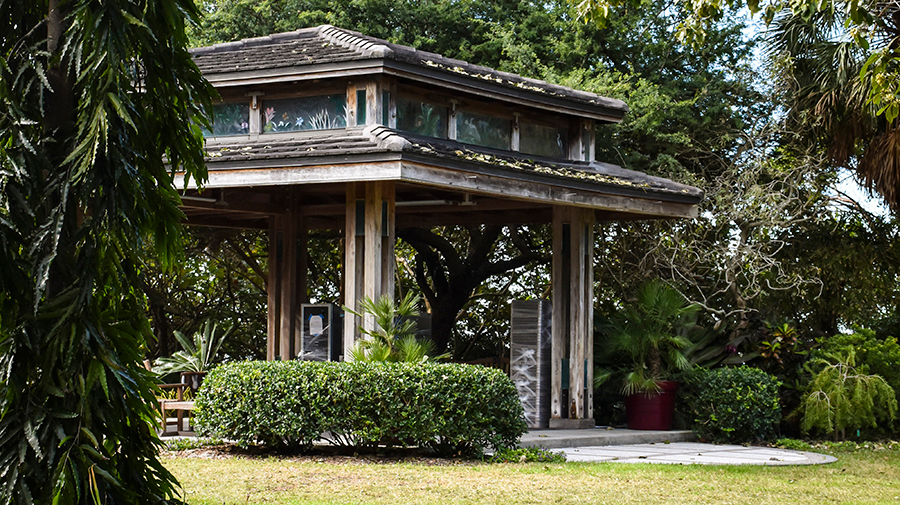 Since gay marriage has become legal, Roger Capote, philanthropic and special events manager at Marie Selby Botanical Gardens, has given more than a dozen tours. Every other day, he's walking couples from the historic Selby Mansion, through the lush, ever-changing landscaping and blooming flowers and under the banyan trees.
"I would get married here in a heartbeat," Capote says. "The imagination is endless. With Selby, you can have your extremely elegant black tie wedding or amazing garden chic. You can go completely across the border with the gardens, and it's the perfect setting for an outdoor wedding."
While weddings may be held anywhere in the gardens, the most popular locations are the Schimmel Wedding Lawn and Pavilion, situated on the bayfront with stunning sunset views and a seating capacity of up to 1,000 guests; the enchanting Gazebo and it vines of queen's wreath; the Banyan Grove, the most photographed location for bridal parties; and the Wedding Oak near the Christy Payne Mansion, which boasts ever-blooming orchids.
"I'm not a ballroom guy," Capote says. "I love the set up we have — you literally experience the gardens all at once."
Historic Spanish Point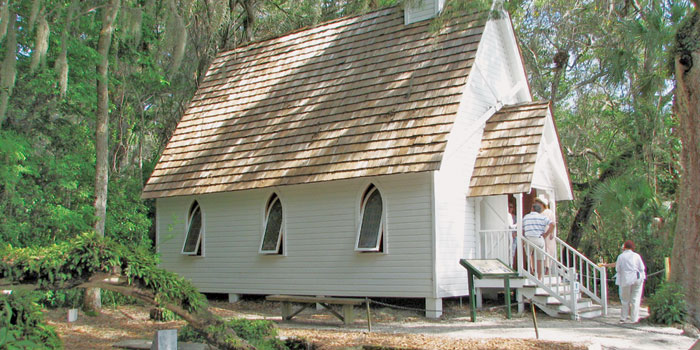 In 2010, StarFruit Productions shot a commitment ceremony in the reconstructed 1890s Mary's Chapel at Historic Spanish Point.
"It is a gorgeous spot for an intimate ceremony surrounded by Florida jungle and right next to the water," Hall says. "The kindness and sincerity that flow from both Kirsten and Michelle individually is incredible, with the two of them together, it is truly awesome. The love between them and from their friends and family is so powerful I was literally buzzing when I left the wedding. And what a wedding it was!"
The Historic Spanish Point bayfront site spans across 30 acres and is a memorable wedding venue. In addition to Mary's Chapel, the neo-classic style Pergola and Sunken Garden that overlook Little Sarasota Bay and are an sublime setting for a garden wedding. On-site receptions can be held at the White Cottage or the Osprey School.
The Sandcastle Resort at Lido Beach
Situated right on the white sand beach, the Sandcastle Resort is surrounded by 600 feet of private beach on Lido Key with a picturesque view of the Gulf of Mexico. Nostalgic and not over the top fancy, it's a prime outdoor venue.
"Formerly the Helmsley, this up and coming venue plays off of an old surfer 60's vibe," says Erica Urban, owner of Urban Event Planners. "It has been a Sarasota staple forever and has some history to it, but it's a fun venue with a cool and relaxed vibe. I can envision hanging old Tuscan lighting from a clear tent right by the tiki hut, and the ceremony would of course be on the beach with some white and light blue floral on the wedding arch."
During their stay, guests can spend time wind surfing, playing beach volleyball, swimming in the Gulf of Mexico or shopping and dining on St. Armands Circle.
Hyatt Regency Sarasota
With five locations to choose from, the Hyatt Regency Sarasota — globally recognized as a LGBT friendly hotel company for all guests and associates, and celebrating its 40th anniversary in October 2015 — is an ideal venue to tie the knot.
Bigger ceremonies and receptions can be held at Palm Terrace, a private tropical garden setting for up to 150 guests; Boulevard of the Arts Park, a grassy waterfront park set on Sarasota Bay that accommodates more than 500 guests; or the Sarasota Ballroom, a 10,000 square-foot space that seats from 75 to 750 guests and perfect for elegant dining and dancing. Smaller, more intimate weddings are perfect for Tropics, a chic, contemporary space featuring floor-to-ceiling windows that overlook the Hyatt's lagoon pool, waterfall and private marina; The Boathouse, offering panoramic water views, bistro bar tables and a main dining room that accommodates 120 to 175 guests; and the Florida Room and Poolside.
Hotel rooms and suites feature "Florida chic" décor inspired by the brightly colored designs of Lilly Pulitzer and amenities spanning from views of the marina or bay to spacious parlors and a spiral stairway to a loft bedroom.
"I had the honor of documenting Renee Oteri & Bracy Maynard's Sarasota wedding reception at the Hyatt Regency," says Naomi Chokr, owner of Naomi Chokr Photography. "About 100 of their closest family and friends were in attendance. Even several of Renee's fellow Bachelor co-stars (Lauren, Clare, Alli, Chelsie & Cassandra) were there to have fun and party! My favorite moment during the entire day was when Bracy was watching Renee get dressed and she was excited because her little bump was starting to show. Bracy got so excited when he saw it. He even said that he loves seeing the bump. It made my heart melt into mush!"
Hyatt Regency Event Sales Manager Sarp Kaya and Director of Sales and Marketing Rhett Wilson are looking forward to the Hyatt's first gay wedding.
"We've been working hard to market to the community," Kaya says. "Last year was our first year of proudly sponsoring Sarasota Pride Fest. Before January 6, it was a little bit of a different twist because we were marketing commitment ceremonies. Legalizing gay marriage has really leveled the playing field of weddings now. Whether it's two men or two women (getting married) doesn't make a difference — the message we want to give out is that it's part of our corporate culture because they are our guests and associates."
Hotel Indigo
With its luxury, coastal décor and furnishings and murals of Selby Gardens, Hotel Indigo is the perfect spot for the bride, groom and guests to curl up in after the big day. Its calm and relaxing sanctuary-like rooms offer everything from plush bedding and pillows to spa-inspired showers. Should you be too tired to venture out for food, the hotel's in-house H20 Bistro serves breakfast, lunch and dinner. But downtown restaurants, shopping and the arts are just a few blocks away.
Truly a Destination
"For those planning a destination wedding who are here for a whole week, you have the beach, great dining, gay friendly bars, arts and entertainment — everything," Urban says. "Go see a show at the Van Wezel, the opera and the ballet, and wrap it up with (Florida Studio Theatre) improv, Drag Queen Bingo and Black Diamond Burlesque."