A "Wheel" Good Time
Switch gears and roll into your niche - whether you're a novice or expert, cruiser or trickster, Sarasota has parks and trails for any biker, skateboarder, skater, or scooter
Pajamas and roller blades. Almost every morning, this is how my daughter comes into the kitchen. If it was up to her, the wheels would be permanently fused to her feet. My son? He's learning to ollie on his skateboard. His dreams for this summer? Bike to get a popsicle, every day. Hubs is on a mountain biking kick, much to his 40+ body's dismay. I even bought my first pair of skates after a decent 1993 wipeout. In our house, wheels are everywhere, be it bikes, rollerblades, skateboards, or scooters. There's nothing like the freedom of cruising, the breeze blowing by, infinite possibilities ahead. Luckily, we live in Sarasota where there is no shortage of opportunities to have a 'wheel' good time.
Skate Parks
Payne Park: Tucked inside the heart of downtown Sarasota, Payne Skate Park offers ramps and slopes for practicing tricks and speed for any rider from the novice to the expert. Skateboards, in-line skates, and BMX bikes are all permitted wheeled vessels.
The adjacent Payne Park offers a half-mile paved biking path which runs around the perimeter of the grassy field, where my kids also enjoy zipping down the hills far faster than most of flat Florida offers.
2110 Adams Lane
Skate Park open 10 a.m-10 p.m. daily; supervised only between 2 p.m-10 p.m.
North Port Skate Park: Grab your helmet (yup, it's mandatory) and your wheels and ollie into the park's bowls for some fast fun. Skateboard, bike, and in-line skate riders of all levels are welcome at the 14,000 sq ft facility. Children under 11 must be accompanied by an adult.
5651 North Port Blvd, North Port
Open 8 a.m. to 10 p.m. daily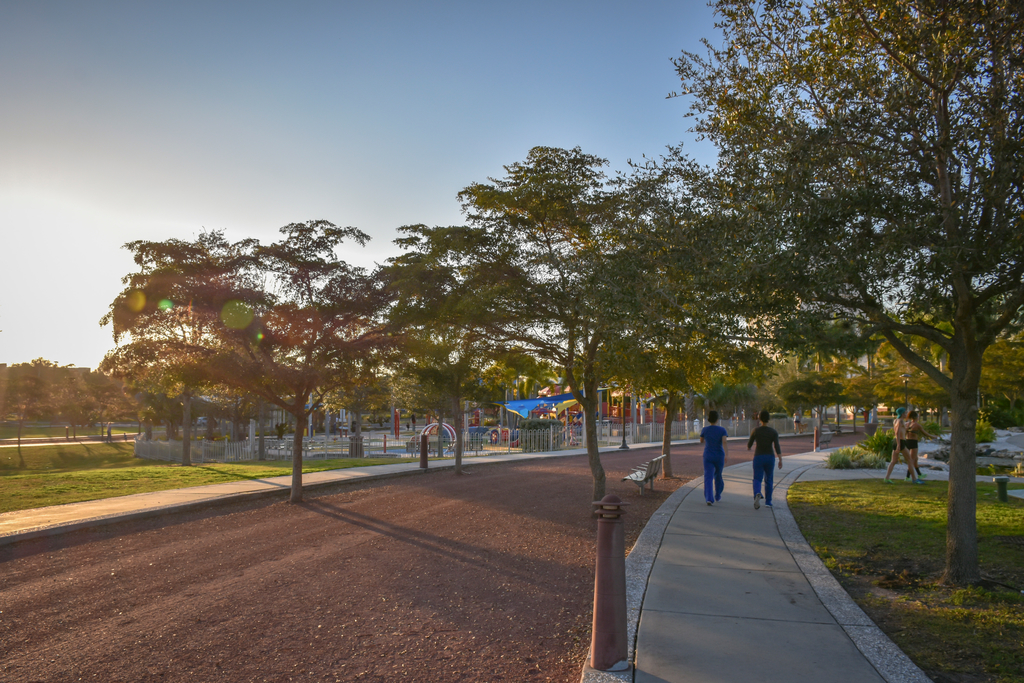 Paved Trails
Rothenbach Park: Located at the east end of Bee Ridge Road, Rothenbach Park boasts two equally great paved trails for bikers, skateboarders, rollerbladers, and scooters. Both are loops, so my kiddos can ride ahead and there's no worry of them (or me) getting lost. The shorter Solar Trail runs one mile and is in full sun; the longer Hammock Loop Trail is 2.75 miles and traverses through shady canopies and past ponds, where we've spotted alligators, armadillos, and deer.
8650 Bee Ridge Road
Open 6 a.m. to Sunset
Pets not allowed
Venetian Waterway Trail: Venice is known for being extremely bike-friendly and nowhere is that more clear than the Venetian Waterway Trail. Ride along the nearly ten miles of waterfront, paved trails where dolphins, seabirds, lizards, and critters galore saunter by. To add a little additional length, keep pedaling up to the connected Legacy Trail.
Nathan Benderson Park: With it's perfect 5K (3.4 mile) length, the paved trail at this north Sarasota park is ideal for training of any sort. Our family has brought rollerblades, skateboards, scooters, and bikes to NBP, stopping to watch the wildlife on the 400-acre lake or play on the playground.
5851 Nathan Benderson Circle
Open 6 a.m. to 8 p.m. April-October; 6 a.m. to 6 p.m. November-March
The Legacy Trail: Undoubtedly Sarasota's most popular route, Legacy Trail follows 10.7 miles of paved trail from Venice to Sarasota. For the course of the trail, wheel wearers enjoy a much-shaded, paved trail with almost no vehicle interruption. It's also a great place for young riders as most of Legacy Trail does not provide car access and they cannot get lost on its straight route.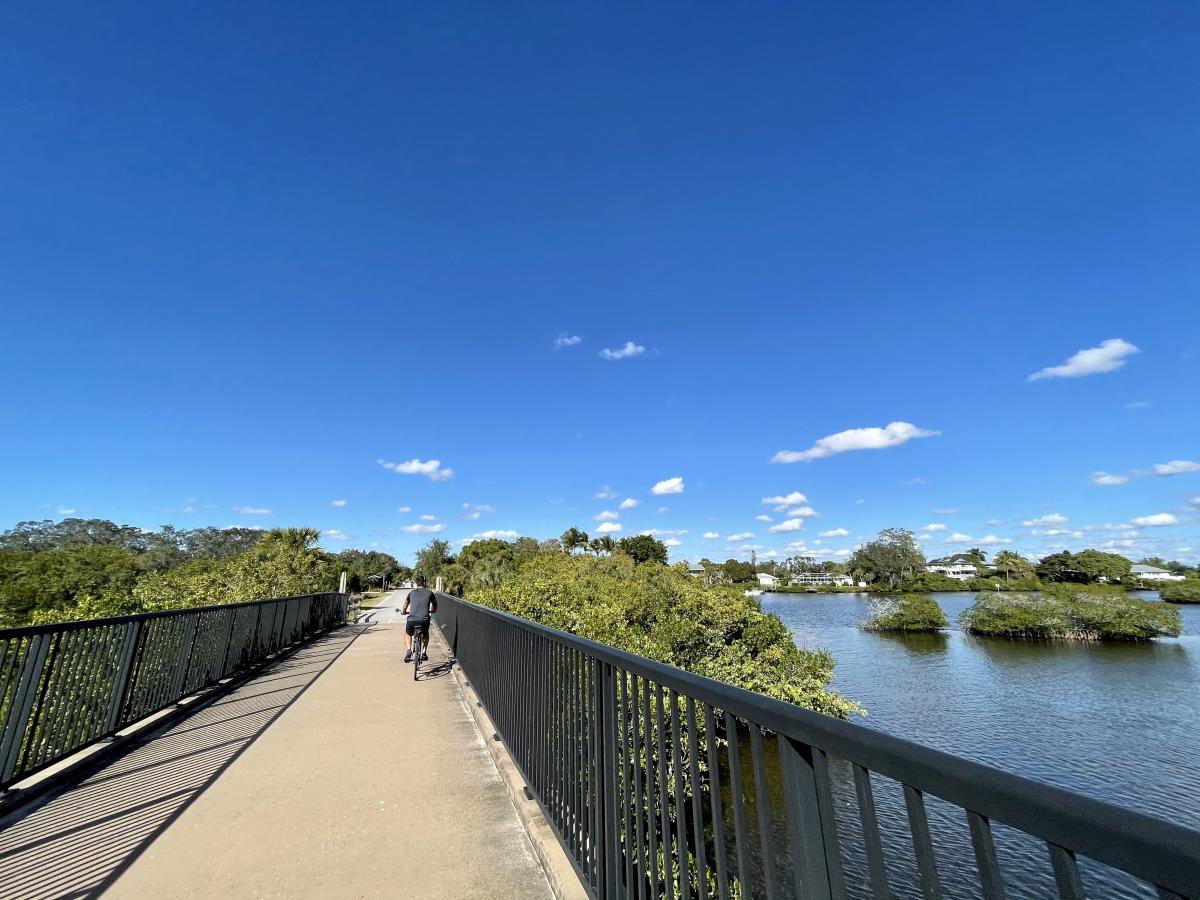 Mountain Biking
Myakka River State Park: Your friendly Florida Park Ranger is your source for the map to explore this massive state park on your two wheels. Seven miles of paved road (most shady) help you zip past hammocks and marshes, turkey and deer. Venture deeper into the park for off-roading fun on the natural trails.
13208 State Road 72
Open 8 a.m. to Sunset
$6 per vehicle
North Port Mountain Bike Trails: For those who have the need for speed, you've found your secret, happy place. The mountain biking trails at this South County biking haven abound with twists and turns, adventure after speedy adventure. Keep your eyes on the road, er, path – you never know what obstacle or animal will appear next, be it a tortoise or a hairpin turn. Click here for details on difficulty of each trail before heading out.
Accessible by the City of North Port's Oak Park, amongst others
Restrooms not available
Myakkahatchee Creek Environmental Park: Old Florida shines along the Park's 3.7 miles of trails amongst some of Florida's most beautiful flora and fauna. Hop on your mountain bike to traverse the wooded trails on this most literal road less traveled.
6968 Reisterstown Road, North Port
Open 6 a.m. to Sunset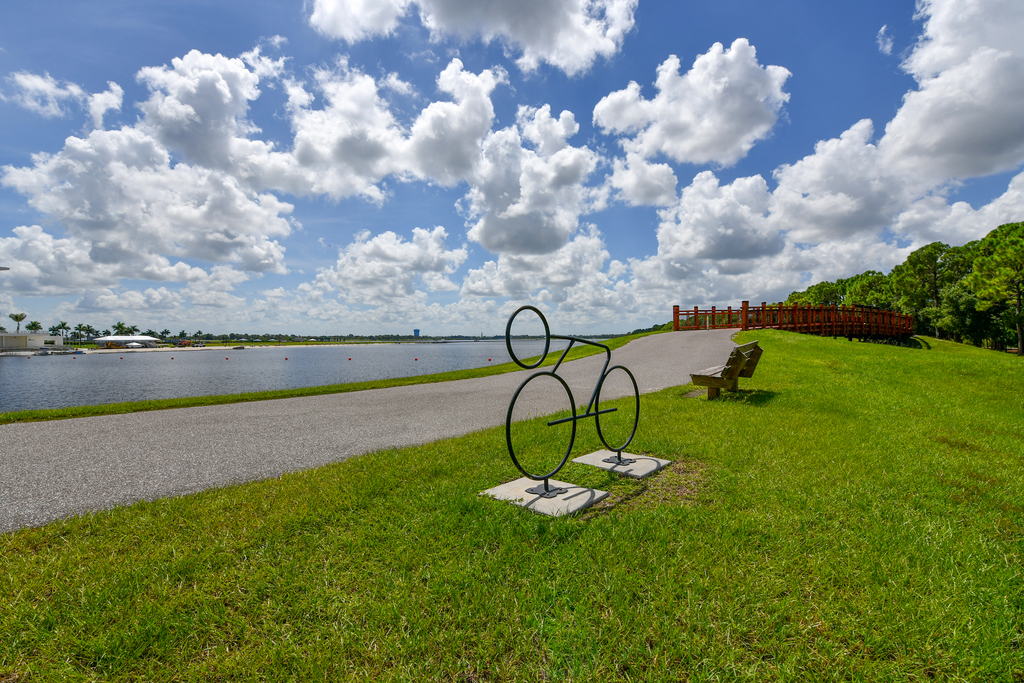 BMX Biking
Sarasota BMX: Steep ramps, riding bowls, and a clay track combine to make Sarasota BMX worthy of all riders, be it an Olympian in training or a toddler learning to ride. My tween pedals in style at the Saturday open track while tricks happen before his very eyes. Youngsters under five can build confidence at the smaller Strider track. Helmets and bikes available for rent.
1500 North Tuttle Avenue
View website for classes, hours, and membership information
Concessions available