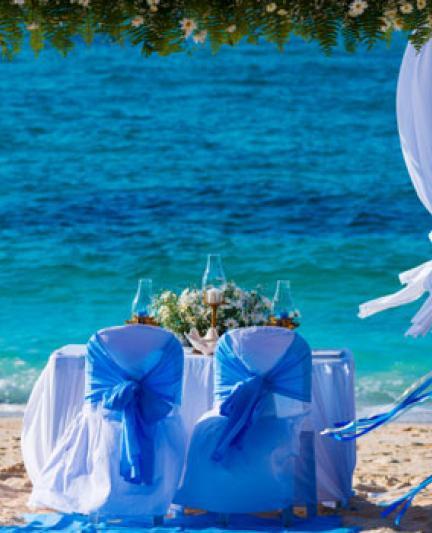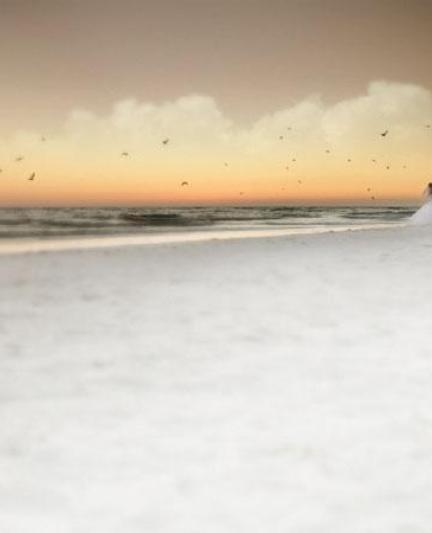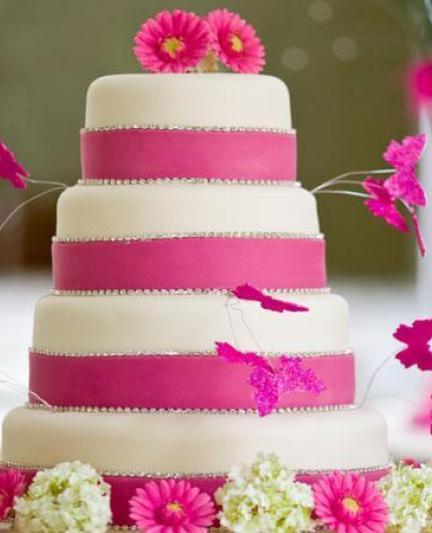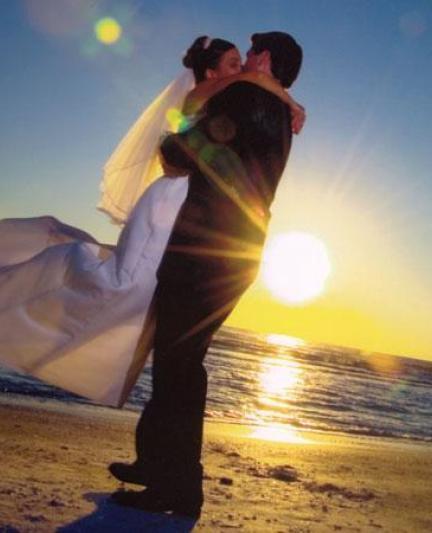 Unconventional Choices for Unconventional Weddings
Unconventional Choices for Unconventional Weddings
Weddings aren't just vanilla flavored anymore. Just as the wedding cake has evolved from three-tiered white to raspberry, lemon and chocolate peanut butter, so has the style in which couples choose to say "I do."
Brides and grooms paying for their own weddings are more of the norm than the exception anymore. So it stands to reason they want to personalize the style and tone of their weddings to reflect who they are. Plus it's fun to surprise guests with something unexpected.
Nancy Taussig of Barefoot Weddings recalls how fun the element of surprise can be. "I officiated at a surprise wedding Christmas brunch. Everyone thought I was just a guest while we waited for the father of the bride to run out for bagels. When he came back, I handed white poinsettias to the bride, started the wedding music and the couple was married in front of the Christmas tree."
The list of unique ideas are as endless as one's imagination. But consider these options only Sarasota can deliver:

It's a Nice Place for a...Wet Wedding...
Beach weddings are nice. But if you want to venture off the beaten...theme, you can venture onto-or even into-the water. Sarasota is surrounded by it.
Rent a stand-up paddle board from Dolphin Dive Center at Economy Bait and Tackle and declare your love on the open waters of Sarasota Bay, or rent a kayak from Almost Heaven Kayak Adventures and paddle out to one of the many cozy mangrove tunnels to either pop the question or exchange your vows.
"The tunnels are perfect for a kayak procession to the wedding march," says Kristen Moriarty, co-owner of Almost Heaven. "And engagements are pretty popular, too. We had one blended family come in and the groom rented kayaks for all the children, paddled out into the Gulf, got out of his kayak and proposed right in the water in front of both sets of kids."
Speaking of slipping into the water, more daring couples can don mask and snorkel and do it underwater, with or without a tank, depending on how "deeply involved" you want to get. There are ample dive shops that can rent a tank for an excursion in the Gulf, or simply grab a set of fins and mask to exchange vows in shallower water. Siesta Key's Point of Rocks at the end of Crescent Beach provides a colorful venue of rocks and fish to wow your guests. Plus, Siesta Key was recently rated the No. 1 beach in North America for its quartz sand's powdery texture and the scenic views its beachfront provides.
Going for Elegantly Unique?
Sarasota wedding planner Nicole Kaney of NK Productions has orchestrated a number of themed weddings at both the Ringling Estate and the Ritz Carlton, Sarasota.
Her themes have ranged from a Moroccan reception under a tent swathed in sheer fabrics with belly dancers entertaining guests to a Florida theme with vintage postcard art, alligator and flamingo place settings as well as real Florida orange trees.
"It was the vintage touches that made it elegant without being overpowering," says Kaney. "You have to walk a fine line between formal and theme so guests don't walk into a confused atmosphere."

Take Them Out to the Ballgame
We all know sporting events are popular choices at which to pop the question, but a baseball diamond is a great place to tie the knot, too. And Sarasota is a major league hitter among baseball fans as a Spring Training host for major and minor league teams.
Imagine a processional trot around the bases at Ed Smith Stadium followed by a reception of hot dogs and beer. The newly renovated stadium's Mediterranean style architecture provides a plethora of backdrops for memorable wedding photos.

...Or the Circus
Sarasota's history is built on the big top, so it's no wonder it holds perfect venues for a circus-loving couple to get hitched. Consider renting a real circus tent from Circus Sarasota, or a circus themed wedding on the estate of Mr. Circus himself, John Ringling. Guests may choose to get in spirit by wandering through the miniature circus exhibit at the Circus Museum's Tibbals Learning Center before sipping champagne at a whimsical reception in the Circus Museum's Backyard.
So yes, you can go with a traditional vanilla-flavored wedding, or you can choose to add more color and flavor to your wedding plans. Either way, Sarasota is an ideal destination that can deliver whatever your heart desires.