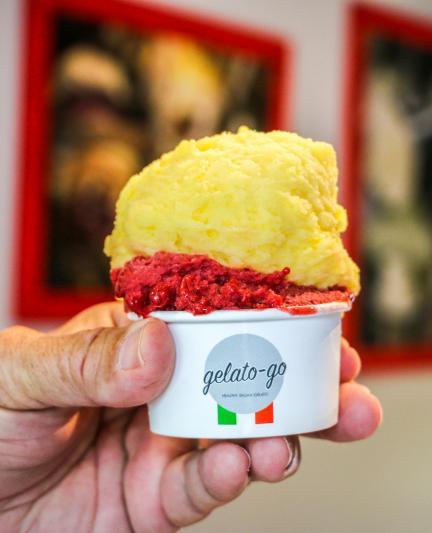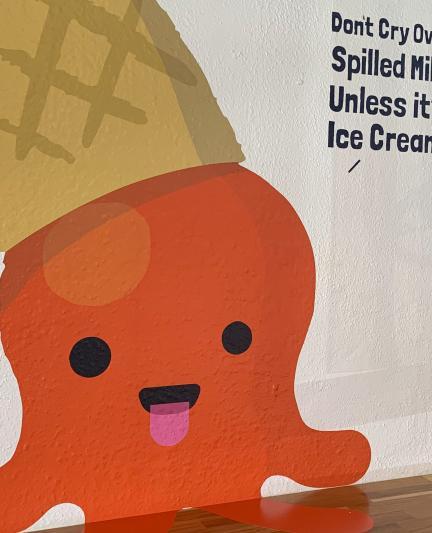 Treat Yourself: Cool Places for Ice Cream
Where there's a beach, there better be ice cream, and you'll never be far from a frozen treat with these delicious, locally-owned shops around Sarasota County
There's nothing like a cool treat on a warm day, and some ice cream is the perfect way to finish a little fun in the sun in Sarasota County. When the urge for a scoop (or two) strikes, here are some good places for a sweet treat that the whole family will enjoy.
Orange Octopus
Your kids will love the adorable octopus-meets-ice-cream-cone mascot at this Siesta Key shop. You will love the handmade, slow-churned ice cream available in sophisticated flavors like Kentucky Honey Bourbon, Key Lime Pie and Creamy Mango (as well as kid-friendly choices like Cotton Candy and Birthday Cake). Wood floors, colorful seating and beach-inspired decor make Orange Octopus an appealing place to cool off after a day on Siesta Beach's award-winning white sands.
Gelato-Go
"Gelato is happiness condensed." That quote is emblazoned on the wall at this oh-so-cool downtown Sarasota spot dishing out artisan gelato. The shop's gelato base is made daily with fresh ingredients, and flavors often incorporate seasonal fruits. The menu at Gelato-Go can vary with each visit, but you might find options like Tiramisu, Amarena Cherry, Mascarpone and Hazelnut. The hardest part will be deciding which flavor to choose; opt for a large cup and you can pick three different ones.
Nokomis Groves
The retail fruit business at this seven-decades-old southern Sarasota County site sadly shut down in 2020. But the much-loved ice cream stand remains open, where locals and visitors young and old flock for some seriously good soft-serve in citrusy flavors like orange and lime or classics like chocolate and vanilla. Can't decide? You can stack flavors or choose "swirled" options to test out different ones.
Big Olaf
For almost four decades, Big Olaf has been a go-to spot for anyone with a sweet tooth in Sarasota. The shop was founded in Siesta Key Village in 1982 and soon began drawing crowds for its made-on-site ice cream available in flavors like Amaretto Almond, Royal Banana Crunch and Blueberry Cheesecake. High-quality ingredients like premium grade A milk produce the creamy consistency customers love. There are now multiple Sarasota-area Big Olaf locations, and ice-cream production has been moved to a facility in Sarasota's Amish village of Pinecraft.
Rise & Nye's
This new coffee and ice cream shop that opened in downtown Sarasota in 2020 celebrates inclusiveness and is staffed by people with intellectual and developmental disabilities. It serves up some utterly delicious hand-pressed ice cream sandwiches that are a must-try if you're in the area. Choose your cookie (options include chocolate chip, sugar and peanut butter chocolate chip), then pick the ice cream flavor you want sandwiched in between. The end result is the very definition of a sweet treat. You can also get ice cream by the scoop or in a flight of four flavors.
Abel's Ice Cream
Located on the way to Siesta Key, Abel's Ice Cream earns raves on sites like Tripadvisor and Yelp. The shop offers more than 40 flavors of premium ice cream, with elevated options like Chocolate Raspberry Truffle, Coconut Pineapple, Key Lime Pie and Salty Caramel Peanut along with plenty of the classics. The menu also includes dairy-free flavors, and folks in need of something salty can pick up some locally based Tropical Shores Popcorn here too.
Mixon Fruit Farms
Head to this Bradenton citrus-growing business founded in 1939 for its famous "Orange Swirl" ice cream cones. Then stay for a day of fun that could include a tour through the groves on Mixon's Orange Blossom Express tram, a visit to the farms' outdoor Play Place and some face time with the birds, reptiles and other animals at Wildlife Inc.'s Florida Wildlife Care & Education Center. Enjoy a free cup of fresh-squeezed orange juice, grapefruit juice or lemonade in the gift shop, where you can buy homemade fudge, honey, marmalades and other goodies to take home.
Q&S Kool Cups Water Ice
What's the perfect mix between ice cream, Italian ice and gelato? You'll find it in this unassuming mobile ice cream stand. Marketed as "super premium Italian ice," these swirling concoctions are described as having a smoother consistency than your average Italian ice or snow cone and much more flavor. Buy it by the cup or indulge in the bucket-sized option. Follow Kool Cups on Facebook or Instagram to see where this modern day ice cream man will be setting up shop next!