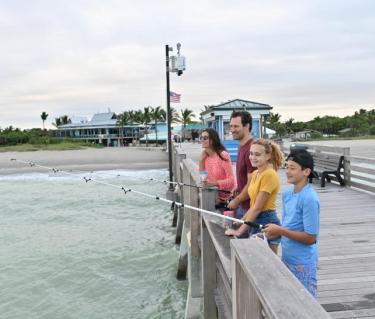 Reasons to Make Sarasota a Moving Destination
Sarasota County is bursting with amenities, and something for everyone means something just for you too
When considering a new move, there are so many aspects to consider: weather, schools, job market, extra-curricular activities. When asking Sarasota residents why they love it here, you'll hear the same response over and over again: "Quality of Life.". Simply put, nothing can outshine our sunny days, warm weather, expansive beaches and cultural scene, but don't just take our word for it. See for yourself what makes Sarasota great!
The Arts
With museums, galleries, and performing arts venues dotted throughout the town, it's no wonder why Sarasota is lovingly referred to as Florida's Cultural Coast. Our performing arts venues include the Sarasota Opera, the Sarasota Orchestra, Asolo Repertory Theatre, and Florida Studio Theatre. The list goes on and on with greats like the Westcoast Black Theatre Troupe and Urbanite Theatre, and we have still barely scratched the surface.
In terms of visual arts, our community's dedication to supporting and celebrating the arts is unparalleled. Home to the Ringling College of Art and Design, we believe in a strong educational foundation for the arts in Sarasota. Additionally, our most impressive collection is at The Ringling, home to over 28,000 works that represent western and non-western regions ranging from ancient periods spanning all the way to the twenty-first century. For a glimpse at contemporary art, the Sarasota Art Museum houses an impressive collection reflective of our time.
The Industry
Sarasota is growing at a rapid rate, and is now the ninth-fastest growing city in the country for millennials. In order to continue that growth, we have invested into our competitive industries which include clean tech and infotech, manufacturing, professional and financial services, life sciences, and tourism. There are plenty of professional opportunities for anyone looking to grow their career or relocate their business.
The Outdoors
The possibilities are endless in the great outdoors of Sarasota. Do you have your sea legs? Head over to Kayaking SRQ to explore our miles of mangrove tunnels. Or if you have a need for speed, rent a boat for the day from Cannons Marina. But, our favorite way to enjoy the water is to keep it analog, with a beach bag a snorkel, and a parcel to keep and bring home the shells you find throughout the day. Head over to your favorite beach and spend hours swimming in the warm, clear water, and hunting for your favorite shells.
Perhaps you're more of a landlubber - that's quite alright because we have miles of bikeable trails, including the Legacy Trail, now a 12.5 mile paved path, and soon to be extended to range from Venice all the way to downtown Sarasota. Or, take your walking shoes out to Myakka River State Park and literally walk through the treetops at the Canopy Walk. There is also plenty to see on the three-mile loop at the beautiful Nathan Benderson Park.
The Location
We would be remiss if we did not mention our fabulous location. In the heart of the gulf coast, we have access to nearly 40 miles of coastline, and the perfect annual average temperature of 72 degrees! We have our own international airport and are located within an hour from another two international airports and one major seaport, making transportation a breeze. Our moderate-sized population allows for big city amenities with small town vibes, where you can get to know your neighbors or hide in the downtown crowds. No matter what your desire, we have you covered.