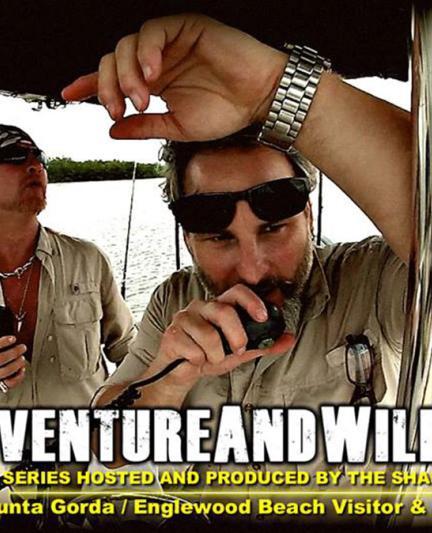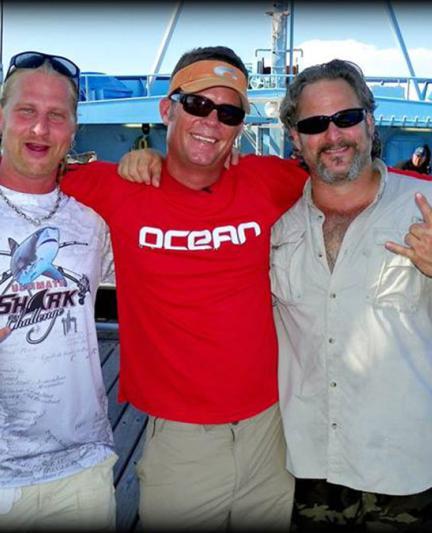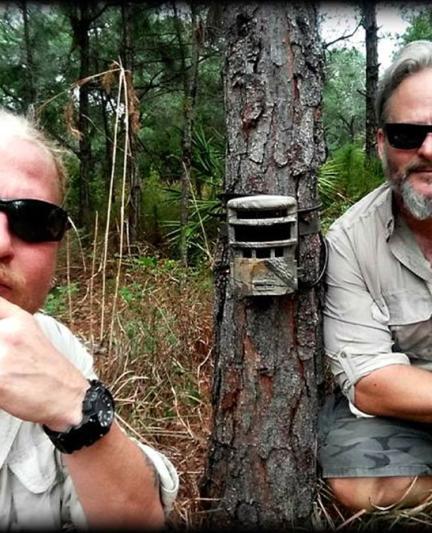 Making Waves in Sarasota County: North Port's Shark Brothers
Meet the Shark Brothers of North Port: Sean and Brooks Paxton
At a young age, brothers Sean and Brooks Paxton became enamored, actually obsessed, with sharks after watching the 1975 blockbuster movie JAWS. The film depicts a coastal New England town terrorized by a great white shark that is hunted down by a sheriff, a marine biologist and a crusty boat captain.
As youngsters, Sean and Brooks, inspired by the movie, spent hours in the swimming pool staging scenarios of GI Joe action figures, dressed as scuba frogmen, riding inflatable zodiacs while white plastic sharks lurked in the deep water below.
Fast forward many years later, and these adult kids are still adventuring in the shark tank, only this time it's real life.
Through the years the Paxton brothers never lost their love of sharks. They traveled on the road with their parents (who were touring entertainers) and were exposed to new places, varied outdoor experiences and all kinds of wildlife. Following in the family's footsteps, the Paxton brothers became musical performers on their own, backing up well-known rock bands including Lynyrd Skynyrd and the Doobie Brothers. Their sideline was a continued love of sharks and marine animals throughout their ongoing travel.
Growing up with a love for both adventure and entertainment they channeled their talents into multimedia - including film, and specifically documentaries specializing in sharks, marine wildlife and habitat conservation. Over time they developed their expertise and became known as the "Shark Brothers." Sean and Brooks have worked with the National Geographic, the Florida Aquarium, and the Discovery Channel including filming an expedition with Sarasota's Mote Marine Laboratory's Shark Research team. You may have even seen them featured on "Shark Week."
But the Paxtons, who are local North Port residents, adventure into the coastal waters with a mission. The Shark Brothers are well known pioneers in recreational shark-release fishing and have devised safe protocols for anglers and sharks in tournaments - including the Guy Harvey Ultimate Shark Challenge Tournament.
Shark release tournaments and recommended guidelines create an alternative to killing the much-feared predators, creating a path into the practical realm of shark conservation. Considered innovators in shark preservation, Sean and Brooks have become recognized as trail blazers – capitalizing on their experience as divers, anglers, explorers, researchers, educators – and of course, performers. By de-emphasizing the public's commercial and sensational depiction of shark as terrifying creatures, the Shark Brothers have busted many myths about the creatures through their creative approach to understanding the species.
There have been many projects that deepened their love and appreciation of sharks such as the National Marine Fisheries Shark Tagging program, an effort that created baseline biological data on Atlantic Ocean sharks. Another project in which they are involved is the International Land-Based Shark Fishing Association (ILSFA), which certifies world records for released sharks.
The Shark's Brothers portfolio of films, through their company Shot Locker Productions, actually includes more than shark themes. Sunken treasures and shipwrecks, sea turtle nesting, coral restoration and vacation getaways are topics, but they all share an underlying theme – stewardship of the environment.
To fulfill that stewardship role one of their favorite places to be is in local classrooms teaching and inspiring youngsters to learn about sharks, marine life and the importance of conservation.
One of the Shark Brothers recent video series, Adventure and Wildlife, explores Florida's wild outdoors and nature-based activities – including Englewood's Lemon Bay High School marine science program – a collaborative project that the Paxton brothers hosted with the Punta Gorda/Englewood Beach Visitor and Convention Bureau.
Sean and Brooks answer some questions you might want to know about sharks:
What sharks are commonly found in the Gulf of Mexico?
The list of shark species found in the Gulf of Mexico is fortunately very long, but here is a short list found in our Gulf waters: blacknose, atlantic sharpnose, bonnethead, blacktip, spinner, sandbar, sand tiger, lemon, bull, nurse, tiger, great hammerhead, scalloped hammerhead, shortfin mako, longfin mako, dusky, white, whale and the bluntnose sixgill.
What do you say to those who are afraid of sharks?
Sharks don't seek us out as a preferred food source. Shark bites can only occur when we enter their domain, and usually when other dynamics are at play. Time of day, for instance. Sharks are typically more active and feeding during dusk and dawn. Another common dynamic at play when sharks bite people is the presence of smaller fish that sharks normally feed on. This can cause a shark to mistakenly bite a human in pursuit of their normal prey item. That fact is, sharks should be respected not feared, while keeping in mind that, statistically, we're more vulnerable to being injured falling out of bed or driving to the beach for a swim.
What can you tell us about sharks not commonly known?
Sharks have existed longer than trees and dinosaurs. The oldest known species of tree existed approximately 350 million years ago and the earliest dinosaur about 245 million years ago. Sharks came on the scene at around 400 million years ago. That tree and dinosaurs no longer exist, but sharks are still here after surviving four of our planet's mass extinctions.
What is your most fascinating factoid about sharks?
Over half of the World's 500 + shark species spend most of their life existence at depths of nearly 1000 feet and are rarely seen by humans.
Sarasota native Robin Draper is a columnist and owner of the award-winning "Blog of the Year" and "Best Travel Blog" website, AuthenticFlorida.com, a travel and lifestyle blog devoted to the simple and delightful pleasures for Florida living.