Local Businesses Adopt New Safety Standards
We asked members of the Sarasota County tourism industry to share some of the additional policies and procedures they've added for customers in response to the pandemic.
Sarasota County beaches, businesses and other attractions are following specific and evolving state & local government guidelines for reopening to visitors (click here to see up-to-date information about our destination's COVID-19 response, or click here for the latest guidelines for our county beaches and parks). However, many are taking even more precautions to make sure their guests and patrons can feel safe upon returning to the hotels, restaurants, shops and other locally owned businesses that make up Sarasota County.
We asked members of our local tourism industry to share details about the policies and procedures that have been added to for the safety of guests. From your arrival at the airport, to checking in at an accommodation, to planning a meal or activity in town—you can see visitor well being is everyone's top priority.
---
"As part of the SRQ "Fly Safe" program, three non-contact thermal temperature screening kiosks have been installed inside the airport. Kiosk use is voluntary, but signage advises passengers with elevated body temperatures of 100.4 or more to avoid travel and seek medical attention. Airport Authority employees are required to check their temperature prior to their shift. SRQ and its airport partners continue to work to keep travelers safe by following CDC guidelines for cleaning and sanitizing all touchpoints. Increased janitorial staff have been added, hand sanitizing stations can be found throughout the terminal, plexiglas shields and social distancing markers have been placed in queuing lines and gate areas, and face mask use is mandatory for all employees. The airport and airplanes are equipped with high grade air filters to purify the air and public address announcements are used to remind everyone to follow CDC guidelines for preventing the spread of COVID 19.
---
"As a Select Service Marriott, we are following all the CDC and Marriott recommended standards. Those standards include our Talented Team members wearing masks. We have installed plexiglass at the front desk. Meetings food and beverage options are individually wrapped or served by our staff to prevent contamination. Staff will not enter guest rooms between check-in and check-out to protect guests and staff. Fitness equipment is sterilized several times a day. We have signage throughout the hotel promoting social distancing and hand washing. We have a "Cleanliness Champion" that oversees our efforts and makes sure we are exceeding expectations. We are also able to do virtual tours upon request. All areas are cleaned and sanitized several times every day, and we have sanitizer stations throughout the public areas."
(Note: The Westin Sarasota is also following the health and safety recommendations of the Marriott hotel brand.)
Aloft Sarasota offers a Meeting Bubble Program to ensure your meeting is safe and stress-free. Offering one per 6ft meeting spacing, meals that can be Grab and Go, hand sanitizer station, gloves and masks, buffer zones and more.
---
"We're not only following CDC guidelines, but we're setting the new standard. We've added the Decon7 System disinfectant system to our turnover cleaning protocols between guests. This helps keep out staff healthy and safe. Not to mention the guests that have been calling to book rooms are eager to experience our warm climate and spacious white sandy shoreline here on Siesta Key. Everyone is ready to enjoy some outdoor time with plenty of open space to maintain distancing."
—Beachside Management Vacation Rentals (Siesta Key)
---
"At The Embassy Suites Sarasota, we continue to comply with and/or exceed the following protocols as recommended by the CDC. All properties are cleaned and sanitized daily, including increased cleaning of high-traffic areas. Daily housekeeping services have been suspended. Rooms will be deep cleaned and sanitized thoroughly after each checkout to allow optimal social distancing between guests and team members. We are continuoulsy working with every guest to accommodate any special needs or requests that might make their stay more comfortable."
---
"Prior to returning to work from furlough, all associates complete a heath survey. All associates will also have their temperature taken prior to clocking in and anyone showing symptoms or a fever will be sent home. All associates wear mask and gloves. The hotel is using hospital-grade cleaning supplies in all guestrooms, public areas and meeting rooms. Elevators may only be used by one person at a time or parties who are staying in the same room together. Lounge chairs are spaced six feet apart. Ample signage with instructions for wearing masks, washing hands and social distancing have been placed throughout the resort."
—The Resort at Longboat Key Club
---
"We're adhering to all CDC guidelines and paying attention to social distancing. Our rooms are thoruoughly sanitized after every checkout. We are a full service hotel with a full service restaurant, which has plenty of space to spread out with plenty of outdoor seating. All of our service staff is wearing masks and we're sanitizing every table between guests. We've added a special disinfectant through our parent company Wyndham."
—Ramada by Wyndham Hotel Venezia (Venice)
---
"Of course we wear masks. The first thing I did before we opened was spend nearly $2,000 on masks, and we're all wearing masks religiously and we change them regularly. We sanitize before, in the middle and afterwards. We really take this very seriously. It's important for our team members to be safe and for our guests to be safe."
—Chaz 51 Steakhouse (Venice)
---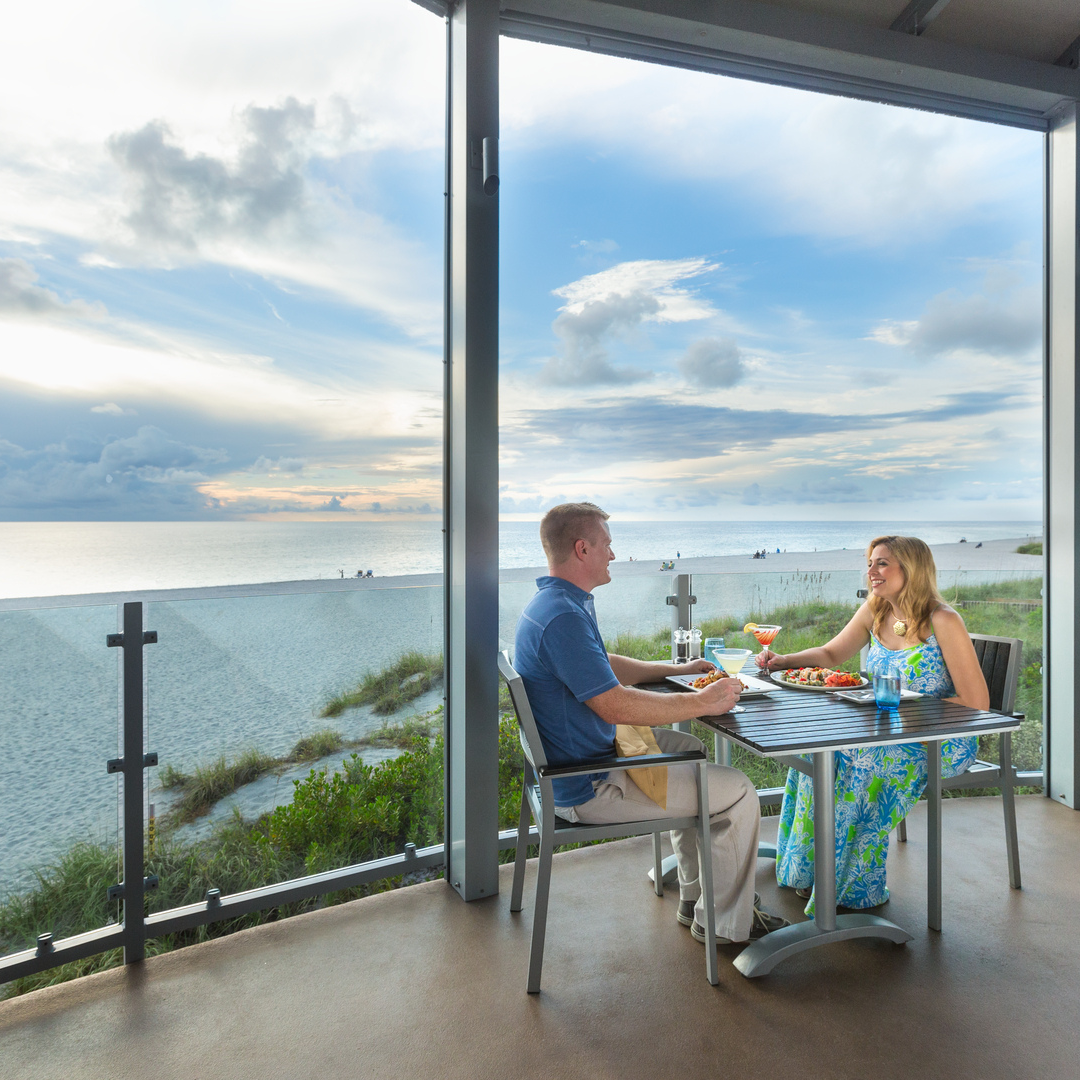 "At Fins at Sharky's, we remain focused on the health, safety and well-being of our employees and guests. We are taking every precaution possible to ensure the comfort of all who walk through our doors, and we have been vigilantly following all requirements indicated by state ordinances and CDC guidelines. Each Fins employee is required to wear a face mask – Front of House, Back of House and Management alike. We are also administering daily staff screenings & temperature checks. We have been taking sanitization standards seriously by using hospital-grade disinfectants to clean common-touch surfaces between each party. All menus are single-use and are replaced between customers. We are fortunate to have generous outdoor seating and a spacious indoor dining room, and we have made certain tables are spaced a minimum of six feet apart to comply with social distancing standards. We have also limited seating on our Cocktail Deck and at our bar to accommodate for this spacing requirement."
—Fins at Sharky's (Venice)
---
""The entire Mattison's team is committed to the safety of our guests and staff. It is our #1 priority! All three Mattison's Restaurants are following strict safety protocols including all dining, kitchen and surface areas being thoroughly cleaned and sanitized throughout the day every day and sanitizing tables chairs and surfaces after each guest use. Staff are mandated to wear masks, and masks are provided to guests upon request. Temperatures of staff and guests are being taken upon arrival. Touchless menus are available, along with sanitizer. Mattison's provides open-air, outside dining at all locations. Delivery, contactless curbside pick-up and to-go are also available.""
—Mattison's Restaurants & Catering
---
"The health and well-being of our guests and Michael's On East staff is - and has always been - our company's top priority. We have always prided ourselves on going the "extra mile" in following all sanitation guidelines. Prior to returning to work, every team member is tested for COVID-19. Our kitchen is steam-cleaned nightly and the dishwashing system utilizes 180º temperature washing and sanitizing. All staff are ServSafe Certified from the National Restaurant Association and trained on CDC guidelines. They receive a daily temperature check before clocking in and wear personal protective equipment including a mask and gloves. For added safety, we have instituted a team system with one server handling only clean materials and one handling soiled materials. For guests, we have removed 50 percent of our restaurant seating capacity, are using single-use menus, have placed hand sanitizer stations throughout the restaurant and on each table, and schedule monthly professional cleanings with CDC-recommended sanitizer."
—Michael's On East (Sarasota)
---
"If there is ever a place where you can social distance, it's Nathan Benderson Park. Our camp activities and events are naturally social distanced. All of the equipment available for rent is cleaned after each use, be it kayaks, stand-up paddleboards or even single rowing sculls. Our popular playground and bathroom amenities throughout the park are closed periodically to be cleaned several times per day. We're open 6 a.m. to 8 p.m. every day. With 600 acres – including 400 acres of water surface — there's plenty of room for people to exercise when they're biking or jogging."
—Nathan Benderson Park (Sarasota)
---
"Contactless ticketing and other safety protocols are in effect at Selby Gardens' Downtown Sarasota and Historic Spanish Point campuses. Public areas are cleaned and disinfected throughout the day. Indoor areas are open for limited hours, and require both a mask and social distancing. Tickets may be purchased online at the Downtown Sarasota campus only. Guests are also encouraged to bring their own water as water fountains are closed."
—Selby Gardens (Sarasota)
---
"The Ringling has opened and is implementing a comprehensive plan that focuses on the health and safety of both visitors and staff. All visitors are required to wear masks when inside venue spaces. Visitors can purchase tickets online prior to arrival. All groups are limited to 10 persons or less. Trams will operate only for persons with limited mobility. Some venues and experiences may be limited or unavailable as we continue to navigate the challenges of COVID-19. In the coming months, we will be announcing 2020-2021 Art of Performance and On Screen offerings, and look forward to providing you with inspiring, diverse and culturally relevant programming."
—The Ringling (Sarasota)
---
"Venice Theatre is 'super sanitized.' Medrep Technologies came in and performed a hydrogen peroxide fogging, and we have started working with Jantize America on a regular basis to do a disinfectant fogging after every performance that can cover 10 times more surface area than traditional spray. We have also put together a reopening task force that will come up with new protocols for audience members, refreshments, intermissions and other activities that will ensure all guests are as safe as possible while enjoying a show."
---
"We're extremely proud of our staff's efforts and commitment to keep our fellow team members and guests safe, exceeding local requirements from day one on how to safely operate during these unusual times. Beyond masks, gloves, paper menus and spaced out seating to ensure we're doing all that we can, we've brought in Priscilla, Blackhawk pilot and bio-fog technician, to each of our Bavaro's locations currently still open for dine-in, curb-side pick-up and delivery. BIO fogging destroys viruses, spores, mold and bacteria; lasts 60 days; is 100 percent Eco-friendly; and is hospital grade."
—Bavaro's Pizza Napoletana & Pastaria
---
"Visit Sarasota County is encouraging everyone, from our visitors to our locals to our hundreds of industry businesses, to continue being safe & sanitized in Sarasota County. Wearing a mask, washing your hands and surfaces, and practicing safe social distancing are all signs we care about the safety of guests and each other. We can all still enjoy this wonderful destination when we do it responsibly."
—Virginia Haley, President, Visit Sarasota County
---