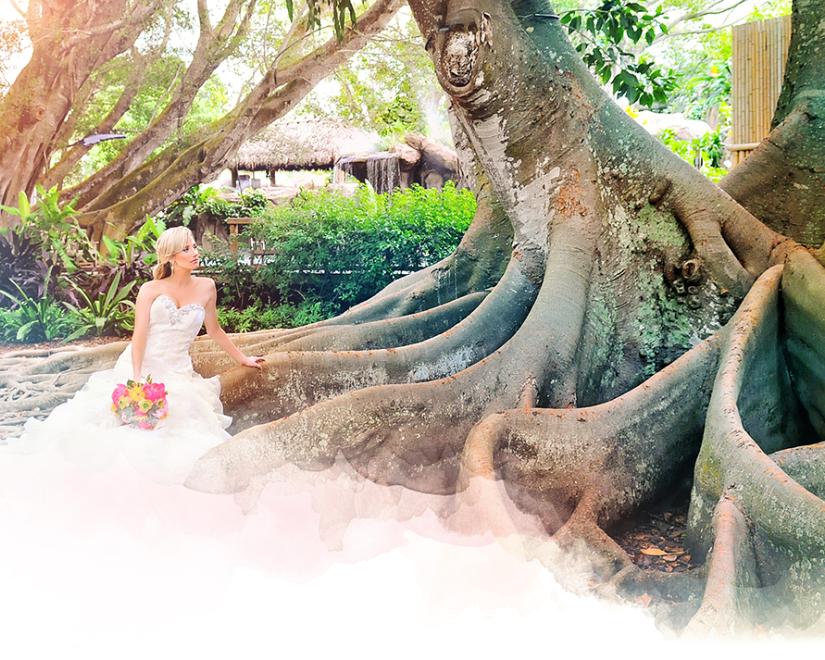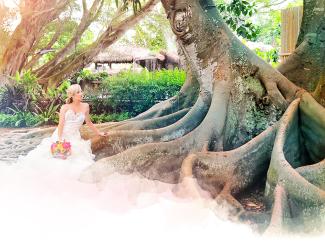 Let your personalities shine through with a wedding venue as unique as the two of you. Choose a barefoot wedding on the white-sands of Siesta Beach, an all-natural engagement in the lush wild splendor of Myakka River State Park, a ceremony in an elegant and historic venue such as the Sarasota Opera House, or one of several other options for your special day.
Getting Started
Sarasota County happily welcomes and recognizes marriages of all couples. Apply in person or at a self-service kiosk at the Clerk of Court at 2000 Main Street, Sarasota, or 4000 South Tamiami Trail, Venice. Fees apply, and for more information please visit the Sarasota Clerk of Circuit Court. Here are a few more important things to know:
Bring Driver License, Passport or FL ID card. Proof of marriage end date required for previously married applicant(s).
Marriage Licenses for non-Florida residents are valid day of purchase. Florida residents are valid three days after purchase.
The State of Florida is one of three states that authorize Notaries Public to officiate at weddings.
Permits through Sarasota County Parks & Rec are strongly recommended for beachside weddings. This ensures the space you want for your special day. Purchase at 941-861-5000.
Imagine the possibilities
Need a theme to spark some creative wedding inspiration? Let us make a few suggestions:
"Country Club Elegance"
Golf Courses and Country Clubs are in abundance. Acres of manicured green grass and lake views provide stately backdrops for wedding receptions.
"Under the Sea"
Get married under the sea with an oceanic backdrop at Mote Marine Laboratory and Aquarium, or with your toes in the sand at one of America's Top Rated Beaches.

"Naturally Green"
One of the largest Florida State Parks, Myakka River State Park, naturally makes for a serene environment for a wedding.
"Beauty by the Bayside"
Wed under ancient, sprawling banyan trees or a sophisticated gazebo overlooking the bay at Marie Selby Botanical Gardens.
"A Cultured Couple"
Dance under the bright lights on the stage of The Sarasota Opera House or Van Wezel Performing Arts Hall.
"Old Florida Charm"
A carriage house, mansion, historic boathouse and dock offer a majestic setting for weddings at Bay Preserve.
"Step Right Up"
Make the Ringling family proud and say "I do" under the big top with a circus or carnival inspired wedding at The Ringling.
Wedding Venues
Discover the perfect setting for your special day. Check out our weddings brochure and explore options ranging from a beachside ceremony to an affair under the banyan trees and everything in between.
Accommodations
Trying to find the best place to have your guests stay, for a getaway after the ceremony is over or to package the wedding and lodging all together? Consider the following:
Siesta key has several condominiums with one-week rental minimums and mom-and-pop beachside retreats. On the south end of Siesta Beach is the Hyatt Siesta Key Beach, A Hyatt Residence Club. This luxury property sits directly on the beach and its concierge-service approach leaves guests plenty of time to relax in poolside cabanas, catch a movie at the swim-up cinema or dine on gourmet delicacies.

The Lido key is also home to several all-in-one wedding venues such as Lido Beach Resort offering an "effortlessly romantic setting for perfect weddings" — whether it be by the beach or under their Ocean Gazebo. The resort offers special packages for weddings as well.
The Ritz-Carlton, Sarasota is located on the mainland with expansive views of the bay and city. The Ritz's sophisticated beach club on Lido Beach offers a stunning choice for beachfront weddings and fine dining.
The Hyatt Regency Sarasota, located on Sarasota Bay is within walking distance to downtown Sarasota shopping and dinner.

The Resort at Longboat Key Club boasts five on-site restaurants, event spaces, private beaches The Resort will truly make you feel you are in paradise.
South of the city of Sarasota, Bentley's Resort has a mainland property and beachfront inns on Casey Key's southern end.
Wedding Vendors
Your day, your way. Sarasota Vendors are ready to help you plan your event down to every little detail, just the way you like it. Consider these options for catering, wedding planning, rentals, photography, and more.