Savor Sarasota Concludes on a Tasty Note
As the 17th year of Savor Sarasota Restaurant Week wraps up, take a peak at which restaurants will continue their Savor menus for an extended period of time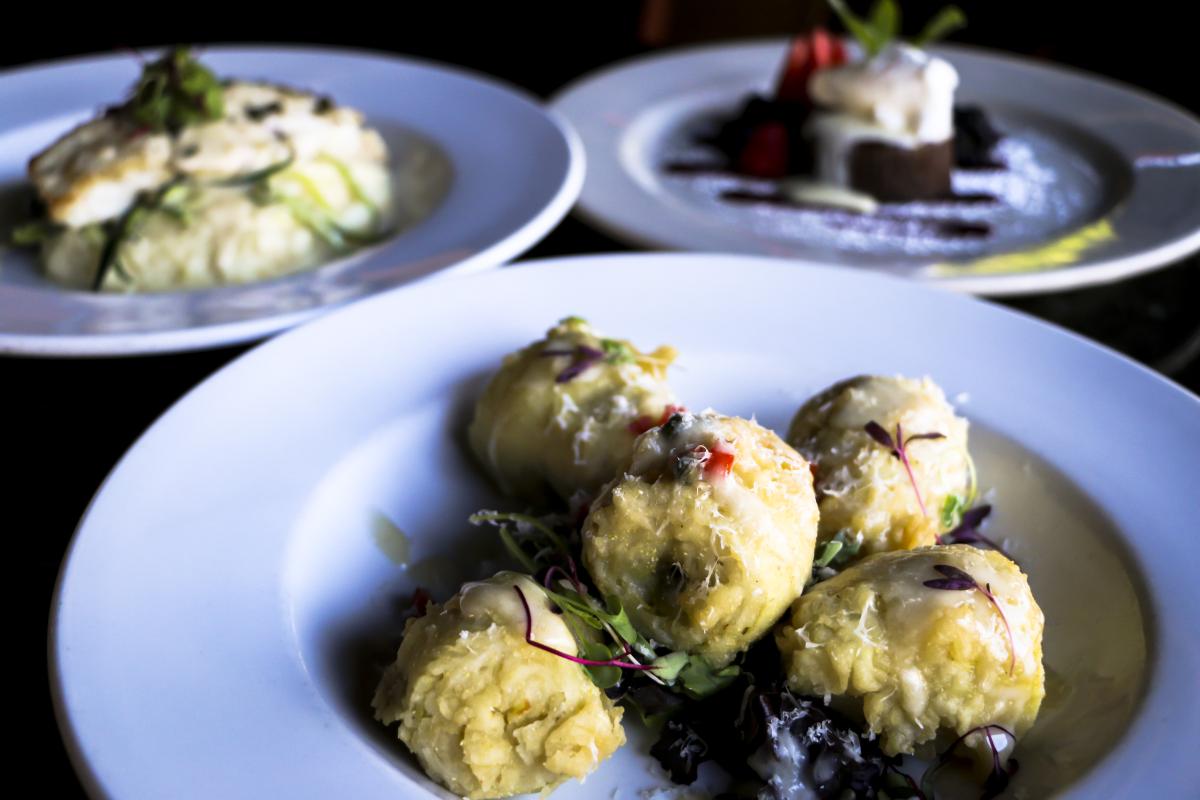 SARASOTA, Fla. (June 23, 2022) – Thousands of meals were "savored" this year as Visit Sarasota County's 17th annual Savor Sarasota Restaurant Week concludes. Visitors and Sarasota area residents dined their way around the county relishing two course lunches and three course dinners at nearly 50 restaurants in the community.
Savor Sarasota Restaurant Week was a success for area restaurants. Fins at Sharky's Chef de Cuisine, Derek Blackburn said, "At Fins, we love taking part in local promotions, especially those that highlight the local foodie community." He continues, "Creatively, I loved putting together the Savor Sarasota menu and seeing our guests' overwhelmingly positive responses to it." "We served nearly 1800 Savor Sarasota menus in the two weeks," said Emma Kate Silvestri, Marketing Director for Fins at Sharky's.
Many of the Sarasota area restaurants are extending their prix-fixe menus, with some extending from two weeks to through December. Menus will transition into Visit Sarasota County's "Fun in the 941" promotion. Visitors can go to Funinthe941.com or simply VisitSarasota.com and click on "deals" for a list of all promotions. Erin Duggan, VP of Visit Sarasota County said, "We just transition on June 15th to promoting ALL of the deals throughout the county, and this is a perfect opportunity for our partner restaurants to continue promoting their business throughout the summer."
Sarasota Restaurants extending their prix-fixe menus
Amore Restaurant will be extending Savor Sarasota through Dec. 18th, 2022
Andrea's will have a new menu every month through August
Breakfast at Victoria's will extend Savor Sarasota through the end of the month
Cafe Barbosso will be extending the Savor Sarasota Menu until Sept 1st
Café Evergreen is extending through August
Chaz51 Steakhouse is going through October 1st
Farlow's on the Water will extend lunch Savor Sarasota menu through June 28th
Fins will be extending Savor Sarasota Sunday through Thursday through September
Flavio's on Main will extend till the end of September
Green Zebra Café will extend their Savor menu through September 15th
Lucarelli's in Venice is extending through the end of September
Mattison's 41 is extending (end date not provided)
Overture extending it throughout the Summer, until August 31, 2022
San Marco of Venice is extending Savor until the end of July
The Reserve Retreat will extend their prix-fixe menu until the end of August
Tripletail Seafood & Spirits will be extending Savor through the end of June
Savor Sarasota is sponsored by Sarasota Magazine and Sarasota-Bradenton International Airport.
Visit Sarasota County created Restaurant Week in 2006 with the goal of helping area restaurants thrive during what was formerly known as "the off season" by encouraging visitors and locals to discover the culinary treasures in Sarasota.
FOR IMMEDIATE RELEASE:
Media Contact: Sarah Lansky, Lansky PR
941-266-2387 | [email protected]
VSC Contact: Nathaniel Sweetman, Communications & Public Relations Coordinator
941-955-0991 ext. 116 | [email protected]
About Sarasota County
Situated on Florida's Gulf Coast, Sarasota County welcomes more than 2.7 million visitors annually. Within its 725 square miles, the county serves up a diverse menu of cultural and recreational activities and attractions, including award-winning dining, world-class fine arts and performing arts, professional and amateur sports and the area's circus heritage. Vacationers can enjoy city life in downtown Sarasota, revisit old Florida in Englewood and Venice, enjoy some of the best beaches in the U.S. on Siesta Key and Longboat Key, or play in North Port's many parks and waterways. Sarasota County is perhaps best known for its 35 miles of pristine coastline in addition to 6 barrier islands, delivering options for beach getaways that are unrivaled almost anywhere else in the U.S., including Siesta Beach, named the No. 1 beach in the country and No. 11 in the world in TripAdvisor's 2020 Travelers' Choice Awards – the third time it has held the national title. To learn more, visit www.visitsarasota.com. Connect via Facebook, Twitter, YouTube and Instagram.
# # #