Sarasota's National Travel and Tourism Week Celebration Recap
Visit Sarasota County's National Travel and Tourism Week Awards Breakfast had a turnout unlike any other
SARASOTA, Fla. (May 10, 2022) – For the last 39 years, National Travel and Tourism Week (NTTW) has showcased the impact of travel and the successes it brings to destinations. This year, NTTW's week-long celebration honored the "Future of Travel" by recognizing inspirational individuals within the community that keep the industry thriving and will continue to do so in the years to come.
Visit Sarasota County's (VSC) industry-nominated awards are given each year to those in the community who exhibit excellence in five separate categories, which are: Management, Front Line, Heart of the House, Volunteer and Rising Star.
Management: The recipient of the Sarasota County Tourism & Hospitality Management Excellence Award is Heather Spiegel, the Westin Sarasota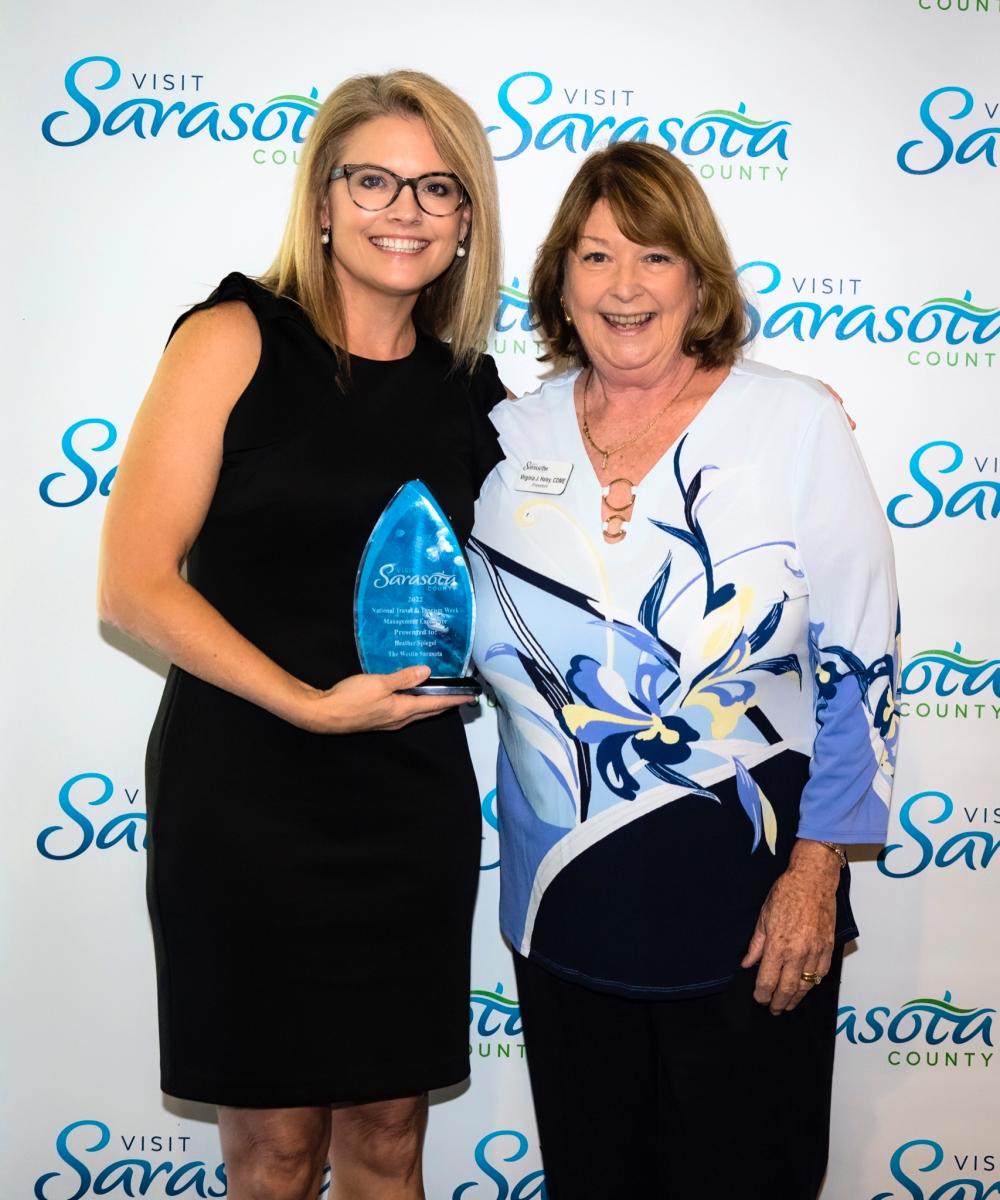 Front Line: The recipient of the Sarasota County Tourism & Hospitality Front Line Excellence Award is Michelle Sarkis, Gecko's Hospitality Group
Heart of the House: The recipient of the Sarasota County Tourism & Hospitality Heart of the House Excellence Award is Samantha Bledstein, Mote Marine Laboratory & Aquarium
Volunteer: The recipient of the Sarasota County Tourism & Hospitality Volunteer Excellence Award is Lauren Rabeck, Marie Selby Botanical Gardens
Rising Star: The recipient of the Sarasota County Tourism & Hospitality Volunteer Excellence Award is Tina Scarpino, Marie Selby Botanical Gardens
The travel industry is a crucial source of jobs locally and statewide, with these jobs providing numerous opportunities for many individuals and families in the community. The men and women who are the faces of Sarasota's travel industry have helped shape travel to be one of Florida's strongest thriving industries.
Sarasota County is a tourism destination. Visitors are attracted to the beaches, arts and culture, family attractions, eco outdoor adventures and vast dining options. Tourism generates a huge economic impact for the county, with billions of dollars coming into the region yearly. Throughout the entire calendar year of 2021 (January 2021 – December 2021), there were more than 3,000,000 visitors to Sarasota County, which was a dramatic 51.4% increase from 2019 (Due to the Covid-19 Pandemic, 2020 numbers were impacted). There were more than $2.2 billion in direct expenditures from visitors, including accommodations, restaurants, shopping, attractions, entertainment, groceries, transportation, and other expenses. This concluded in a total of $3.6 billion in total economic impact for Sarasota County.
VSC also has one award, Voice of Sarasota, to recognize an individual or group of individuals who have helped raise awareness of the culture and character of the destination, along with being a key contributor in the "Future of Travel". This award is granted by VSC's Board of Directors.
The winner of the 2022 Voice of Sarasota Award is Mr. Frederick Piccolo. Visit Sarasota County is proud to honor Mr. Piccolo and his team at the Sarasota Bradenton International (SRQ) Airport for their outstanding efforts in building awareness of Sarasota County around the world, with the overwhelming success of the Sarasota Bradenton International Airport's addition of new airlines and new destinations being served over the last few years.
Advocate sponsors of VSC's National Travel and Tourism Week Awards Breakfast were Sarasota-Bradenton International Airport, The Westin Sarasota, Hyatt Regency Sarasota, Beachside Management, Sarasota Art Museum, The Resort at Longboat Key Club, Pop's Sunset Grill and Opal Collection Hotels & Resorts. Supporting sponsors were Virginia J. Haley and Miles Partnership.
For more information about National Travel and Tourism Week, please visit www.ustravel.org/events/national-travel-and-tourism-week.
FOR IMMEDIATE RELEASE
Nate Sweetman, w: 941-955-0991 Ext. 116, c: 913-439-9898
Photography Credit: Cliff Roles, Member, Professional Photographers of America
About Sarasota County
Situated on Florida's Gulf Coast, Sarasota County welcomes more than 2.7 million visitors annually. Within its 725 square miles, the county serves up a diverse menu of cultural and recreational activities and attractions, including award-winning dining, world-class fine arts and performing arts, professional and amateur sports and the area's circus heritage. Vacationers can enjoy city life in downtown Sarasota, revisit old Florida in Englewood and Venice, enjoy some of the best beaches in the U.S. on Siesta Key and Longboat Key, or play in North Port's many parks and waterways. Sarasota County is perhaps best known for its 35 miles of pristine coastline in addition to 6 barrier islands, delivering options for beach getaways that are unrivaled almost anywhere else in the U.S., including Siesta Beach, named the No. 1 beach in the country and No. 11 in the world in TripAdvisor's 2020 Travelers' Choice Awards – the third time it has held the national title. To learn more, visit www.visitsarasota.com. Connect via Facebook, Twitter, YouTube and Instagram.
# # #