Baseball fans can experience a "homerun" vacation in Sarasota County this spring
FOR IMMEDIATE RELEASE
Joel Kaiman, [email protected]
Katie Neumann Weeks, [email protected]
407-977-5004
Nate Sweetman, [email protected]
941-955-0991 Ext. 116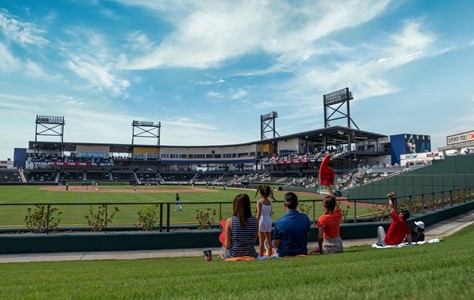 SARASOTA, Fla. (March 16, 2022) – As spring gets into full swing, Sarasota County is gearing up for an exciting year of baseball, giving visitors a chance to enjoy much anticipated Spring Training games beginning March 18 while also enjoying world-class beaches, dining and entertainment.
Reigning World Series Champions Atlanta Braves Spring Training at CoolToday Park
For more than 70 years, the Atlanta Braves organization has played its spring ball in Florida, and the 2022 season will continue the tradition – this year as World Series Champions! The Braves Spring Training home CoolToday Park is a state-of-the-art complex that can house over 7,000 fans and also features outfield patio and bar areas.
The Braves will play their first Spring Training game of the season Friday, March 18 against the Minnesota Twins and will host nine home games throughout March and early April against the Philadelphia Phillies, Tampa Bay Rays, Boston Red Sox and Toronto Blue Jays in addition to the Minnesota Twins.
Tickets start can be purchased online or in person at the CoolToday Park ticket windows. Click here to view the Braves Spring Training schedule.
Baltimore Orioles Spring Training at Ed Smith Stadium
The Baltimore Orioles will kick off 2022 Spring Training Friday, March 18 against the Toronto Blue Jays and play nine home games throughout March and April, each of which will feature giveaways or interactive opportunities like "Kids Run the Bases," "Seniors Stroll the Bases," fireworks and more.

In addition to the Blue Jays, other rivals include the New York Yankees, Minnesota Twins, Boston Red Sox, Pittsburgh Pirates, Detroit Tigers, Tampa Bay Rays and Philadelphia Phillies.
Often referred to as "Birdland South," Ed Smith Stadium hosts major league Spring Training and, along with the Buck O'Neil Baseball Complex at Twin Lakes Park, features all of the ballpark amenities to make any athlete feel like they're in the big leagues. This major league facility features an 8,000-seat stadium, four additional onsite training fields with one practice half-field, five offsite training fields, a clubhouse and covered batting cages and pitching mounds.
Click here to view the Orioles detailed Spring Training schedule.
"Catch" some Zs with Spring Training hotel packages
Visitors can take advantage of some great offers available during Spring Training at Sarasota hotels and resorts:
'Toes in the Sand Package' at The Resort at Longboat Key – Get into the spirit of vacation soaking up the Gulf Coast. Outside of watching some entertaining baseball games, enjoy this special resort package with up to 15% savings this spring. Package includes a beach umbrella each day booked, and a $75 daily credit for beachside food and beverage service.
'Ovation Package' at Art Ovation Hotel, Autograph Collection – Earn Resort Credits for each night spent at the boutique Sarasota hotel and use it for unique dining experiences at food and beverage outlets.
'Honors Discount Advance Purchase Package' at Embassy Suites by Hilton Sarasota – Plan ahead and save before you head to Downtown Sarasota. Book your next stay with Hilton and save up to 20% off the Best Available Rate when reservations are made at least seven days in advance.
Activities Between Baseball
Sarasota County is brimming with activities teed up for visitors to enjoy before or after the games:
Beaches:
Museums and attractions:
The Ringling - The State Art Museum of Florida featuring the Museum of Art, Circus Museum, palatial mansion Ca'd'Zan, Bayfront Gardens and Historic Asolo Theater
Sarasota Jungle Gardens – An Old Florida zoological garden with educational animal shows, exhibits, interactive animal experiences and more
Mote Marine Laboratory & Aquarium – Explore the aquarium's working laboratories, high-tech interactive exhibits and see more than 100 marine species showcasing the world-renowned research of the adjoining Mote Marine Laboratory
Notable Restaurants:
A Destination for Sporting Events Beyond the Pros
The same reasons the professionals come annually – the weather, accommodations, activities and world-class sporting facilities – make Sarasota an ideal destination for amateur athletes as well. The U-18 Baseball World Cup arrives this September to showcase some of the best 18-and-under talent the sport has to offer from around the globe, while other amateur sports the destination hosts include equestrian, dragon boat racing, swimming and more.
For more information on booking a sporting event in Sarasota visit https://www.visitsarasota.com/sarasota-county-sports.
About Sarasota County
Situated on Florida's Gulf Coast, Sarasota County welcomes more than 2.7 million visitors annually. Within its 725 square miles, the county serves up a diverse menu of cultural and recreational activities and attractions, including award-winning dining, world-class fine arts and performing arts, professional and amateur sports and the area's circus heritage. Vacationers can enjoy city life in downtown Sarasota, revisit old Florida in Englewood and Venice, enjoy some of the best beaches in the U.S. on Siesta Key and Longboat Key, or play in North Port's many parks and waterways. Sarasota County is perhaps best known for its 35 miles of pristine coastline in addition to 6 barrier islands, delivering options for beach getaways that are unrivaled almost anywhere else in the U.S., including Siesta Beach, named the No. 1 beach in the country and No. 11 in the world in TripAdvisor's 2020 Travelers' Choice Awards – the third time it has held the national title. To learn more, visit www.visitsarasota.com. Connect via Facebook, Twitter, YouTube and Instagram.
# # #