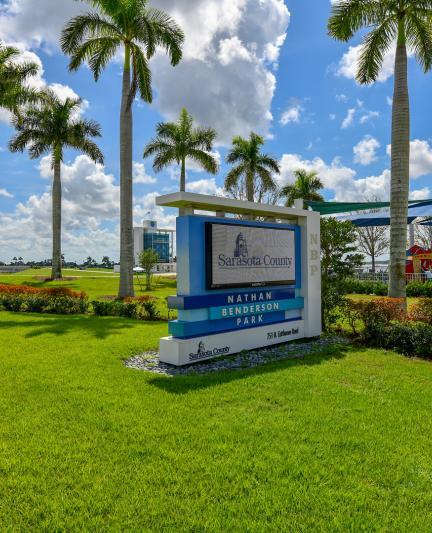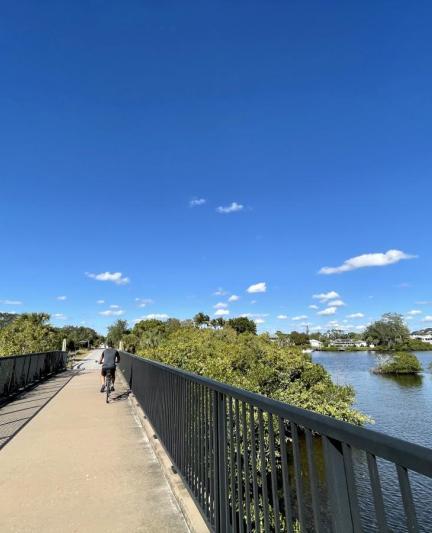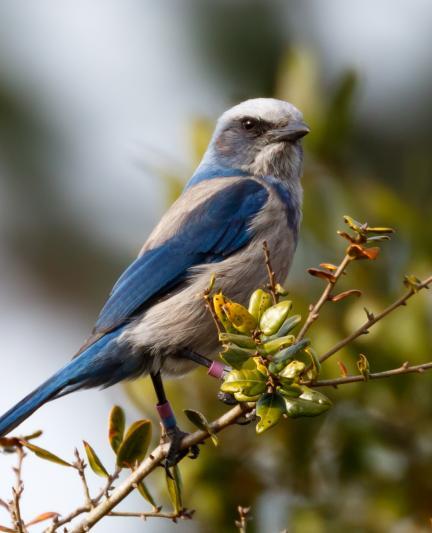 Take in the Sarasota Sunshine and Fresh Air with this Outdoors & Nature Itinerary
You'll get all that and more if you're looking for outdoors activities around Sarasota in this three-day itinerary. Always have water and sunscreen with you for these adventures!
Day 1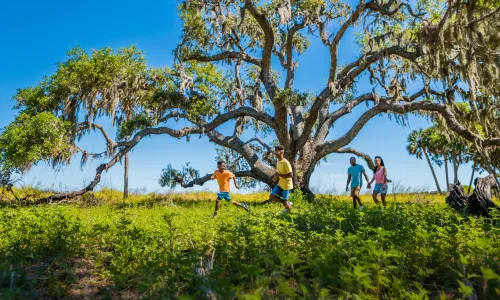 Myakka River State Park
Myakka River State Park in Sarasota offers 53 square miles and 39 miles of hiking trails, fishing, kayaking, birding and nature spotting. The park is famously home to about 4,000 alligators living peacefully in and around the Myakka River. The park's offerings change seasonally, but make sure to plan some time to explore and check out the bridge that's about a mile down from the park's main entrance. While there, you're bound to see some gators in the water. (Remember to always keep a safe distance from alligators.) When available, boat and tram tours give you a fun way to discover more about the park. If you're into birding, The Birdwalk at Myakka offers some peaceful birding. Catch a bite to eat at Myakka Outpost and Pink Gator Café, where you can also pick up an alligator-themed souvenir. You can rent bikes and canoes at the park, and there's camping.
Nathan Benderson Park
For outdoors lovers, Nathan Benderson Park is a must-see during your visit to Sarasota. It's home to a 400-acre lake and located conveniently close to Interstate 75 and the Mall at UTC. You can watch kayakers, rowers, paddleboarders on the lake, or take part in those activities yourself.
Red Bug Slough Preserve
At Red Bug Slough Preserve, find a 72-acre peaceful preserve among an otherwise suburban stretch of Sarasota. You'll find a few hiking trails, a fishing dock, picnic shelters and a small playground. And yes, there are red bugs there, including the scarlet skimmer dragonfly and the elusive red cotton stainer beetle. Red Bug Slough is accessible by several walk-through entrances and has a limited amount of parking.
Day 2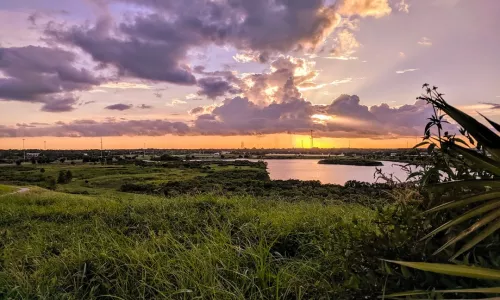 Celery Fields
Birders, make your way early to Celery Fields for the best chances to spot your favorite birds. Located along the Great Florida Birding Trail, Celery Fields (which was long ago an actual celery field) is more than 400 acres of ponds, pools and shallow canals. At least 246 species have been recorded there by the Sarasota Audubon Society, including Marsh and Sedge Wrens, Black-necked Stilts, King Rail, Least Bittern, Barn Owls and Eastern Meadowlark. Winter is the best time to view a variety of bird species there. Plus, Celery Fields has an actual hill—a rare find in the flattest state in the U.S.!
The Legacy Trail
Sarasota's 20-mile Legacy Trail connects various parts of the county. You can hop onto Legacy Trail at a variety of trailheads around the county, including the Venice Train Depot, Payne Park and Nokomis Community Park. Whether you want to stroll for a mile or bike the whole trail, the Legacy Trail is a popular way to be outdoors, get some exercise and discover more of Sarasota.
Selby Gardens Historic Spanish Point
Selby Gardens Historic Spanish Point in Osprey is 30 acres rich with history, serving as a home for humans since 300 A.D. It describes itself as "an outdoor archaeological and historic museum." You'll find reflections of Spanish Point's role in history with a burial ground onsite, a shell midden (a collection of shells from the past), remnants of the pioneering era with the Webb Packing House (which was part of the citrus packing and shipping business), and a restored two-story home called the Guptill House. You'll also find lots of native Floridian plants and gardens onsite that offer stunning bay views. For an extra fee, take advantage of guided, self-guided and even boat tours while you're there. Grab a bite to eat from one of Historic Spanish Point's food trucks if you get hungry!
Day 3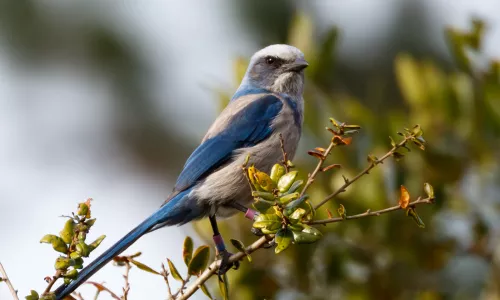 Venice Audubon Rookery Park
If you're into birding or nature photography, you'll definitely want to spend some time at Venice Audubon Rookery Park. Hidden among homes and businesses, you'll find a small pond with a rookery island where birds chatter, nest and roost. Among the birds you may see include Anhingas, Cattle Egrets, Great Blue Herons, Glossy Ibises and more (find the full list here). The best time to visit is December through May, which are nesting months. Still, you can find and enjoy birds year-round there. For the best bird spotting, visit early morning or late afternoon. The park opens at 6 a.m. and remains open until dusk.
Oscar Scherer State Park
Commune with nature at Oscar Scherer State Park in Osprey. The park has more than 15 miles of trails and is a habitat for the Florida scrub-jay, the state bird. Enjoy hiking, fishing, kayaking, camping, and lots more peace and solitude at Oscar Scherer. The park also is a stopover point for the Legacy Trail. Oscar Scherer also has a wheelchair-accessible fishing dock as well as a barrier-free nature trail that is geared toward people with sight, hearing or mobility impairments.
Jelks Preserve
Jelks Preserve in Venice is a 600-acre area offering scenic views along the Myakka River. You can take the full 3.7-mile loop or some side trails. Keep your eyes open for wildlife like eagles and herons. Jelks Preserve has picnic tables plenty of shaded areas, but make sure to bring water and sunscreen.