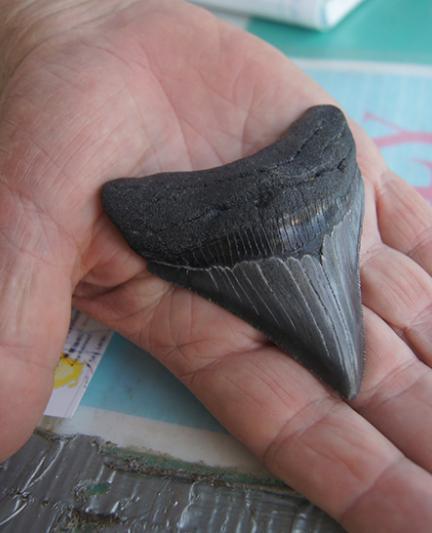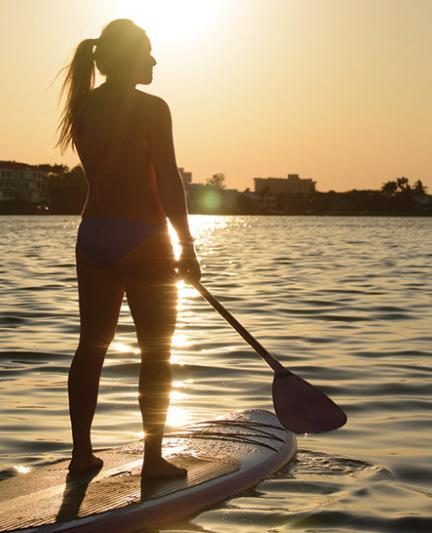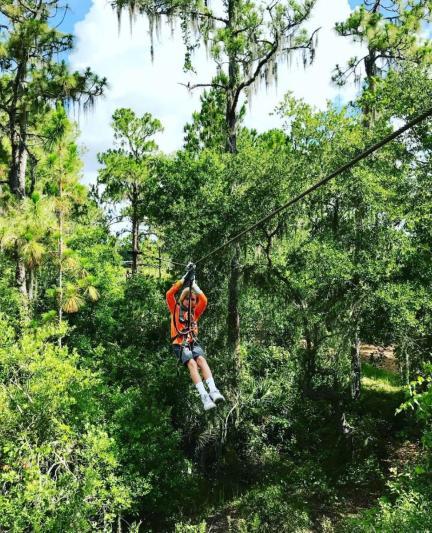 Activities for Adventurers
Get ready for a few whirlwind days of fun in Sarasota for the adventure-inclined.
With plentiful sunshine and coastline for miles, Sarasota is packed with things to do for an adventurous vacation. Here's how to plan your time.
Day 1
Paddleboarding Through the Mangrove Tunnels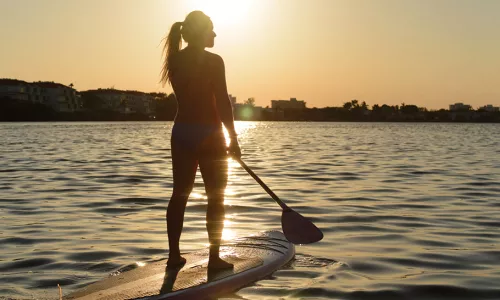 Mangroves are trees and shrubs that grow beside coastal waters. Sometimes, mangroves form tunnel-like areas that are perfect for exploring. Kayaking SRQ offers a guided paddleboarding tour that takes you through mangrove tunnels at Lido Key. At both Kayaking SRQ and Happy Paddler Kayak Tours & EcoVentures, you can rent a paddleboard to get a closer look at the mangroves, where you'll peacefully paddle alongside dolphins and maybe even spot a manatee. Happy Paddler offers its paddleboard rentals near Longboat Pass (a scenic area in Longboat Key) and Bayfront Park on Longboat Key. Kayaking SRQ has its paddleboards available in Lido Key and Siesta Key.
Day 2
Search for Sharks' Teeth on Venice Beach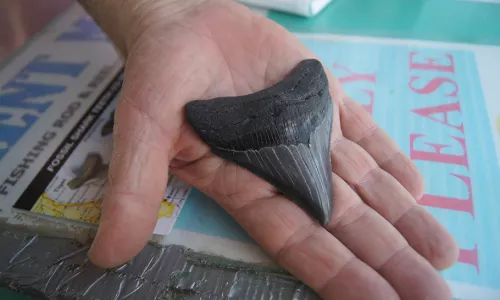 Start off your morning at Venice Beach or nearby Caspersen Beach for some shark tooth hunting. After all, Venice Beach is called the Shark Tooth Capital of the World, thanks to the sharks' teeth that have washed ashore there over millions of years. You'll find fellow shark tooth hunters combing for teeth both on land and in the water. Use your hands or a "Florida snow shovel" (aka a sand sifter) to scoop up shell fragments. Look for tiny black or brown fragments, as they could be fossilized shark teeth. While at Venice Beach, don't miss the chance to walk on the beautiful pier and get a birds' eye view of the Gulf. You can even rent a "Florida snow shovel" while on the pier.
Kayaking with Happy Paddler Kayak Tours or Kayaking SRQ
Get a close-up view of Sarasota's natural life on the water with a kayak tour. Both Happy Paddler Kayak Tours & EcoVentures and Kayaking SRQ offer guided tours where you'll see birds and fish, and you may just get a glimpse of dolphins and manatees. You've got your choice of destinations for a kayak tour, from Siesta Key to Lido Key and more. Kayaking SRQ even has a kayak fishing tour! Plus, you can find kayak tours that go through mangrove tunnels or that will take you out during sunset.
Parasail in Siesta Key
If you're looking for a view of the beautiful Gulf of Mexico from above, then parasailing in Siesta Key is just what the doctor ordered. With CB's Saltwater Outfitters, you can gently, safely guide above the coastline. You can even choose between staying dry the whole time or taking a brief dip in the water during your parasailing experience. As CB's says to its customers, you'll feel like a pelican flying above the water.
Day 3
Take a Fishing Charter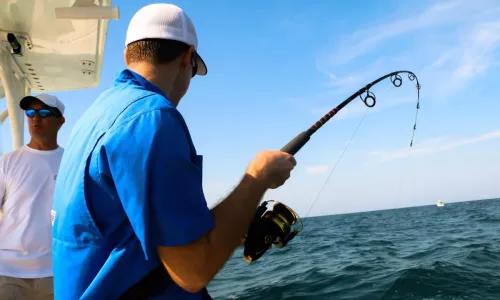 One can't-miss for outdoors and adventure lovers during a visit to Sarasota is the chance to go fishing. With a fishing charter, you discover the local waters from a seasoned captain who knows just where the fish are biting. Captain Experiences Sarasota Fishing Charters offers fishing charters inshore, nearshore and in the backwaters of Sarasota. Kingfish, grouper, redfish and snook are just some of the fish you may catch during your charter. You can take advantage of half-day and full-day trips on the water. Bring your sunscreen!
Jump Around at Jumpin Fun Inflata Park
You can wrap up your adventure itinerary in Sarasota with something special for the kids—or, perhaps, for you? Jumpin Fun Inflata Park trampoline park has a whole selection of attractions for jumping around, from a moon bounce to extreme dodgeball to a battle beam where you have to balance yourself and duel to the finish! Those are just some of the things to do at Jumpin Fun, and it'll be the perfect way to wrap up your trip.