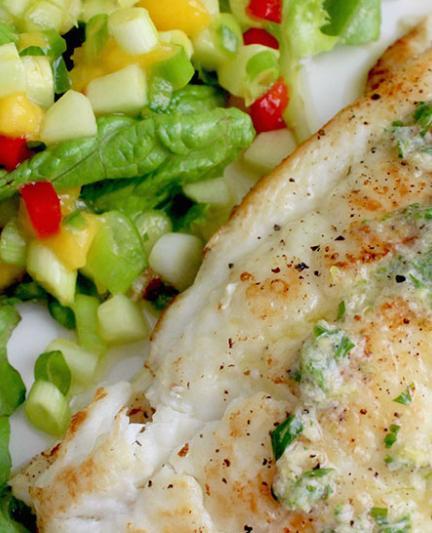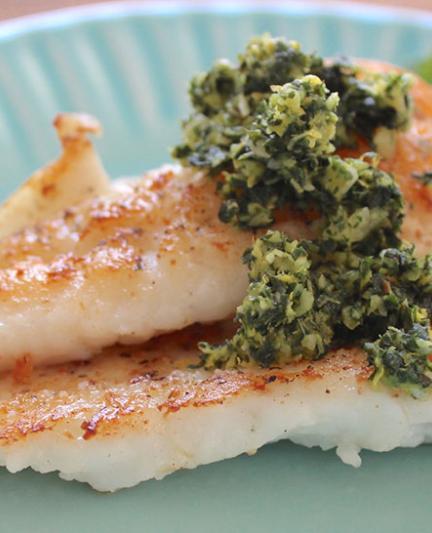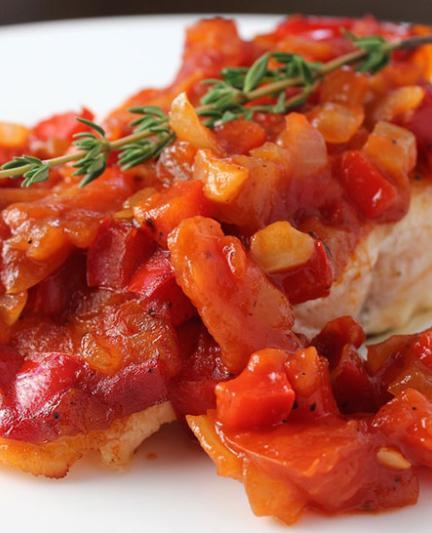 Three tasty Gulf Fish toppings
There are several ways to top off a juicy, fresh fish filet. Check out some of our favorite ones.
Florida's Gulf coast offers many varieties of tasty fish and, as a fishing gal myself, I've caught my share. But even if you don't catch them yourself, they can easily be found during their peak seasons in Sarasota fish markets, all filleted and ready to cook at home.
When it comes to cooking fresh fish, you can never go wrong by keeping it simple: a sprinkling of salt and pepper, set in olive oil and/or butter in a hot skillet. Seared fish is awesome on its own, but if your taste buds are clamoring for something a little more exciting, you can pair it with a tasty topping. But before deciding on a topping, it's important to think about the type of fish you have. In my kitchen, I like to classify it into two categories:
1) White, flaky, mild and delicate - best pan-seared, baked, poached or broiled, paired with light seasonings and fresh salsas. Since many Gulf fish have mild flavor profiles, it's important to use seasonings in moderation, so the sweet, delicate flavor of the fish isn't lost.
2) Bold, dense and meaty - can stand up to just about any cooking method, including grilling, and be paired with more substantial flavors and textures, but moderation is still a good rule to live by, so the fish isn't overpowered.
Here are some of my favorite toppings:
Ginger-Lime Compound Butter
Great with just about any fish, but especially good for denser, meatier varieties like Mahi, Wahoo, Amberjack, African Pompano, Snapper and Swordfish.
1 stick unsalted butter, room temperature
2 Tb. fresh ginger, peeled & grated
Zest of one lime & one lemon
2 Tb. fresh parsley, minced
½ tsp. kosher salt
¼ tsp. freshly ground black pepper
1) Combine in a bowl and stir until combined; refrigerate until ready to serve.
2) OR place butter on parchment paper or plastic wrap and tightly roll into a narrow log. Pinch ends of the log and refrigerate at least 1 hour (this method allows you to slice a few servings at a time).
Lemon-Mint Gremolata
A fresh flavor combo that pairs well with delicate Flounder, Speckled Trout, Porgy, Pompano, Tripletail, Hogfish, Snapper and Lionfish.
2 small garlic cloves, peeled
2 Tb. fresh, chopped mint (about a handful of leaves)
1 Tb. lemon rind (about half a lemon)
Dash kosher salt
1) On a cutting board, sprinkle salt on garlic and mince/mash with the knife.
2) Add mint and lemon rind and keep mincing until it's a fine, moist texture.
3) Store in an airtight container in the refrigerator until ready to use.
Tomato-Pepper Relish
Great companion to fish like Redfish, Grouper, Cobia, Mahi, Amberjack and Swordfish (and though it's not a Gulf fish, Salmon is great with this relish).
1 Tb. olive oil
1 clove garlic, minced
1 medium sweet onion, chopped
1 bay leaf
2 sprigs fresh thyme
1 red bell pepper, small dice
2 medium tomatoes, seeded, small dice
2 Tb. tomato paste
1 tsp. honey
3 Tb. red wine vinegar
Splash Worcestershire sauce
½ tsp. kosher salt
¼ tsp. freshly ground black pepper
1) In a saucepan over medium heat, warm the olive oil. Add garlic, onion, bay leaf and thyme. Cook for a minute or two, until onions start to sweat.
2) Add peppers, tomatoes and cook about 2 minutes, until everything softens.
3) Add tomato paste, honey, red wine vinegar, S&P, Worcestershire; mix well.
Simmer about 5-6 minutes. Taste for seasoning then remove thyme sprig.
Nicole Coudal is a writer and home-chef based in southwest Florida, where she fishes and cooks using local ingredients. When not on the water, she visits farms, farmer's markets, and other food-related venues to highlight what's in-season and to create tasty recipes. Read more at www.MyDeliciousBlog.com.