Savor a Taste of Florida: Shrimp & Avocado Salad
Enjoy this recipe for Shrimp & Avocado Salad by Robin Draper of Authentic Florida.
In Sarasota Florida, with our seasonably mild weather, many choose to eat light meals year around. This Florida Shrimp & Avocado salad is one of those stand bys that is always light and fresh, especially when incorporating local seafood and produce.
Keeping it simple is one of the best ways to make your Florida seafood recipe the "star" attraction, especially with the sweet and flavorful taste of shrimp.
Here's an old-fashioned recipe for shrimp salad served with Florida avocados that creates a doubly flavorful meal. Florida's avocados, different from the Haas variety, are especially unique in that they are light tasting but pack a subtle, yet flavorful rich taste, providing a complementary addition to the salad.
Many Sarasota restaurants offer shrimp salads or a variation of this one, so while here be sure to sample our local Gulf shrimp for a distinctly delicious taste of Florida!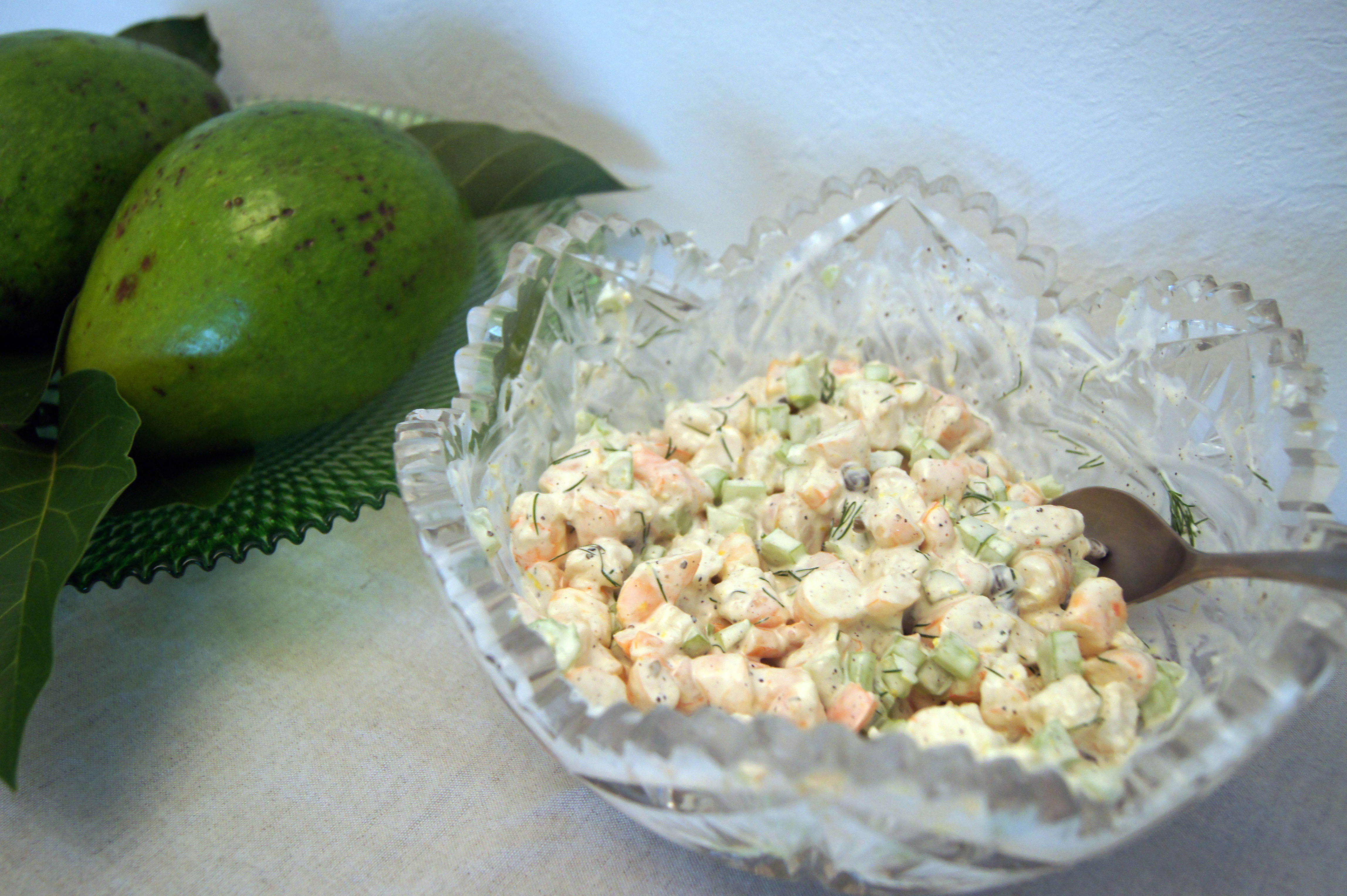 Servings: 4
Ingredients
Main Ingredients
1 1/3 lbs of medium Florida Gulf shrimp (uncooked)
2 Florida avocados
2 medium lemons
1 head of lettuce (Romaine, Bibb lettuce)
Note: Consider purchasing Florida avocados a few days before so that they have time to ripen. Avocados are usually ripe when soft to touch.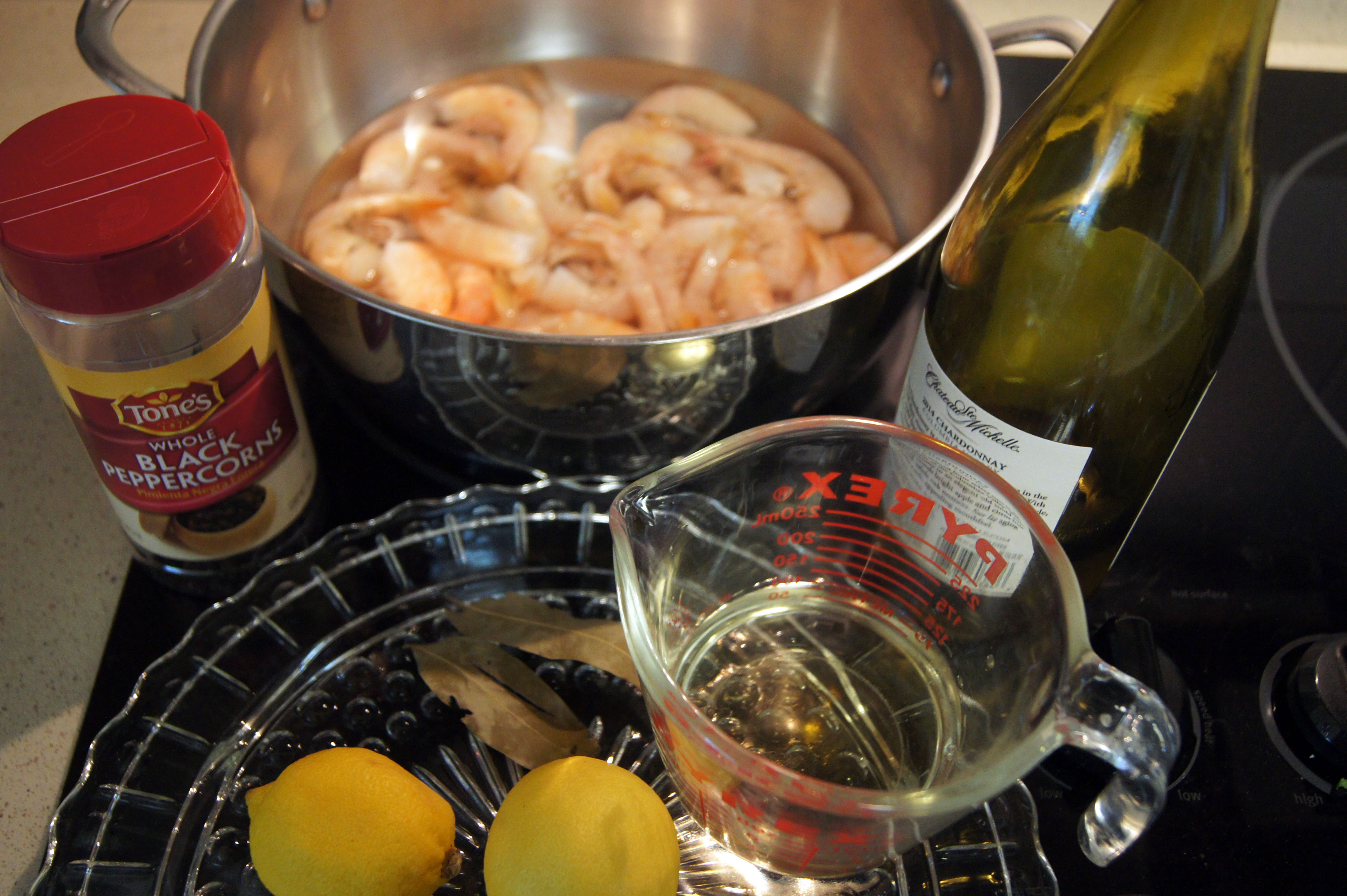 Poaching liquid
Water
½ cup dry white wine
5-6 peppercorns
2 – 1" lemon peels
1 Tablespoon lemon juice
2 bay leaves
Salad Mixture
1 large stalk of celery (or two medium stalks), diced
½ cup mayonnaise
2 Tablespoons fresh dill
2 Tablespoons lemon juice
1 heaping Tablespoon lemon zest (almost the entire lemon)
2 teaspoons drained capers
1/2 teaspoon salt
1/4 teaspoon of pepper
Utensils
1 large (5 quart) pot for cooking shrimp
1 strainer
1 rasp (for zesting lemon)
1 vegetable peeler
1 medium bowl for assembling salad
Recipe Instructions
Prepare Poaching Liquid for Shrimp
Place the shrimp with shells in the cooking pot, add water, just enough to cover the shrimp; add ½ cup of dry white wine. With a vegetable peeler, peel the skin of a lemon in 2 - 1" peels, add to liquid; add 1 Tablespoon lemon; add 5-6 peppercorns, and 2 bay leaves. Turn on high heat, let cook for five minutes, or until the shrimp turns white and firm to touch. (Be careful not to overcook.)
Remove from the heat; drain the shrimp in a colander, and set aside for 30 minutes. When cool, peel the shrimp by removing the shells. Then, slice the peeled shrimp into small bite sized pieces. Set aside.
Prepare salad ingredients
Cut celery into 4 strips and dice in small pieces. Set aside.
Zest 1 heaping Tablespoon of lemon zest using a rasp. Then, cut lemon in half and squeeze for 2 Tablespoons of lemon juice. Set aside.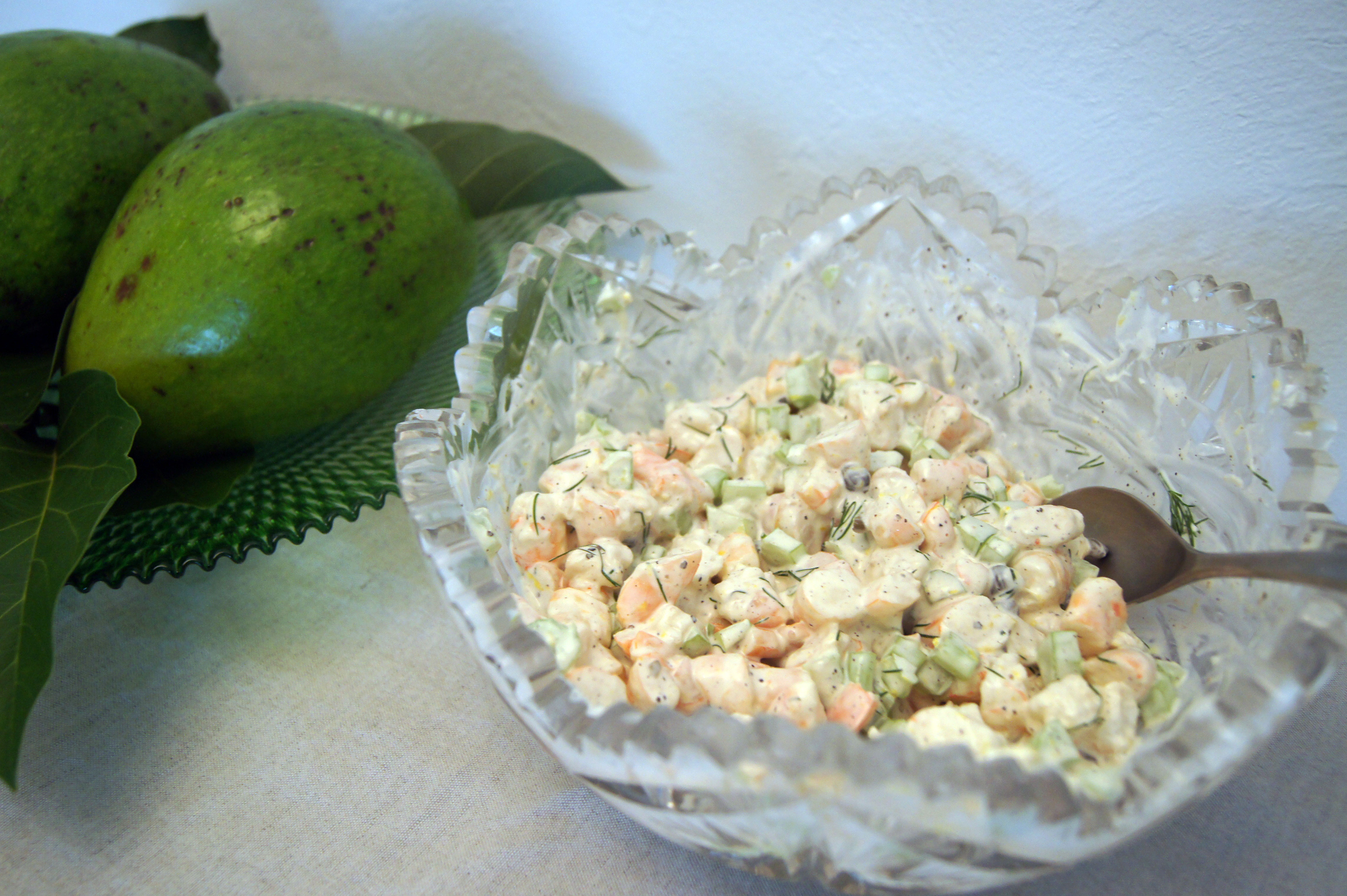 Assemble the Ingredients
In a medium bowl, place the peeled shrimp, ½ cup of mayonnaise, diced celery, 2 Tablespoons lemon juice, one Tablespoon lemon zest. Add 2 teaspoons of drained capers. Mix well.
Refrigerate for 1 hour.
Prepare Avocado
Take the two avocados and cut each around the large seed in the middle. Open the avocado in two pieces and remove the seed. Then remove the outside peel of the avocado with your hands or with a paring knife. If you have any lemon juice remaining, pour the juice over the avocado so it does not turn brown.
Preparation
With a plate, take lettuce 4 lettuce leaves and create a bed of lettuce. Place the avocado in the lettuce leaves. With a large spoon heap the mixed shrimp salad into the avocado. If you prefer, slice the avocado and fan the pieces out and then place the shrimp over the avocado.
Enjoy the sumptuous flavor of Florida seafood and fresh avocados!