Have a taste of Sarasota cooking
Have fun with food at these local classes and demonstrations.
A great way to get to know a place is through its food. And Sarasota has all kinds of delicious delicacies to explore, from fresh seafood straight out of the Gulf of Mexico to Amish-made peanut butter pies.
To take your tasting experience to the next level, sign up for one of the cooking classes or demonstrations offered at many restaurants and other spots in the area. You'll not only get to sample local eats but also learn some tips and techniques to take the flavors home with you.
Euphemia Haye
Euphemia Haye is a popular fine-dining spot on Longboat Key, usually offers a couple of cooking classes a month except during the summer. Its November and December classes are already sold out, but be on the lookout for January's class schedule on the restaurant's website and Facebook page. (Folks interested in classes can also sign up for the restaurant's mailing list.)
Classes tend to fill up within a day of their announcement; Chef Raymond Arpke's become known for his witty, personality-filled "Lesson Luncheons." The demonstration-style events include a three-course lunch along with a wine pairing for each course. Classes cost $65 per person and run from 10:30 a.m. to 1:30 p.m., with a maximum of 30 attendees. Past classes have focused on everything from Hungarian cuisine to chicken thighs.
Mattison's Forty-One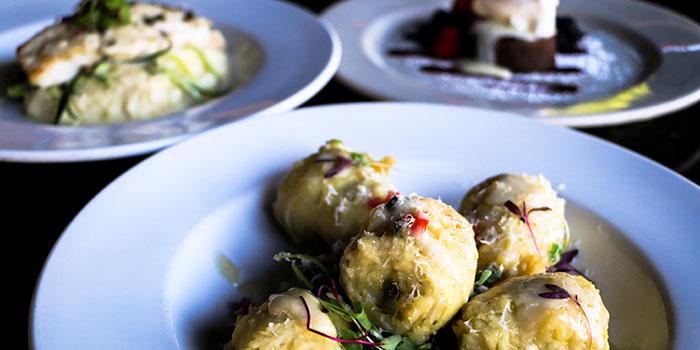 Get into the holiday spirit with the Gingerbread House Culinary Workshop offered at Mattison's Forty-One on November 26 from 11 a.m. to 3 p.m. The family-friendly workshop costs $50 per house and includes all supplies and ingredients. Pastry Chef Ray Lajoie will offer his tips and techniques for creating the tasty holiday tradition. Reservations are required, and children under 10 must be accompanied by an adult. It's a sweet way for the family to spend the day together.
Oh Mamma Mia
To watch another local chef in action, head to Oh Mamma Mia in Sarasota's Gulf Gate neighborhood. There, Chef Giuseppe Urbano puts on frequent live cooking shows ($49 per person), with big screens around the restaurant showcasing his skills honed over 25 years in the food industry.
On Fridays and Saturdays, diners can arrange for "Chef on Demand" service. Urbano will cook Italian dishes tableside and discuss the recipes with the guests. He also offers private, hands-on classes ($49 per hour per person) where he explains ingredients and cooking techniques.
Curry Station
Narendra Singh Saud, chef and owner of Curry Station in Sarasota, started offering cooking demonstrations after moving to the area five years ago and realizing that a lot of people here had never even tried Indian food.
"No one had introduced it to them before; they didn't know what it was," he says. "That's why we started the classes, to introduce the cuisine. I love to teach people about Indian cuisine. I want people to know what the food is."
Typically, classes are held once a month on Sundays, but the holiday season keeps the restaurant busy with catering. So the next class will take place January 15 from 11 a.m. to 12.30 p.m. Attendees will learn how to make Baingan bharta (a vegan, roasted eggplant curry) and roti bread. The $35 per person price includes lunch.
Giuliano Hazan
An award-winning cookbook author and regular on NBC's Today show, Giuliano Hazan calls Sarasota home and will be opening up his own residence for cooking classes from December 7 through early April. Students prepare a four-course Italian meal and finish the class by enjoying the dishes they made paired with Italian wines. Classes cost $150 per person and are offered on select Wednesdays, Thursdays, or Fridays from 10:30 a.m. to 2:30 p.m., with a maximum of 10 students per session.
"It's a small, intimate participation class," says Hazan. "We all work on preparing the meal together, and everyone gets to practice the techniques that I teach. What people seem to mention that they really appreciate getting out of the class is all the tips they learn; that seems to be the highlight for them."
Sweet! Sarasota
Ready for dessert? Sweet! Sarasota has several classes coming up in November and December for foodies of all ages. Little Bakers classes ($38) take place on November 26 and December 10 from 9 to 11 a.m. Kids ages five to 15 will make vanilla cupcakes from scratch and then learn how to ice them like a pro.
Older students can sign up for Cupcakes 101 ($65, ages 12 and up) on December 6 from 5 to 7 p.m. The class teaches three different cupcake and icing recipes and offers students a chance to use an industrial oven. The Sculpting Fondant class ($100, ages 16 and up) on December 13 from 5 to 7 p.m. teaches attendees how to make and work with the decorative icing.