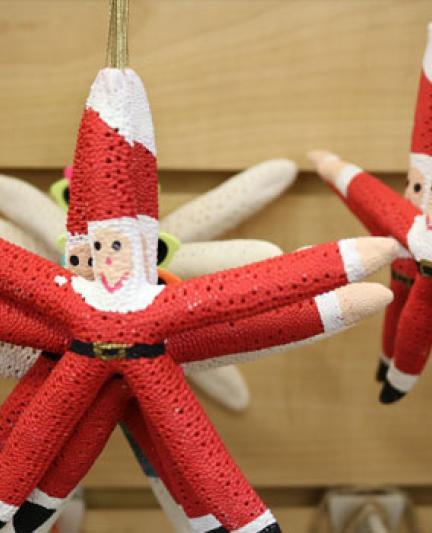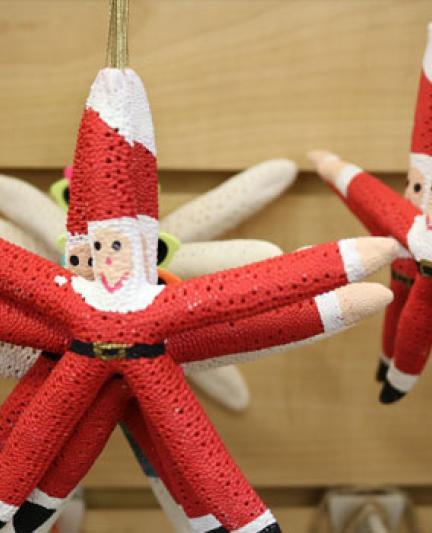 Gift Shopping for Holiday Kitsch in Sarasota
Find Inspiration for Your Special Day
Amidst the holidays, as people across the country prepare for the season with decorations and celebrations, including plenty of shopping trips for gifts, there is something different about the way we do it in Sarasota. Here, without snowflakes and sleigh rides, we have found unique ways to be festive. We decorate palm trees with sparkling lights and create beach sand sculptures with holiday themes. And while strolling along our beautiful beaches, you may even glimpse random Christmas trees decorated with shells and beach treasures. And glittering nighttime boat parades add to the festive spirit of our tropical holiday celebration.
Shopping in Sarasota offers unique Florida gifts. Kitschy items abound, like coastal ornaments for the tree – shells, pelicans, alligators, birds and flamingos. Or you may even find Florida-themed lamps covered with shells, created in the shape of pelicans, flamingos or alligators. And there's kitchen giftware with palm trees, wildlife and island scenes that will remind visitors and residents of Sarasota.
Where do you find Florida kitsch? Beach shops are a great place to start. Two Sarasota County communities offer a wide range of local shops that will help you with your tropical holiday shopping:
Beach Bazaar
Since 1984, the locally owned Beach Bazaar has been a Siesta Key Village institution. The shop is well stocked with anything you may need for the beach including towels, swimsuits, sandals, shirts and sunglasses. But for the holidays, this is just the place to find the perfect "kitschy" gift of holiday ornaments including Santa starfishes, glittery sand dollars, glass flamingo and orange figurines, keepsake shell boxes, mini sandcastles and even sea turtle travel clocks.
The Sea Shanty
The Sea Shanty, formerly the Siesta Key Village Laundry, has signs for sale reading "Let's do Sunset" and "Life's A Beach" along with beach-themed jewelry, tea towels, wind chimes, garden sculptures and driftwood wreaths. Add painted coconuts, and mini tabletop surfboards and many similar items. If you get a bit hungry, head next door for the walk-up donut hole shop, owned by the same owners of the Sea Shanty.
Sea Pleasures and Treasures (Siesta Key)
Siesta Key Village's Sea Pleasures and Treasures is loaded with gift items for the cook in your family including beachy and tropical kitchenware, drinking and wine glasses, place mats, coasters and coffee mugs. Or consider taking home some local shells, candies, taffy and honey, Florida key lime juice and even sea inspired jewelry.
Gidget's Coastal Provisions
This upscale gift shop has the most unique artisan selection of all. One-of-a-kind signs made by local artists, t-shirts, journals, note cards, clocks, bags, and all the beach items you could need or want for your holiday gift list. Gidget's even has a selection of Ukuleles for those who just want to sit on the beach under a palm tree and strum a Jimmy Buffet tune.
The Green Turtle
Generations of visitors have been coming to the Green Turtle in the south Siesta Key Village for more than 20 years. Owned and operated by a local family, the shop offers tree ornaments of alligators with Santa hats, hanging flip flops, decorative pelicans, brightly painted sand dollars, crafty seashell ornaments ideal for trip memories. You'll also find wind chimes, painted dolphins, cards, pelican salt and pepper shakers, and a selection of wildlife and nature books.
Downtown Venice Main Street resonates with "small beach town" USA with a charming vibe. Known as the "Shark Tooth Capital of the World" this is where prehistoric shark teeth fossils wash ashore on area beaches delighting beachcombers. On Main Street locally owned boutique shops have unique items for your kitsch list.
Venice Stationers
For 52 years, Venice Stationers, once an old office supply store is now a Florida gift emporium, and a downtown Venice anchor. Home accessories and holiday kitsch line the shelves with tree ornaments of sailboats, flip flops, mermaids, dolphins, sharks and lighthouses. You may even find kitschy flamingo pajamas and shorts. Tropical tableware, plates, napkins and place settings are set to put you in the beach mode.
The Green Parrot
Funky and fun, the Green Parrot has got you covered for the beach including hats, sandals, towels and children's toys. But it also has gift items such as shark teeth necklaces, shells, cards, magnets, lamps and home décor including tropical throw pillows. Even the picture frames have turtle and alligator themes. But you may not be able to resist the gift boxes decorated with shells for your newly found treasures.
Sea Pleasures and Treasures (Venice)
This souvenir shop has everything to remind you of your vacation in Sarasota County. Boxes of shells, orange marmalade jam, Florida hot sauces, racks of Venice t-shirts, sandals and clothing to take home for those stocking stuffer gifts. Or you may not able to resist the Florida snow globes with memories of your tropical Florida vacation inside.
No matter what shops you visit in these two beach towns, you are sure to find a perfect Florida gift for yourself, your family or friends that will always be part of special Sarasota holiday memories.
Sarasota native Robin Draper is a columnist and owner of the award-winning "Blog of the Year" and "Best Travel Blog" and website, AuthenticFlorida.com, that features travel and lifestyle topics.