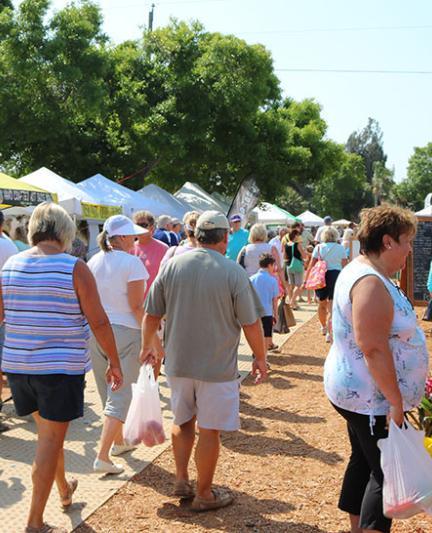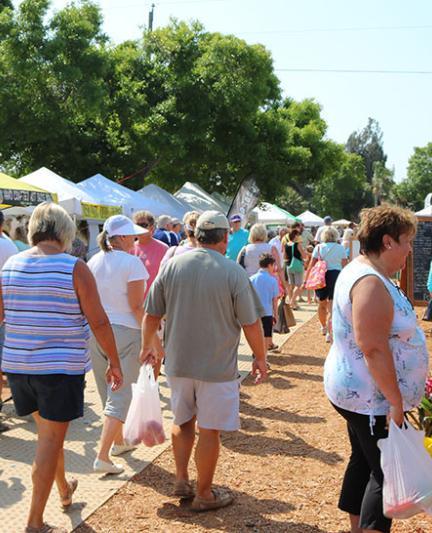 Try "Fresh Florida Goodness" at the Englewood Farmer's Market
For a small community situated in south Sarasota County, the Englewood Farmer's Market packs an "over the top" experience distinguished by the number and quality of vendors, vibrant atmosphere and friendly hospitality. More than 6,000 visitors come to the popular Englewood market on Thursdays from 9:00 am to 2:00 pm.
Local farmers and purveyors display their goods at this outdoor market showcasing more than fresh seasonal produce. Freshly baked breads, pastas, olive oils, seafood, mushrooms, herbs, teas, pickles, guacamole, peppers and salsas create an opportunity to taste and purchase "fresh Florida goodness."
The event is actually a blend of two markets, the Englewood Farmers Market (open until June 1) and the Dearborn Street Farmer's Market (year around) both situated on either side of Dearborn Street in downtown historic Englewood.
Growers, bakers, food trucks, butchers, cheese, olives, salsa, guacamole and pesto artisans make and grow everything fresh for the day of the event. Citrus, organic, hydroponic and aquaponic farmers are also represented.
Olde Englewood is a buzz of activity and sea of white market tents side by side as patrons walk up and down the rows. Local beekeepers sell honey, cheese makers offer delicious bites of homemade cheese and local cooks provide samples of the canned jellies, jams and preserves.
Be prepared to come for lunch, but take notice, your challenge will be to choose from a wide variety of culinary choices offering made to order seafood, barbecue, and international foods including Mexican, Spanish, Jamaican, Italian and German dishes. For dessert, it will be hard to pass the bakery tents with freshly baked cakes, donuts and cookies.
Local musicians add to the ambiance of a neighborhood market where everyone celebrates the Florida bounty under blue skies and the glowing sunshine.
And that's just part of it the market experience. While local artisans sell food and produce, others sell handcrafted jewelry, art, essential oils, clothes and bags on full display throughout the event.
To take full advantage of the market, be sure to check these vendors off your list while there:
Morning Start
Begin your day at Joe Maxx Coffee with a freshly roasted "cup of Joe." Then, stroll over to the BAM German Bakery tent for "old world" baked treats including the popular homemade pretzels. Or consider a stop at Sift Bakehouse for a selection of muffins, scones, biscotti, cookies and macaroons.
Lunch
Try Chef Ef's Paella Stand where the Spanish dish is cooked under the tent complete with yellow rice, fresh seafood and handmade spices. Or consider Perry's Original Barbecue where the hot smoker sizzles with ribs, chicken, pulled pork and beef brisket. Next to Perry's is Leah's Lemonade & Smoothies for a cold, fresh drink with your lunch. Or consider the Fresh Baja Mexican that serves up fresh Mex tacos, burritos with sides of beans and rice. And for a chaser, try a glass of thirst-quenching Watermelon Green Tea. Top it off with dessert at the Café Brulee truck for the divine sweet treats including salted caramel and lemon crème brulee dishes.
Produce Stands
Stop at Venus Veggies for organic produce and the Joshua Citrus tent next door for fresh from the grove oranges, grapefruit, tangerines and lemons.
Seafood & Meat
Make your way to Maggie's Seafood for the freshest local fish and shrimp and stop by Beef Country for butcher quality meats and homemade sausage.
Specialty Foods
Try Kat's Southern Twang for fresh BBQ sauces, jellies and jams. Or try Dynasty Guacamole where fresh "guac" is made on the spot underneath the tent. Stop at The Happy Pickle for a jar of freshly made pickles to enjoy with your favorite sandwich and be sure to visit Stamper Cheese Company where you can sample an assortment of small batch specialty cheeses. And don't leave with out a visit to Olive Oils of the World where you can sample an assortment of artesian oils and balsamic vinegars.
Plants
Visit the market's gardeners including Emerald Airplants to take home one of Florida's best known epiphytes and visit another grower, Affordable Hibiscus offering locally grown hibiscus plants and other nursery items.
Meander Englewood's Dearborn Street
If you haven't been to historic Englewood you are in for a treat. Following your market visit, stroll around the neighborhood and enjoy this "old Florida" town where you'll likely see authentic Florida cottages and homes, buildings, shady parks and preserves surrounded by moss draped oak trees. It beckons those who love Florida dating back to the native Indians who once lived in the area, situated on shell mounds known as middens while fishing the rich waterways.
Afterwards, you just may wish to stroll the downtown area along Dearborn Street. Numerous outdoor cafes line the street and shops offer eclectic goods and antique shopping.
Sarasota native Robin Draper is a columnist, author and owner of the award-winning "Blog of the Year" and "Best Travel Blog" website, AuthenticFlorida.com, a travel and lifestyle blog devoted to the simple and delightful pleasures for Florida living.