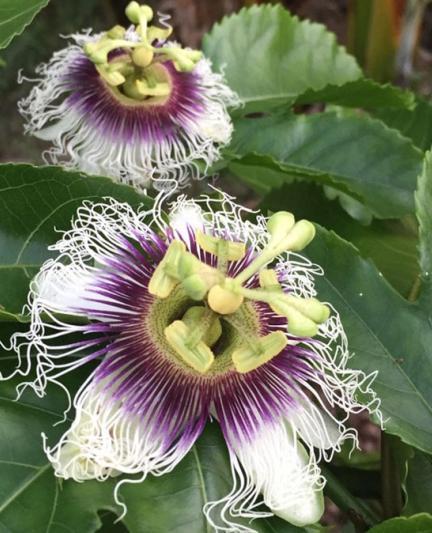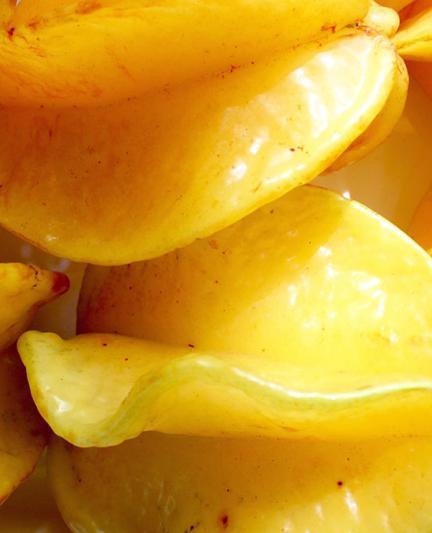 A Trio of Tropical Fruits
Summer is a great time to enjoy floral-scented, lovely-tasting exotic fruits.
When you hear the words 'tropical fruits' what do you immediately think of? I usually conjure up images of mangoes, papayas, pineapples, and coconuts. And for some strange reason, I also think of LifeSavers®. . .
If you're a fan of those tasty candies, you know all about their classic Five Flavors: cherry, pineapple, lemon, lime and orange. But do you remember when their 'exotic' Tropical Fruits hit the streets? I do. Tangerine, pina colada, banana, mango-melon, and some other fruit I can't remember, but it was delicious. They were iconic flavors of the tropics that brought to mind images of beaches, palm trees, floral-scented breezes, and food served in coconut shells — so delicious, in fact, that I could easily work my way through a roll in no time. I believe they're now called "Hawaiian Fruits," packed in individual cellophane bags, and the flavors have changed a bit. Still tasty, but the early versions in those traditional roll packs (whose wrappers you had to peel back to get to your next treat) are hard to beat, in my book. But enough about that. . .
But if you love flavors of the tropics, why not go for the real thing, rather than trying to replicate them in a candy substitute? Luckily, we have access to delicious mangoes, pineapples, papayas and coconuts (some in our own Florida yards) pretty much year-round. They're awesome, each bringing its own special something to whatever dish we have in mind. But what about passion fruit, carambola and guava? These tropical fruits are now in season in Florida and you can find them at farmers markets and supermarkets!
Passion Fruit
These little fruits grow on vines and are harvested in Florida between June and December. If you ever get to see their flowers, they're beautiful - usually purple or red, with starburst designs and beautiful color combinations. When shopping for the fruit, look for the heavy ones because they're typically full of juice. When you cut them open, the inside may seem a little daunting, what with all those big (edible) seeds and pulpy flesh, but the smell is purely tropical and the flavor is a combination of sweet and tart. The seeds can provide a nice little crunch to add to your whole experience, but it's up to you to keep them or not. The fruit can be transformed into cakes, pies, mousse or frostings, or simply sliced alongside other tropical fruits for a delicious dessert.
Guava
Guavas are usually small to medium in size, and are available with white or pink flesh, depending on where they originated. The pink (Cuban) version has a soft texture and the white (Thai) version is more crunchy, but both are sweet and have distinct floral aromas that you would always identify with guava. I've even heard them described by another food writer as ". . .strong, intensely tropical, and slightly musky." The whole fruit is edible, including the seeds, and I've even heard that guava lovers enjoy eating them like apples when they're really fresh. Typically, though, the seeds are removed with a spoon, and the pulp is mashed/pureed so that the pulp can be used in things like jams, jellies, syrups and sauces (which work great because the fruit is high in pectin). Peak seasons in Florida for this tropical beauty are August to October and February to March, but varieties from Mexico and California can also be found regularly at markets.
Carambola (a.k.a. Starfruit)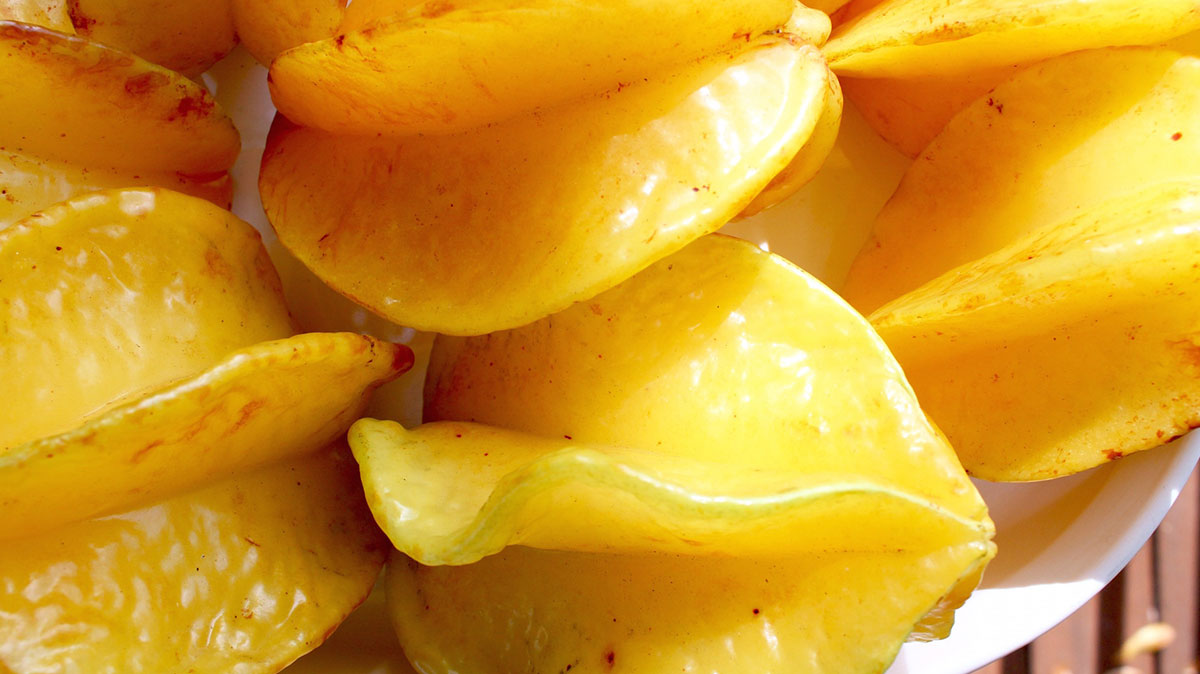 A beautiful, star-shaped fruit that, depending on variety, can be sweet or sour — the general rule is that the sweet one has thicker flesh and golden skin. It's native to Southeast Asia, but has been grown in Florida for more than 100 years. It's lovely when cut cross-wise, when you can see the full star shape, making it perfect for fruit salads and garnishes. The flavor is a cross between green grape and apple and is very mild and tasty. The skin is waxy, but edible, as are the seeds. It grows well in humid environments, so it's no wonder Floridians have them in their yards, but you can easily find them in supermarkets and farmer's markets, when they're harvested between June and February (with some peak seasons Aug-Sept and Dec-Feb depending on weather). Starfruit is low in calories and high in fiber and nutrients, especially vitamin C, a powerful antioxidant.
So where can you find them? Local vendors may not carry all of them, but try the following (and possibly call first, if you have something specific in mind):
Sarasota Farmers Market - Sarasota
Detwiler's Farm Market - Sarasota and Venice
Sprouts Farmers Market - South Sarasota
Sulcata Grove - Sarasota. Currently has Passion Fruit, but be sure to check their website for contact information, since it's appointment only.
Pioneer Farm Market - Venice (312 So. Tamiami Trail)
Osprey Produce - North Port
Sunfresh Farmers Market - Englewood
And if you find yourself with a few (or perhaps too many) ripe Carambola, try juicing the delightful fruit. Here's a refreshing, easy recipe:
Starfruit Juice
2-3 large, ripe Carambola fruit
1 thumb-size piece of fresh ginger
1/2 fresh lemon
Note: this recipe requires a juicing machine!
Wash the Carambola and lemon in a solution of baking soda and water to remove any impurities in the skins.
Trim ends of the Carambola, then slice into pieces to fit your juicer.
Peel ginger and cut the lemon into pieces to fit your juicer.
Follow the process for your individual juicer, and enjoy your fresh juice right away.
###
Nicole Coudal is a home chef and food writer based in southwest Florida, where she fishes and cooks using local ingredients. When not on the water, she visits farms, farmer's markets, and other food-related venues to highlight what's in-season and to create tasty recipes. Read more at www.MyDeliciousBlog.com.