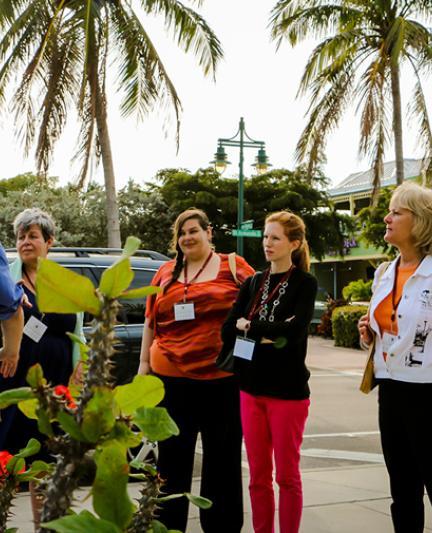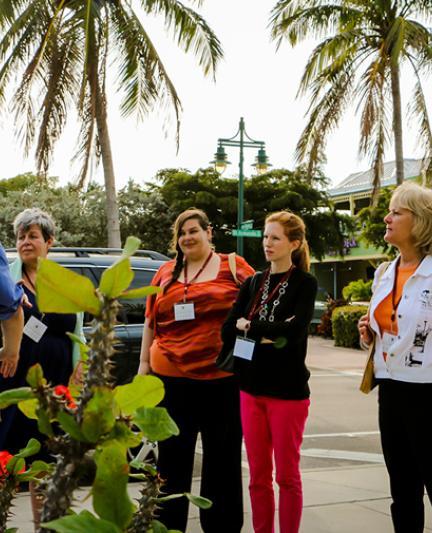 Touring Sarasota This Summer By Mouth
Take a culinary tour of the destination to experience great views and eats.
So many restaurants, so little time. That's what travelers to Sarasota County might lament when faced with all the delicious eating and drinking options the area has to offer.
That's why food tours are such a great way to check out the local dining scene. Tour goers get to visit several restaurants over the course of a few hours, trying out house specialties while learning more about the eateries and the area.
St Armands
Key Culinary Tours offers a lunchtime walking tour of St. Armands Circle from 11 a.m. to 2 p.m. Wednesdays through Saturdays ($65). Participants visit six different spots, such as the hip Shore Diner for its calamari salad and truffle French fires and longtime favorite Columbia Restaurant for its Cuban sandwich and famous 1905 Salad. Along the way, they learn about Sarasota's circus history and other fun facts.
"The tours really give visitors a very rich history of our beloved Sarasota," says Susan Robinson, owner of Key Culinary Tours. "At the same time you get a very interesting culinary experience At the end of three hours you feel like you had a robust lunch, and your head is filled with all kinds of new information."
Downtown Sarasota
The company also offers other tours in the area including downtown Sarasota. Tours include a chef led farmer's market tour and a tour featuring the international flavors of Sarasota. Though not a foodie tour, the company also offers a "ghosts & gruesomes" tour of Sarasota and its interesting and dark history.
Cycle tours
If you'd rather pedal than stroll, contact Sarasota Bike Tours. It offers all kinds of ways to see Sarasota County, including a Taste of Sarasota Tour ($99.99).
Tours are offered on demand with a minimum of six participants required and might visit spots like Social Eatery & Bar and Made Restaurant. "It's cool to be able to walk from place to place, but it opens it up when we can cover more ground with the bikes," says company owner Jason Crain. The company provides all equipment needed, from the wheels themselves to helmets. Expect to cover four to five miles over two to three hours.
A very different tour experience is the new Sip-N-Cycle Cruises. Join aboard a 16-passenger bike-boat-bar for a scenic cruise along the intracoatal waterways. The "cycleboat" is a perfect group-tour experience for hosting parties and large group events.